There is no better feeling than getting into a bed with fresh new sheets and pillowcases that are clean and crisp. However, when trying to find a pillowcase for your wedge pillow, this may not be the easiest task. Plus, a wedge pillow usually only comes with a single cover or casing, which is not always the most comfortable material.
So, in this article, we have set out to find some more options for you in the best pillowcases for wedge pillows.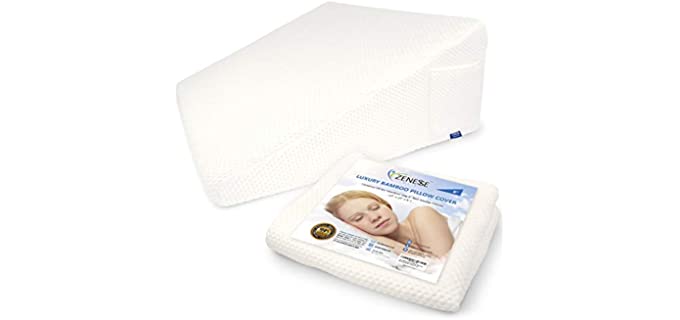 ---
Pillow Case Fabric to Consider for Your Wedge Pillow
Before we get into the perfect pillowcase for your wedge pillow, let us first look at some materials and fabric that make for excellent pillowcases for your wedge pillow;
Natural – Natural materials such as cotton, flannel, and linen is very soft and absorbent fabrics that ate durable and comfortable. They are natural and hypoallergenic. Then we also get bamboo, a highly absorbent and natural fiber.
Synthetic – Synthetic fibers such as nylon and polyester are used to create blends such as polyester and microfiber blends. Polyester can also be blended with cotton. Synthetic materails do not absorb moisture and are also more durable and sometimes softer than natural fibers.
Silks and Stains – Silk is a natural and very expensive fiber from a silkworm, whereas stain is similar in feel but synthetic. These materials have a luxurious soft satiny feel with plenty of slip.
---
Finding the Best Pillow Case for Wedge Pillow
Finding the perfect pillowcase for your wedge pillow needs not to be too much of a daunting task, and there should be quite a few choices available.
Though Pillowcases generally come in regular standard shapes, you will now need o search for a more specific shaped pillowcase to fit your wedge pillow, which may narrow your choices.
I would advise that you check the dimensions of your wedge pillow and compare that to the wedge pillowcase options available to get the closest size. Also, rather opt for a larger than a smaller fit.
A good Pillowcase for a wedge pillow should have a durable zip closure for proper protection for your pillow. You can also check the brand and model of your Wedge pillow and search for a pillowcase that may be specific to that brand and model.
---
Features of a Good Pillowcase for Wedge Pillows
Materials – A good Pillow case for your bed pillow can consist of materials such as cotton, polyester or bamboo. Rayon and velvets are also good choices.
Size – You will need to check the size specified and compare it to your wedge pillow sizes. As you will see, many of the models for wedge pillow covers that I have listed are designed for specific brands and models of wedge pillows.
Closure – Wedge pillows mostly come with a zip closure, which prevents dust, dirt, and debris from entering your pillow and which can also be waterproof to some extent.
Options – Wedge Pillow cases usually come in one color and size option, however the more universal styles may have more colors and sizes available.
---
Reviews: The Best Pillowcases for Wedge Pillows
Listed below, we have a variety of Wedge Pillow, Pillow covers for different brands and models, as well as different sizes in Wedge Pillows;
---
1
The Pillowcase is designed to fit the Relax Home Life Bed Wedge Pillow specifically and consists of 100% Egyptian Cotton.
The pillowcase consists of premium Egyptian cotton that has a luxury sateen finish.
It is available in more colors for your choices.
The Pillowcase will fit most wedge design pillows and offers a universal fit.
It is a highly resistant and hypoallergenic fabric that breathes well.
The Pillow Case comes with a Lifetime warranty.
---
2
The InteVision be Wedge pillowcase is also designed for the specific brand and fits their Foam Wedge Bed pillow, with two colors available.
This is a genuine cotton pillowcase for your wedge pillow.
There are navy blue and crisp white color options available.
The pillowcase will fit the InteVision Foam Bed Wedge pillow brand and model and is designed to these dimensions.
It is durable and comes with easy zip closure.
---
3
The Sleepnitex wedge pillow cover has a very high 1000 thread count in Egyptian cotton, which is pure and hygienic.
Here we have a wedge pillowcase that is designed specifically for the Sleepnitez wedge pillow brand for their 8-inch model.
It is pure cotton that is breathable, durable, and absorbent.
The Pillowcase has a quality zip closure and can be machine washed.
It is available in a solid white color option.
---
4
This is the replacement cover for the Cozilift bed wedge pillow that is a luxury bamboo material with a zip closure and pocket.
This pillowcase will stay cool and dry with its bamboo construction.
Bamboo is naturally absorbent and also helps to regulate temperatures.
The pillowcase is designed as a replacement cover for the Cozilift 8-inch wedge pillow.
It comes in this single colors and has a zip closure.
There is also an additional pocket in the pillowcase.
---
5
Here we have the replacement cover for the MoonRest 24" X 24" X 12" size bed wedge pillow, in 100% Egyptian cotton, with zip closure.
This is a 100% pure cotton pillowcase.
Cotton is a breathable, hypoallergenic, and cooling material that is ideal for your wedge pillow.
The pillowcase is a universal fit for wedge pillows of either 24X24 x12, up to 27 inches.
It consists of soft quality Egyptian cotton that is luxury cotton and has a satin finish.
There are likewise more colors available to you.
---
6
The PillowLink bed wedge pillow cover will fit a 28W x 72L wedge pillow easily and is a substitute for this brand's wedge pillow cover.
The PillowLink bed wedge pillowcase will fit a wedge pillow of 28WX72L.
Cotton is breathable, soft, and very durable, as well as a natural choice.
The [pillow case has a zip closure and a soft and comfortable texture.
It is also machine washable and comes in this single white color option, which is neutral and easy to match with your bedding.
---
Index Table: Top Rated Pillowcases for Wedge Pillows
---
---