Many individuals who have curly hair struggle with knotted and matted hair in the mornings.
This could be prevented by using the best pillowcases for curly hair.
Not only do the right pillowcases for curly hair help with your hair, but they are also great for the health of your skin.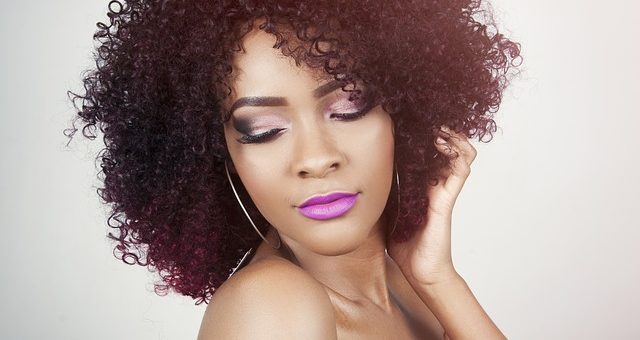 ---
Satin and Silk Pillowcases for Curly Hair
When it comes to the best pillowcases for curly hair, or for any hair, and skin for that matter, there are two options;
Silk – Silk is natural and can consist of pure Mulberry or pure Charmeuse silk. It has a very smooth and soft surface that does not chafe and irritate your skin and also does not grab your hair. Silk is naturally antibacterial and hypoallergenic; it will also not absorb essential moisture from your hair and skin. Therefore, it is excellent for hair and also anti-aging for your skin.
Satin – Satin is very similar to silk in the feel and consistency. However, satin is synthetic and consists of polyester threads that are extremely fine. Satin has a smooth surface that does not dry out your hair and skin and also will not cause friction and grabbing of your hair. Satin is likewise much cheaper than natural silk.
---
Some Sleeping Tips for Curly Hair Girls
Besides the right pillowcases, there are a few other tips I can help you with to preserve and keep your curls healthy and shiny;
Conditioning Spritzers – I like to use a conditioning spritzer on my and my daughter's hair to easily comb out tangles and to add some needed moisture. Mix a leave-in conditioner or keratin conditioner with some water and spritz your hair when needed.
Silk and Satin Bonnets – You can always opt for a silk or satin bonnet or scarf to wrap your hair in before going to bed.
Twists and Braids – Generally, the more hair strands are rubbing against each other and your bedding, the more they are prone to damage. You can make simple twists using bobby pins or brains with small elastics to keep your hair secure.
Hair Pineapple – Use a satin scrunchie and tie your hair up in a "pineapple" at the top of your crown.
These tips are all ideal, yet investing in a silk or satin pillowcase truly will be the best defense and improvement for your curls.
---
Features of a Good Pillowcase for Curly Hair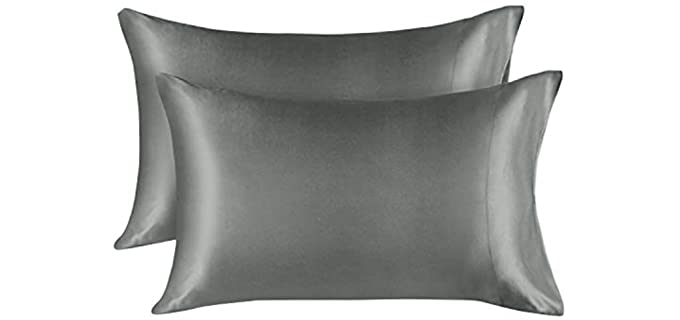 Materials – The best materials in a pillowcase for curly hair are a natural silk such as mulberry silk or charmeuse silk. Synthetic satin can be used which consist of Polyester materials. The idea is to have a very soft an satiny surface that does not absorb or wick away moisture from your hair and skin.
Closure – As a closure, a zip, envelope, or button closure are usually predominant in silk and satin pillowcases.
Options – Silk and Satin Pillowcases for curly hair generally come in a variety of mostly solid colors and rarely prints. They are also available in standard, queen, and king-size size selections.
---
Reviews: The Best Pillowcases for Curly Hair
Here are our top picks in satin and silk pillowcases to protect and keep your curls healthy and well-hydrated;
---
1
The SpaSilk Pure silk pillowcases are perfect for hair and skin, and they would retain the moisture in your curls.
This is a 100% silk pillowcase for your hair and skin that is plush, soft, and luxurious.
It comes in more colors and sizes for your choice and to suit your bedroom decor.
The pillowcase will not absorb essential moisture from your hair and skin to keep your skin free from wrinkles, and your hair untangled.
The soft weave also does not grab or tangle your hair, which is an excellent plus point.
It is of excellent quality and all-natural, with an envelope closure that is very convenient to use.
---
2
The Morning glamour Pillowcase range is a satin feel polyester that is completely friction-free.
The pillowcase comes in a set of two pillowcases.
It is a friction-free stain Charmeuse that consists of polyester, which a very soft and thin weave that will not cause tangle or moisture loss in your hair.
Very easy to care for and machine washable, so it is quite convenient in turn, as most silks can not be machine washed.
There are more colors and sizes available.
---
3
The Silky satin Betty Dain Pillowcase is ideal for curly hair and for your skin.
In this pillowcase, you get a polyester satin and silk blend, so you get an affordable option that is the best of both worlds.
It prevents hair from becoming tangled and also has anti-aging properties.
There are more neutral colors and sizes available for your won personal choice and options.
The pillowcases are machine washable and have a zip closure.
---
4
From Fishers Finery, we have 100% pure Mulberry silk pillowcases in many colors for curly hair.
This is a 19mm lightweight Mulberry Silk pillowcase,
It is soft and luxurious and will not dry out your hair or skin, for that matter.
There are more colors and more size options available, from which you can choose as you desire.
Silk is the best choice for a pillowcase when you have curly hair.
---
5
The Savvy Sleepers pillowcase is great for hair and also has anti-aging properties.
This is an anti-aging satin pillowcase that keeps your skin moisturized and keeps your hair healthy.
The pillowcase is satin with polyester as a base.
Very smooth in texture and will not absorb moisture from your hair or your skin, which can dry them out and cause damage, as well as premature aging.
The pillowcase is available in more colors and enough sizes.
---
6
The Grace Eleyae pillow has a smooth back and a decorated front for versatile use.
The Pillowcase features a decorative front area and a soft and luxurious back for sleeping on.
It is a Satin Lined Pillowcase that is less absorbent than cotton.
It can be used for sleeping on and for decoration.
The pillowcase is also great for curly hair.
---
Index Table: Top Rated Pillowcases for Curly Hair
---
---