If you are sick of dry and knotted hair in the mornings, have you maybe considered that your pillowcase could be the issue, and that may be a change that could make a difference.
Some pillowcase fibers will strip your hair of essential moisture and even cause knots and tangles to form while you sleep.
There are, however, a few pillowcase material options that can help with both these issues.
In this article, we focus on an affordable and effective alternative, the Microfiber Pillowcase for Hair.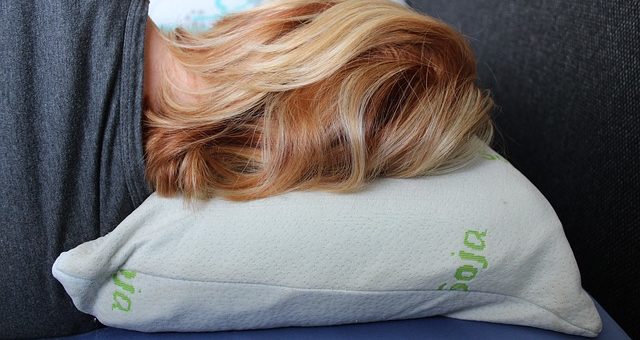 ---
Why Choose a Microfiber Pillowcase for Your Hair
Microfiber is a synthetic fiber that is much thinner than silk, and it is usually made of polyester or nylon. Because of the tight weave of a Microfiber Pillowcase, it is often much softer and smoother than silk and satin, which are usually the recommended materails in pillowcases for your hair.
Microfiber being synthetic, will not absorb moisture and take away your hair's natural hydration. It will also not grab your hair because of the smooth feel, causing knots and tangles.
What is more, is that Microfiber is likewise a much cheaper option than silk or satin pillowcases, and it comes in many more colors and prints because it is col; or fast and fade resistant.
---
How Cotton Pillowcases Compare to Microfiber for Your Hair
There is a great argument between the cotton and the microfiber Pillowcase and which is better for your hair and skin.
So I have drawn up a comparison to place this argument to rest;
Cotton – Cotton is a natural and mostly hypoallergenic material that breathes well and is also quite absorbent. Depending on the thread count, cotton pillowcases have a coarse texture, the higher the Tc, the smoother the feel. Cotton fibers in your pillowcase prevent your hair from sliding around and rather grab it, causing knots and tangles. It will also absorb essential hydration and oils from your hair, as it is an absorbent material. Furthermore, cotton Pillowcases are available in limited colors and options and are not as colorfast as Microfiber. Lastly, Cotton pillowcases are more expensive, and you will see the higher the thread count, the more expensive they get.
Microfiber – Microfiber consist of durable and very thin polyester or nylon fibers that are resistant to shrinking and wrinkling, which is not the case with cotton. Microfiber is a very smooth and satiny material that will not grab your hair and rather let it slide around. Microfiber is likewise not absorbent and will not strip your hair of much needed hydration. Other than that, Microfiber pillowcases are generally stain and fade resistant, they come in many colors and prints, and they are relatively cheap.
---
Features of a Good Microfiber Pillowcase for Hair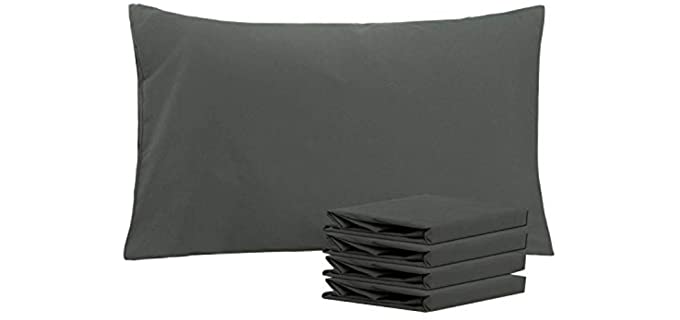 Composition – Microfiber Pillowcases consist of 100% Pure microfiber with a thread count of 1400 up to 1800 which is ideal for your hair.
Options – Microfiber Pillow Cases come in a variety of prints and colors as well as sizes from standard to queen and king size options.
Feel – Most microfiber pillowcases generally have a very soft, almost silky feel, although you do get softer, silkier, and brushed options depending on the weave.
Characteristics – Many Microfiber Pillow Cases are designed to be fade, stain, and wrinkle resistant. They are mostly hypoallergenic and can be machine washed, as well as dried in a tumble drier, depending on the brand. Thus, they are also very easy to care for.
---
Reviews: The Best Microfiber Pillowcases for Hair
Here are the best available brands and models when it comes to pure Microfiber Pillowcases that are ideal for your hair;
---
1
The Amazon Basics Microfiber Pillowcase is an excellent choice because of its soft and silky texture that is great for your hair; additionally,y they also come in plenty of colors and prints from which you can choose as needed.
This is a very lightweight and soft Microfiber pillowcase that is ideal for your hair.
It is made from fine polyester fibers that are OEKO-TEX standard.
The pillowcase comes in many colors and prints and is available in all sizes for standard design pillows.
It will not draw moisture from your hair or cause knots and tangles.
---
2
The Mellanni Luxury Microfiber pillowcases will do wonders for your hair, plus they are stain, wrinkle, and fade resistant.
Another 100% Polyester based microfiber pillowcase for your hair.
The pillowcase has a satin soft, smooth finish that is perfect for your hair.
It comes in a set of two, and all the size options are available.
You can also select for many colors and prints that are available in this model.
---
3
From DreamHome, we have a pure microfiber pillowcase that comes in a set of two, and there are many colors from which you can choose.
This microfiber Pillowcase consists of fine 100% polyester fibers and has a smooth and soft finish.
The Pillowcase is ultra-soft and completely wrinkle-free.
It can be machine washed and tumble dried and is fade-resistant,
You get a set for two pillowcases, and there are plenty of solid colors and sizes to select from as needed.
---
4
The Janluxe Microfiber Pillowcase is brushed for comfort and available in more sizes and colors.
This is a high quality soft brushed microfiber pillowcase design, ideal for colder weather conditions.
It is a 1500 series microfiber that is extremely high quality.
The pillowcases are wrinkle, stain, fade, and dust mite resistant; they are also silky soft in feel.
There are more colors available and the standard pillow size options.
---
5
The Bare Home Premium 1800 Ultra-soft, brushed microfiber pillowcases are hypoallergenic and wrinkle-free, and ideal for your hair.
These are king-sized premium pillowcases.
They are an 1800 thread count ultra-soft microfiber that is brushed and hypoallergenic.
The pillowcases come in a set of two, and there are more colors available in solid colors.
Very easy to care for and completely wrinkle resistant.
---
6
From NTBAY, we have a luxury soft brushed microfiber pillowcase that will do wonders for the condition of your hair.
In this set, you get four microfiber pillowcases in the size option of your choice.
They are a 100% brushed microfibre that is wrinkle, stain, and fade resistant,
More solid colors are available for our perusal.
The pillowcase has the perfect feel for our hair.
---
Index Table: Top Rated Microfiber Pillowcases for Hair
---
---