So you are looking for a fun and comfortable pillowcase set for you and a loved one.
Co-Sleeping is a pleasurable experience shared with someone you love, and having the right bedding can make it so much more entertaining.
In this article, I have taken some time to specifically look at the best Pillowcase sets for couples that have amused their prints and pictures on them.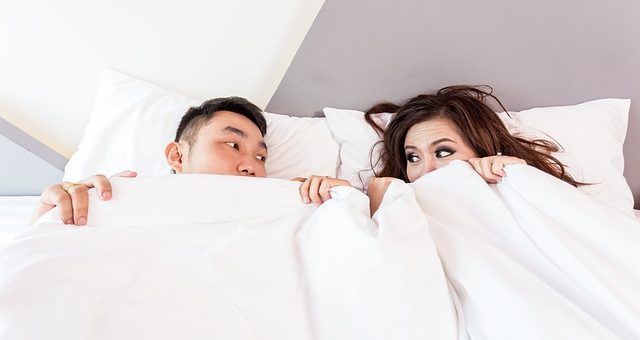 ---
What to Look for in Good Pillow Case
Before we get into all the entertaining prints and colors for the couples pillowcase sets, let's look at the basics, which are a good quality material and design in Pillow Cases;
Quality Materials – Pillowcases come in a variety of materials such as natural cotton, rayon, bamboo, and silks, or synthetic stains, polyesters, microfiber, and even blended options. These are all good fabrics, each with its own unique qualities. Keep in mind that cotton and natural fibers are more absorbent and breathable, while most synthetic fibers will not absorb moisture, yet are more durable and colorfast.
Construction – Quality construction is ideal if you want something that will last and that you can use. So, look for proper stitching and quality brands.
Closure – Most pillowcases have a folded envelope closure, and some have a zip closure. Just make sure the zip is hidden in zip closure options so that it will not irritate you.
---
Types of Couples Pillowcases
Here are your options when it comes to Couples Pillowcase sets;
Lettering Print – You get couples Pillowcases that have lettering prints on them, such as His and Hers, King and Queen, or Mr and Mrs and many more.
Picture Prints – There are also those cute and fun cartoon printed picture options that have his and hers pictures of small cartoon characters or crowns.
Other than that, it is quite classy and elegant to get plain solid colored pillowcases that are similar in color to match the bedding set of your bed as a couple.
---
Features of a Good Pillowcase Set for Couples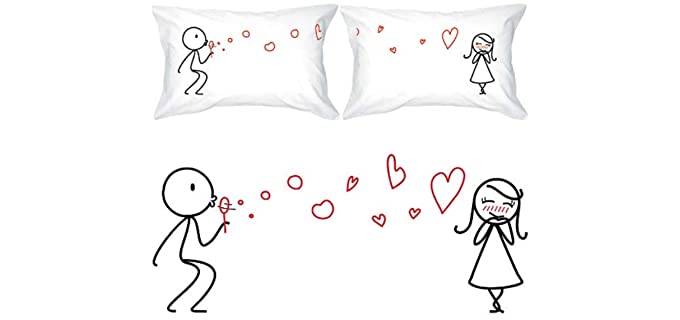 Materials – Good materials for a pillow case for couples include cotton, polyester, bamboo, rayon and even microfiber. However, I would opt for a more natural cotton fibre. Also keep in mind higher Thread counts give a softer more luxurious feel.
Designs – Most Pillow Cases for couples are designed to fit a standard design or contoured pillow. However, you do also find some options for continental and smaller scatter pillow sizes.
Closure – A zip closure, envelope closure or button closure are all acceptable closure types for a pillow case for couples.
Options – Pillow Cases for couples will come in different size options, such as standard, queen and king, as well as solid colors and printed versions.
---
Reviews: The Best Pillowcase Sets for Couples
Listed below are some of our top picks in Pillow Cases that are ideal for couples;
---
1
The BoldLoft Couples pillowcase is one of my favorites, with the stickmen cartoons printed on the hem and red hearts.
This is a set of two pillowcases with a 20×30 inch size.
The pillowcases are a neutral white color with black and red printing on it.
It consists of a polyester and cotton blend to give your soft, durable, and breathable pillowcase.
This will make the perfect Valentine's day gift for your loved one.
It is also available in a king or queen-sized size option.
---
2
Here we have a white cotton pillowcase set that has the printing King and Queen on them with a picture of a crown above the lettering.
This pillowcase comes with an invisible zip closure, not to cause irritation.
The Pillowcase set is a matching his and hers set with romantic writing on it and pictures.
The Pillowcase is a neutral white color with black writing and prints.
The fabric has real touch sensitivity for a more natural feel.
It is also easy to care for and machine washable.
---
3
Another King and Queen set from DasyFly from him and for her, in black and white.
This is a solid white color pillowcase set for him and her; the white color easily matches with any bedding that you may currently be using.
It has a king and queen print on it in black, which stands out quite bold in beautiful lettering.
The fabric used is a soft and durable polyester, and the construction is top quality, so you can rest assured that this is a solid and comfortable pillowcase that will last you very long.
The set makes for a perfect gift, and the pillowcases promise not to fade when it comes to the print.
---
4
From Signatives, we have a printed slogan set of pillowcases for couples.
These are very romantic and warm pillowcase sets that will make an interesting gift for a couple.
The pillowcases are handmade and printed and can be machine washed.
They are durable and consist of pure and natural cotton.
Cotton is a breathable and absorbent material that consists of only natural fibers that are healthy and hypoallergenic
The size is 30X19.7 for a standard pillow.
---
5
The BoldLoft set From My Heart To yours comes with a playful print and pictures for him and her.
Here we have a set of two couple's pillowcases in a 20×30 inch size.
The pillowcases are a solid white color with black prints.
They are durable and breathable pure cotton, which is a more natural alternative and safe.
These are the perfect gift for any couple, for Christmas, as a wedding gift, or even for Valentine's day.
---
6
From DasyFly, we have a plain and simple couples pillowcase set that has the print Mr and Mrs on them.
Here you have some more choices in the print options and sizes of the his and hers pillowcases for couples.
They are a polyester blend for durability, breathability, and softness.
The pillowcases come in a basic white with black and red printing on them.
They are soft and will not fade, and you can also machine wash them, which is quite convenient.
---
Index Table: Top Rated Pillowcase Sets for Couples
---
---