The Bolster pillow can be a great decorative piece or an ideal pillow for additional comfort and support.
Getting the right pillowcase for your Bolster pillow may not always be the easiest task, as bolster pillows come in specific shapes and sizes.
So, in this article, we will look at some of the best pillowcases for bolster pillows.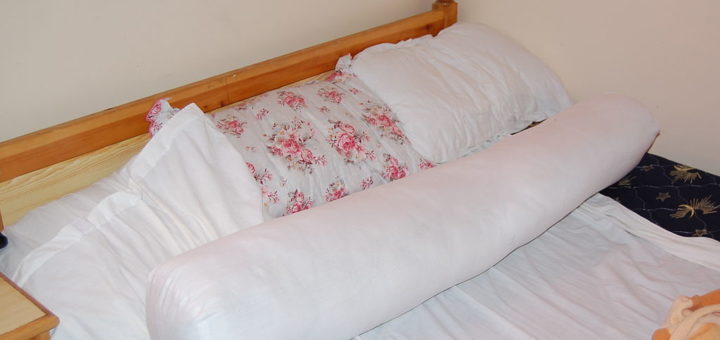 ---
The Benefits of Owning a Bolster Pillow
Bolster pillows have many benefits, and therefore you would also want the best pillowcases for your bolster pillows;
Comfort and Orthopaedic Relief – Bolster Pillows can be an excellent device for additional comfort or orthopaedic relief. They can be used behind your back, for your neck, or even under the knees for added support. A comfortable and washable pillowcase or cover for a pillow that will be used as an orthoptic support may be needed additionally.
Decoration – Bolster pillows can be used as a decorative piece in your bedroom or living room on a sofa or bed. Colorful and bright Bolster Pillowcases or covers can bring some new style and fresh color to brighten up your how.
Exercise and Yoga – A bolster pillow can also be an excellent aid for exercising or yoga practice. For this, you will need an additional pillowcase for your bolster pillow to keep it clean.
---
Getting the Right Pillow Case for Your Bolster Pillow
How to Choose the Right Bolster Pillow Cover or Pillowcase;
Function – When Purchasing a Bolster Pillowcase, you will need to consider the function. If it is a bolster pillow that is used as a sleeping or comfort aid, you will need a more comfortable and durable pillowcase.
Decorative Bolster Pillow – For Bolster Pillows used as decoration, you do not need to worry too much about the comfort or feel of the pillowcase, but rather the colors and textures to fit in with your home décor.
Fit – The fit of the Bolster Pillowcase is important, and you will need to compare the measurements of your bolster pillow with that of your Bolster Pillowcase that you want to purchase. Bolster Pillows come in specific shapes and sizes, and some brands do offer covers for their models.
---
Features of a Good Pillowcase for a Bolster Pillow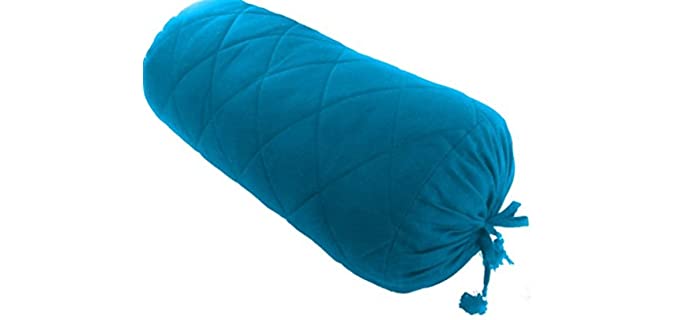 Size – Make sure that the dimensions of the Bolster Pillowcases are similar to that of your bolster pillow. You can always get a pillowcase slightly larger, but should never opt for a smaller size or fit.
Fabric – Bolster Pillow Pillowcases come in a variety of fabrics, such as bamboo, cotton, polyester, polycotton, and rayon. They can also have different feels, such as satin, velvet, or rougher texture.
Closure – Bolster Pillowcases may have either a zip, button or drawstring closure type. They rarely have other types of closures. I generally recommend a zip closure which will keep your Bolster Pillow much cleaner and free from dust and debris in the long run, particularly if it is a decorative pillow that does not get washed often.
Options – Bolster Pillowcases are available in a range of shapes and sizes for the different types of bolster pillows. You may get smaller neck cervical to bolster pillows and standard-sized or larger. Bolster Pillowcases come in a variety of colors and prints depending on the brand and model.
---
Reviews: The Best Pillowcases for Bolster Pillows
In our review, we have selected some of the best available pillowcases for bolster pillows of all sizes and shapes;
---
1
From Saffron, we have their crisp white quilted pillowcase for your bolster pillow that will generally fit a regular shaped and sized bolster pillow design quite well.
The Saffron Quilted Bolster Pillowcase is decorative.
It comes in an 8-inch diameter with a 24-inch length.
It is removable and machine washable, which is super convenient.
The pillowcase is 100% pure natural cotton that is durable and all-natural.
---
2
This is the brand-specific bolster pillowcase for the MyPillow Giza bolster pillow.
This Bolster Pillowcase fits the MyPillow Giza Bolster Pillow specifically.
It is 100% cotton with a sateen weave for comfort and quality.
The pillowcase comes in a set of two pillowcases, and they are machine washable.
There are also more colors available so that you can choose your absolute favorite or two.
---
3
The Lito Tree Bolster Pillowcase is designed for a smaller round cervical bolster pillow and usually fits the Lito Tree Cervical Bolster Pillow specifically.
This Pillowcase fits the Cervical Bolster Pillows and Neck Roll Bolster Pillows from LitoTree specifically.
They are an Ultra Soft Cotton and Polyester, which is a durable and soft blend in fabrics.
The size is 18 inches in length and 6 inches in diameter so that you can get the best fit.
You can also machine wash the pillowcases, making them very convenient and time-saving.
---
4
These pillowcases are designed to fit cervical neck roll bolster pillows that are smaller in size.
The set contains two Pillowcases for a Cervical Neck Roll Bolster Pillow.
The Pillowcases have a satin-soft finish and feel, which is quite luxurious and of excellent quality.
They are polyester and will fit any Dutchman or Jackson roll pillow.
Easy to clean and excellent quality.
---
5
Another addition from Saffron is their gorgeous royal blue-colored Bolster Pillow Pillowcase.
Another addition from Saffron.
The Quilted Bolster Pillowcase is a stunning Royal Blue color.
It fits an 8-inch diameter by 30 Inch long Bolster Pillow.
The material used is 100% pure cotton. Cotton is a high-quality and all-natural material that breathes well and is very durable.
The pillowcase is also machine washable, which is convenient and easier for you.
---
6
This pillowcase cover is designed especially for the Allman cervical bolster pillow and will fit this pillow perfectly.
This Bolster Pillow Cover fits the Allman Cervical Bolster Pillow.
It is a Polycotton blend that is soft and durable, as well as very breathable.
There is a zip closure for safer access. A zip-type closure also keeps dirt and debris outside better than folding and envelope closure options.
The pillowcase is fully machine washable, making it a very convenient option for you to choose.
---
Index Table: Top Rated Pillowcases for Bolster Pillows
---
---