The memory foam-filled pillow is one of the most comfortable and sought-after pillow types on the market today.
However, you do need a proper cover, as well as a comfortable pillowcase for your memory foam pillow.
In this article, we will look at some of the best pillowcases for a memory foam pillow.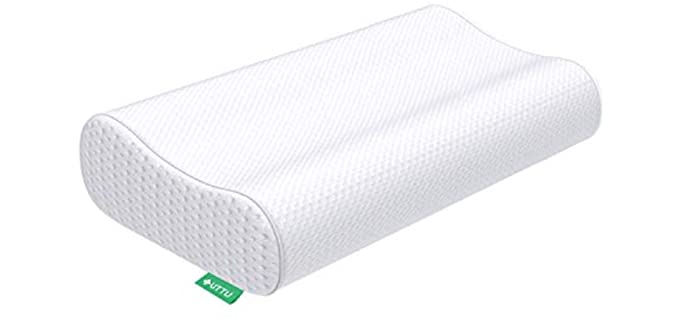 ---
Pillowcases for Memory Foam Pillows
When it comes to a memory foam pillow, you will need two things, a proper cover for protection and a comfortable pillowcase;
Pillow Cover – A waterproof Pillow cover, I recommended Bamboo, will offer protection against liquids, dust mites, dirt, and debris that may enter your new memory foam pillow. The bamboo also has an absorbent and cooling effect which is much needed, as memory foam pillows tend to heat up and absorb your body heat. Memory foam likewise has quite a strong smell, so the cover can help to contain the smell until it dissipates with time.
Pillowcase – The pillowcase choice is entirely up to you, but for such a luxury comfort pillow, I would also suggest something more luxurious such as a high thread count cotton, bamboo, or silk pillowcase. Keep in mid memory foam heats up quite a bit, so I would recommend a cooling pillowcase that breathes well.
---
Types of Memory Foam Pillow Covers and Cases
Memory Foam Pillow Pillowcases may need to accommodate for the different shapes and styles of memory foam pillows that are available;
Standard and Shredded Memory Foam Pillows – These types of memory foam pillows can accommodate a regular shape pillowcase, depending on the size of the pillow.
Wedge Memory Foam Pillow – A wedge design memory foam pillow will need a pillowcase designed specifically for wedge pillows. You will need to consider the dimensions in this case or buy a brand and model-specific pillowcase for your wedge memory foam pillow.
Memory Foam Body Pillow – Body pillows are generally similar in dimensions and size depending on if it is a U-Shape or standard shape, so you have easier access to a pillowcase for these types of pillows. Otherwise, your will need to look for a brand and model-specific pillowcase for the body pillow in memory foam.
Contoured and Neck Memory Foam Pillows – Many memory foam pillows have a contoured or neck bolster support design. For these pillows, you may need a specialized pillowcase that ai brand-specific or that fits the dimensions of the pillow size. Otherwise, a standard pillowcase will fit but will not look as neat.
---
Features of a Good Pillowcase for a Memory Foam Pillow
I would firstly suggest a good waterproof cover for your memory foam pillow and, on top of that, a pillowcase of your choice. Or you can choose a waterproof pillowcase that serves as a cover and pillowcase all in one.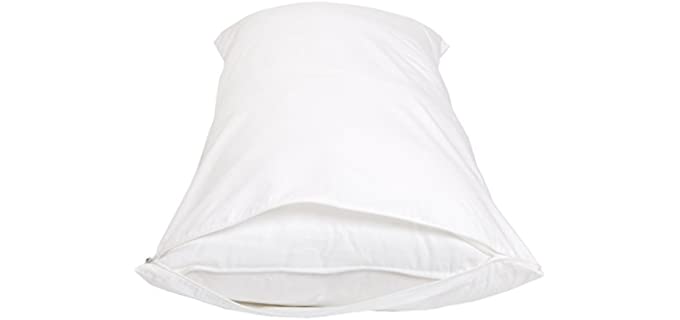 Materials – Pillowcases for memory foam pillows can come in any material as for regular pillows. Materials may include Silk, sating, Bamboo, Rayon, Cotton, Polycotton, and Polyester. I would generally opt for a bamboo or cotton pillowcase, which is cooling as most memory foam pillows can become quite heated during the night, as they absorb your body heat.
Closure and Style – Pillowcases may have a zip, envelope, or button closure design. You get different types of pillowcases for a memory foam pillow such as the regular Housewife with an opening on one side and a flap on the other, the Oxford, which has a thicker border and faps on the outside for décor, and the Bag design, which just has a simple opening on one side.
Options – Pillowcases for memory foam pillows come in the different size options including standard, Queen King, and larger. They should also be available in many colors and some prints contingent on the brand and model.
---
Reviews: The Best Pillowcases for Memory Foam Pillows
In our list you will find a variety of suitable pillowcases for your Memory Foam Pillow;
---
1
From Bampure, we have a pure bamboo pillowcase for your memory foam pillow in a standard shape.
The Bampure Pillowcase consists of 100% Organic Bamboo.
Bamboo is hypoallergenic and naturally antibacterial.
It is absorbent and regulates temperatures.
The bamboo Pillowcase is available in more colors and size options,
It has a premium envelope design and closure.
---
2
The Zimasilk pillowcases consist of 100% pure Mulberry silk for your standard shape memory foam pillows.
A premium 100% Mulberry Silk Pillowcase.
Silk is anti-aging and also great for your hair.
It has natural cooling properties and will not absorb your skin and hair moisture.
The Pillowcases are available in more colors and sizes.
---
3
The Fucoz pillowcase is designed for contoured shape memory foam pillows and comes in a few color options.
This pillowcase is designed for contoured memory foam pillows.
There are white and light purple colors available, as well as standard size options.
The pillowcase is lightweight and breathable with a zip closure.
It is also flexible for contoured pillow shapes.
---
4
From Amazon Basics, we have a 100% cotton pillowcase and protector for a full-size body pillow.
The pillowcase is 100% pure cotton and very durable.
It comes in a crisp white color and more sizes.
The Pillowcase breathes well and is soft against the skin.
It has a zip closure and is machine washable, which is safe and convenient to use.
---
5
The Sleepnitez pillowcase is designed for memory foam wedge pillows and consists of 1000 thread count cotton.
This is a 1000 Thread count 100% pure cotton pillowcase.
The finish is satiny smooth and luxurious to the touch.
There is high-quality zip closure that will keep out dust, mites, dirt, and debris.
The pillowcase comes in a crisp white color and more size options.
---
6
The Gokotta pillowcase fits a standard memory foam pillow in all sizes and consists of pure Bamboo Rayon.
The pillowcase consists of 100% rayon derived from bamboo.
There are two pillowcases included in each set.
The pillowcases come in more colors and sizes available, for your personal preferenece.
They are durable, absorbent, and will help to regulate temperatures, keeping you cooler when your memory foam pillow overheats.
---
Index Table: Top Rated Pillowcases for Memory Foam Pillows
---
---