If you are someone who enjoys going all out on Christmas and making it a memorable occasion for friends and family, then why not invest in some of the best Christmas pillow covers?
Christmas Pillow Covers can add to the decor of your home at this special time of year and finish off the perfect picture along with all your other decorations. They can even save you on extra decorations because of their eye-catching designs and versatility.
If you are interested in Christmas pillow covers for your pillows, then you are surely going to enjoy our Special review of Top Christmas Pillow Covers.

---
Why Invest in Good Christmas Pillow Covers
Christmas Pillow Covers comes in a variety of sizes, shapes, and designs that will fit scatter cushions, or even larger bed pillows, so that you can make every room in your home festive.
Pillow covers are very durable, easy to remove and wash, and will last you for many Christmases to come, so they are actually an excellent investment that can be used over and over.
As Christmas never goes out of fashion, your Christmas design pillowcases will always be fashionable and in style, no matter what year it is.
Christmas Pillowcases will add a special touch to the rest of your Christmas decor and make your home feel more festive and inviting at this special time.
Who knows, they may even make an excellent gift on Christmas for a loved one.
---
What should you consider while buying the Christmas Pillow Covers?
While there are a wide variety of options to choose from when it comes to Christmas Pillow Covers, there are, however, a few things to consider;
Material – Depending on whether it is for decoration or use as a bed pillowcase, the material quality is not that crucial. Various materials can be used for decorative throw pillowcases, cotton, velour, jute, polyester, among many others. Better quality materials will most likely last longer. I would recommend something softer and more comfortable for bed pillowcases than it is also more durable, such as a Polycotton blend or pure cotton. Many Throw pillowcases will also come with decorative details such as detailed stitching, printed pictures, sequins, and rhinestones or ribbons.
Size and Design – Because it is a pillowcase that has to fit your throw pillow or bed pillow properly, you need to make sure that the size and shape are correct. It is important to check your throw pillow and pillowcase dimensions, as they need to match. The pillowcases usually come in three options, standard, queen, or king sizes for bed pillows.
Budget – While it is easy to splurge on Christmas, you also need to keep your budget in mind. Remember that the item will be used occasionally, so it does not need to be of the most exceptional quality. Go for something fun, colorful, and affordable.
---
Features of a Good Cristmas Pillow Cover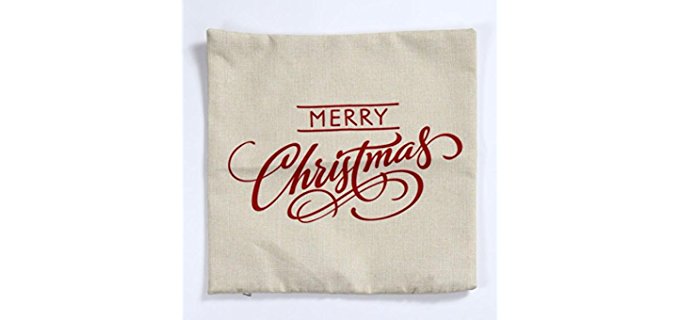 Materails – Materails such as Polyester, Cotton, Polycotton, velour and other fibers can be used.
Decor – Added decor such as a printed image, stitch details, rhinestones, and sequins may be used to decorate the pillow, among other forms of decor.
Size and Dimensions – Christmas Pillow covers will come in various sizes and dimensions usually aimed at fitting standard throw pillow and bed pillow sizes.
Clsoure and Washing – Most Christmas Pillow covers will come with either a zip, button, or foldable closure form and are washable. Though not all covers will be machine washable, and those with decorative attachments should be washed with the hand with care.
---
Reviews: Best Christmas Pillow Covers
Here we have some top favorites when it comes to Christmas Pillow Covers;
---
1
The Sankuwen cushion cover is ideal for smaller decorative cushions and scatters cushions.
the attractive white base color easily fits in with any home decor.
The Pillow cover consists of linen cotton material that ensures its durability and feels soft and comfortable.
It will be the best Christmas gift ever as it comes with attractive designs.
The printing on the front Merry Christmas will hold the guest's attention and be impressive.
However, unfortunately, it is not machine washable.
---
2
The Bluettek Throw Pillow Case consists of durable cotton and an eyecatching Christmas design.
the Pillow Case consists of durable cotton and linen natural material.
It is fully machine washable and can be easily dried up.
The Zipper closure is secure and makes it easily removable.
You can choose this option in various designs, including Santa Claus and deer with Merry Christmas writing.
The pillow cover is durable and environmentally –friendly.
---
3
The Phantoscope Cushion Cover has a fun design and consists of soft and silky polyester fabric.
The Pillow cover consists of a soft and silky polyester fabric that is durable and easy to wash.
It is machine washable and holds fits the pillow perfectly.
The Pillowcase has an eyecatching Christmas design that will enhance your home decor.
the colors are fun and suit Christmas decor colors.
---
4
From Susenstone, we have the decorative Pillowcase for a sofa or sofa bed.
These are a lovely ideal to spruce up your sofa bed at Christmas time.
The high-quality material is soft to the touch and very durable.
It comes in a neutral black color with a Christmas print that is warm and inviting.
An excellent long term investment for your home.
---
5
From Howarmer, we have an embroidered decorative Throw Pillo cushion cover that comes in a set of 4.

The decorative pillow covers come in a handy set of four.
This is a throw pillow size cover that will easily fit smaller dimension throw pillows.
The covers consist of high-quality cotton with an easy closure and are fully washable.
The zipper closure is hidden for comfort and aesthetic qualities.
The pillowcases are printed with Christmas designs and come in suitable colors.


---
6
This is a set of 4 Christmas themed decorative pillow designed by ZEUXT.
It measures 18 x 18 inches in size, and is made of durable 100% Cotton Linen that is environmentally friendly and soft to the touch.
The pillow features a triple-stitched inside seam, especially at stress points, and an invisible zipper at the bottom.
It comes in a merry Christmas wreath decorative throw pillow to compliment your Christmas decor.
---
7
This is a farmhouse Christmas theme pillow covers designed by 4th Emotion.
It features various farmhouse items in a Christmas theme on the front, whereas the backs are plain.
The pillow cover measures 18 x 18 inches in size and allows a snug fit.
It is made of 100% Cotton linen that is soft to the touch, soft and skin-friendly, and is resistant to fading and abrasion.
---
8
This is a set of HAJACK decorative Christmas-themed pillow covers.
It measures 18 x 18 inches in size and comes with a hidden zipper on the side to allow you to insert filling.
The pillow cover features classical red plaid, truck deer pattern, and funny Christmas letter pattern to complement your Christmas decor.
It is made with premium linen material that is breathable and durable.
---
9
This is a high-quality set of christmas pillow designed by PSDWETS.
It is made with short plush for a soft and luxurious finish.
The pillow measures 18 x 18 inches in size and comes with an invisible zipper.
It is designed with watercolor items that are Christmas themed.
---
10
This is a set of 6 throw pillow covers in Christmas theme designed by Alepo.
It is made with premium peach skin material that is soft to the touch and skin-friendly.
The pillow features red, blue, and white Christmas theme designs to complement your Christmas decor.
It measures 18 x 18 inches in size and comes with a double-sided print.
---
Index Table: Top Rated Christmas Pillow Covers
---
---