Pillowcases for Pregnancy Pillows come in Different Shapes and Forms.
Getting the best Pillowcase for Pregnancy Pillows may not be the easiest task, as they are not readily available.
However, we are here to help you find the perfect fit in a comfortable pillowcase for your pregnancy pillow.

---
Pregnancy Pillow Types
To get the best fit out of your pillowcase for your pregnancy pillow, you need to consider what type of pregnancy pillow you have.
So, here is a description of the basic pregnancy pillow types, for which you can get an additional pillowcase;
Wedge Pillow – Not the best design for pregnancy, but some mothers do like it, this is the wedge design pregnancy pillow that allows you to elevate your upper body sleeping and to sit upright.
C-Shape – This is a large type of full body pillow that has a C shape instead of a U-Shape to curve around your entire body, supporting your bump and back. This pillow is mainly used for side sleeping, and you can rest your head on the top.
U-Shape – The U-Shape pregnancy pillow is a full-body pillow that is the most popular and sought after. The U-Shaped pillow design contours all around you, and you are nestling in the center. This pillow supports your neck, head, back, hips, stomach, legs, and bump. You can also use it for sitting up, for back and side sleeping, and when the baby is there, it is ideal as a protective bumper.
Regular Body Pillow – A more basic pregnancy pillow is the regular-shaped longer length body pillow that is straight with no curves; you can use it as needed between your legs to support your hips at your back or underneath your bump. This is not the most comfortable option, but a basic and affordable design.
---
Choosing the Best Pillow Case for Your Pregnancy Body Pillow
Once you have decided upon a pregnancy Pillow shape and design or located your pillow shape and design, you will need to find a pillow case specific to that shape.
Many Pregnancy pillow brands and models do have additional pillowcases available that you can purchase separately for that specific pillow design.
On the other hand, the Pregnancy body pillow, specifically the U-Shape and Straight designs, generally have similar sizing, and a universal pillowcase can be obtained.
Just make sure to check the sizes and dimensions of your pregnancy pillow and compare that to the pillowcase you are interested in.
---
Features of a Good Pillowcase for Pregnancy Pillows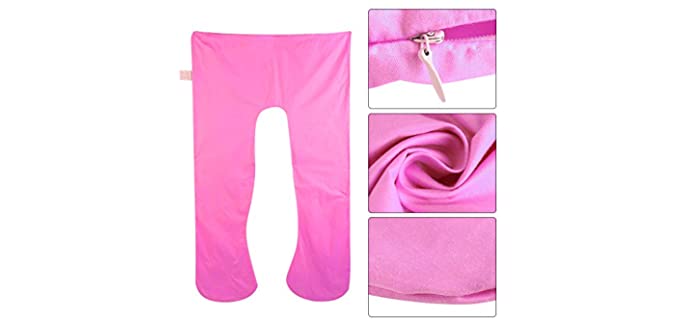 Materials – Natural and Hygienic fibres such as cotton and bamboo are all excellent options for a pillow case for your pregnancy pillow. Polyesters and microfiber likewise make good choices.
Size and Fit – You will need to compare the size of your pregnancy pillow with that of the cover you are interested in to get a proper fit. There will be some universal options, though I would rather opt for a brand-specific pillowcase that is similar to the brand and model for the pregnancy pillow that you have.
Options – Pregnancy Pillow, Pillow Cases should be available in different sizes depending on the brand and model, as well as more color options from which you can select.
---
Reviews: The Best Pillowcases for Pregnancy Pillows
In our list, you will find some brand-specific, as well as universal fit Pregnancy Pillow, Pillow Cases that are of the best quality and safest materials and constriction;
---
1
The OM bedding Collection Body Pillow, Pillow Case fits the regular-sized body pillow and is available in more sizes.
This is a 100% Egyptian cotton pillowcase which is of the purest and finest quality that you can get.
As you will see, there are many shapes and sizes, as well as solid colors, that the pillowcases are available in.
The Pillowcase also comes in a size that will fit a body pillow of 20×54 inches, and it has a zip closure.
Furthermore, it is machine washable and will dry quickly.
---
2
From NTBAY, we have 500 thread count full body pillow pregnancy pillowcase in a few size options and colors.
This pillowcase option is also available in standard sizes as well as body pillow sizes for pregnancy pillows.
There are more colors available for your choice.
The pillowcase is made of pure cotton and is breathable and soft.
It has an easy zip closure and is also machine washable.
---
3
Here we have a cotton pillowcase that fits all U shape Pillows and comes with easy zipper closure.
Here we have the Pillowcase cover for the brand-specific U-Shape body pillow from MoonRest.
The pillowcase is a solid white color that is neutral.
It consists of pure and soft, breathable cotton, which is a healthy and natural choice.
It is a high-quality design with soft fabric and machine washable.
---
4
Here we have a cover for a full U-Shaped pregnancy body pillow in 300TC cotton.
The Meiz Pillow cover is designed for the full U-Shaped pregnancy pillow.
It consists of pure cotton and is customized to fit the Meiz pregnancy pillow specifically.
The Pillowcase is available in a few neutral colors for your perusal.
It is machine washable and very durable, with zip closure.
---
5
The Lavish Home pillowcase is a full cover for your U-Shape Pregnancy pillow, with zip closure.
This is a cotton replacement Pillowcase for the Lavish Home U-Shaped pregnancy pillow.
The Pillowcase is easy to remove and has a zip closure.
It consists of soft and breathable cotton with a smooth feel.
The pillowcase can be machine washed and has a durable construction and design.
---
6
The Yosoo pregnancy Pillow covers it neatly over a U-Shaped Pregnancy pillow and is available in more colors.
The Pregnancy Pillow, Pillow Cover comes in a 57×30 inch size for a 55.1″ L x 31.1″ W sized pregnancy pillow in the U-Shape.
It is high-quality cotton that is solid, durable, and completely non-toxic.
The Pillowcase is easy to change with a handy zipper closure design.
The corners of the pillowcase are rounded so that you won't be scraped by hard edges.
There is a blue or pink color option available to you.
---
7
This is an ultra-soft cover for a normal-sized body pillow for pregnancy.
The pillowcase consists of 100% polyester microfiber.
It has a hidden zipper closure for your comfort,
The pillowcase is machine washable and can be tumble dried on low.
---
8
The Pillowcase is designed for a C-Shaped pregnancy Pillow.
It consists of a very soft and comfortable jersey-knit cotton.
There is easy-to-use dual zip closure.
This is the printed version that comes in more fun and colorful options.
---
9
A stretch Jersey Knit Pillowcase designed for the C shape pregnancy and maternity pillow.
It consists of soft cotton jersey material fabric.
There is a hidden zip closure for your convenience.
It is machine washable and quick drying.
---
10
A soft and comfortable velvety Pregnancy Pillow cover.
The Pillowcase is designed for C-shaped maternity and pregnancy pillows.
It has double zippers and consists of soft velvet material.
The dimensions are 57×30 inches in size.
---
Index Table: Top Rated Pillowcases for Pregnancy Pillows
---
---