A good night's rest helps to transform and rejuvenate your entire body. Getting proper rest in a healthy environment is crucial, and this also includes having the right sleeping aids.
Your pillowcase is close to your skin, nose, mouth, eyes, and ears and comes into contact with your entire face every night.
Many dangers are lurking in your pillow and pillowcase that can cause various issues in your skin and respiratory system.
Thus, having clean, good-quality hypoallergenic and the best antimicrobial pillowcases can improve your health and prevent dangers such as dust mites and batteries trapped in your pillowcase.

---
Why Choose an Antimicrobial Pillowcase?
So why should you choose an antimicrobial pillowcase?
Well, antimicrobial pillowcases hold many benefits for your skin and hair and are a much healthier option than your regular pillowcase.
Antimicrobial pillowcases have proven to prevent many skin conditions and help alleviate symptoms, including acne, allergies, and eczema. Antibacterial Pillowcases will not harbor harmful bacterias and allergens that can cause skin irritation or respiratory issues.
So, all in all, an antimicrobial pillowcase is a safe and clean option that is beneficial for healthy hair and skin.
---
The Difference Between and Antimicrobial and Antibacterail Pillow Case
So, you have probably heard of antibacterial and antimicrobial pillowcases, but what are the exact differences?
Well, the main difference between antibacterial and antimicrobial is basically the types of microorganisms that they affect upon;
Antibacterail Pillowcases – Antibacteila pillowcases use natural fibers and technologies that are usually infused with copper or silver ions, which act against a broad spectrum of harmful bacterias. Antibacterial agents will help to eliminate bacterias, including E-Coli and even MRSA. Most antibacterial pillowcases will employ some form f silver infusion or silver ion technology.
Antimicrobial Pillowcases – Pillowcase with antimicrobial properties will effectively minimize the presence of bacteria, mold, and fungi. In general, antimicrobial agents offer a much better product protection level than antibacterial agents by continuously inhibiting microbes' growth on a surface for a long time. Antimicrobial Pillowcases have a comprehensive spectrum of performance, making them an idea for protecting harmful bacterias and germs. In this case, silver or zinc infusion and technologies are applied.
As you can see, silver and zinc are the main components of antimicrobial agents used in antimicrobial pillowcases. Some other fabrics may also have antimicrobial properties. Many pillowcase models will come with both antimicrobial and antibacterial properties.
---
Features of a Good Antimcrobial Pillow Case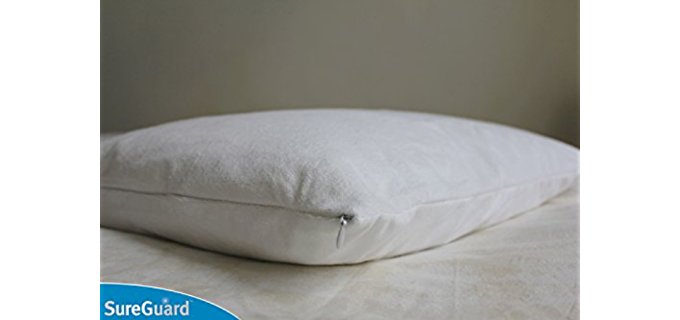 Materials – Materails such as cotton, Egyptian Cotton, bamboo, silk, and polyester are all safe and ideal to use in antimicrobial pillowcases.
Antimicrobial Agents – Many fibers such as bamboo and silk are naturally antimicrobial, but other agents such as copper, silver ions, or zinc treatments and infusions may be added to the fibers of the fabric in the pillowcase for antimicrobial properties. Natural oils such as tea tree and lavender also have antimicrobial properties and can be infused into pillowcase fibers.
Size and Color Options – Pillowcase comes in regular standard, queen, and king sizes, although in some models, larger sizes and toddler size options may also be available. Most pillowcase models also offer many color varieties from which you can select.
Thread Count – When it comes to thread count, which is mostly seen in cotton, Egyptian cotton, and polycotton or polyester blends, a higher thread count is desirable, meaning it will have a dense and softer texture. A thread count of around 200 up is usually your best option for the best antimicrobial sheets or pillowcases.
---
Reviews: The Best Antibacterial Pillowcases
1
The Elegant Comfort luxury antimicrobial Pillow Case has a soft and silky feel and is also stain resistant.
The materials used in the pillowcase are completely stain-resistant and hypoallergenic.
It is available in more than 20 colors and different size options.
Along with being antimicrobial, it is also hypoallergenic, allowing you to breathe easily and rest your skin properly.
Overall the pillowcases are Soft, silky, and vibrant. You just found the finest pillowcases for your beautiful skin.
---
2
The SureGuard Premium Pillow covers are antimicrobial and completely Hypoallergenic.
Perfect cover protection for your pillows, SureGuard provides complete protection against stains, sweats, and bacteria, to name a few.
The Pillowcase consists of premium quality materials that are durable and hypoallergenic.
It is not only 100 percent waterproof but also beds bug-proof, which enables you to sleep peacefully at night.
These Pillow Cases are most suitable for feather pillows.
This pillowcase is hypoallergenic and protects your skin from allergens, bacteria, and dust
Equipped with a fine zipper of the latest technology of Invisi-Zip
The Pillowcase likewise comes in standard size options and toddler size options.
---
3
From Celine Linen, we have fine quality and hypoallergenic and antibacterial Egyptian cotton Pillowcase.
Egyptian cotton is one of the finest and purest forms of cotton, and the 1800 thread count will offer you a silky smooth pillow cover of pure luxury.
Cotton is highly breathable and generally hypoallergenic.
The luxury pillowcases are available in or 20 color options and have antimicrobial properties.
You can select from the general size options that will fit ost pillow types.
---
4
Bamboo is another superb hypoallergenic and antimicrobial fiber, and we have chosen the top quality Nufabrx brand for this model.
Bamboo fibers are highly recommended for their absorbency and antibacterial properties.
The Pillowcases consist of a quality natural Bamboo fabric material.
The design features the nanocapsule technology with a remarkable serum-containing lemon balm, lavender, wintergreen oils, and tea tree
A study found the regular use of it reduced acne bacteria by nearly 91.5 percent
the cover is very soft and comfortable. It is made up of 220 bamboo thread count, which allows it to be super easy for breathing and an excellent skin
It is Quick washing with cold water and fast drying
---
5
We have the Acne Fighting Hypoallergenic Pillow Case for skin irritations and conditions from hygiene.
The Pillow Cases consist of spectacularly fine ionic silver embedded in fibers.
The silver ions kill nearly 99.9 percent of all the bacteria responsible for bad odor.
Furthermore, it is stain-resistant, odor-resistant, and is wrinkle-free.
The antimicrobial properties repel bacteria, dust, and germs
It also prevents allergens and is good for protecting against acne.
this cover guarantees you softness, comfort, and luxury.
---
6
This is a Standard sized Antimicrobial Pillowcase designed by Kleen Fabrics.
It is constructed with 100% pure, premium quality Polyester, with a 90gsm thread count, soft to the touch.
The pillowcase is infused with Klee Silver that does not wash out with use.
It is naturally antimicrobial due to the Silver and protects against mold, fungus, and mildew.
---
7
This is a King-sized Antimicrobial Pillowcase designed by Silvon.
The pillowcase is made using an innovative process to weave pure Silver coated threads into the Cotton fabric base.
It eliminates a wide range of harmful bacteria, making it effectively anti-acne as well, along with being antimicrobial and antibacterial.
The pillowcase is made with the silkiest, smoothest, and sustainable Organic Supima Cotton that is hypoallergenic and breathable.
---
8
This is a specially designed pillow to fight Acne's growth and keep the skin safe from harmful bacteria.
It is made by weaving pure silver-coated threads into the Cotton fabric to harness the antimicrobial and antibacterial properties of Silver.
The silver in the pillow does not fade or lose its unique characteristics with time.
It is made with the silliest sustainable Organic Supima Cotton that is hypoallergenic, breathable, and silk-soft.
---
9
This is an Ultimate Antimicrobial Pillow Protector designed by AllerEase.
The pillow is designed to offer complete barrier protection from allergens, bacteria, dust mites, pet dander, and bed bugs.
It features a temperature balancing technology that adjusts continuously to your body temperature to keep you cool and comfortable throughout the night.
The pillow comes with a zipper for easy removal for machine washing.
---
10
This is a Standard size Acne Pillowcase designed by newmeil.
The pillowcase is infused with Silver, one of the most naturally antimicrobial agents.
It is made with A-grade, renewable Cotton fabric embedded with 5% Pure Silver thread, making it antibacterial, antimicrobial, and anti-Acne.
The pillowcase is breathable, skin-friendly, and designed to keep you and your skin clear and clean throughout the night.
---
Index Table: Top rated Antimicrobial Pillowcases
---
---