Getting a pillowcase for your contour pillow is not the hardest task. You can opt for a pillowcase specifically designed for a contoured Pillow, or you can use a regular design pillowcase.
Today we will look at some of the best pillowcases for contour pillows that will fit your contour pillow properly, and that is also a good investment when it comes to quality and your health.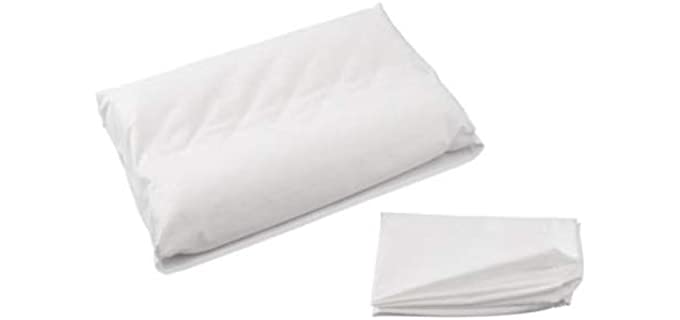 ---
Pillowcase Materials to Consider
When it comes to pillowcases in any setting, the material and quality construction are the two main elements that will matter the most at the end of the day.
So let us look at some of the available material choices for a pillowcase for your contour pillow;

Polyester – You will see that polyester is the most readily available, affordable, and a good choice. It is a synthetic material that is not absorbent, durable, reasonably colorfast, and also quite durable. Polyester may be blended with cotton and also comes in different thread count options. Polyester feels similar to cotton with a slightly softer touch and is generally wrinkle resistant.
Microfiber – Microfiber is a material that consists of either nylon or polyester, with extremely thin fibers. Hence, microfiber has an almost satiny smooth, and very soft finish. It also does not absorb moisture and is wrinkle-resistant, stain, and fade resistant. However, Microfiber is not the best quality. It is an affordable and easy to care for an option that has the widest range of colors and prints available.
Bamboo – Bamboo or Rayon derived from bamboo are natural fibers that are very absorbency, dust mite, and bacteria resistant. They are also natural fibers that are durable and hypoallergenic. Bamboo and rayon Pillowcases may be more on the expensive side and a bit hard to come by.
Silk and Satin – Silk is one of the most expensive pillowcase materials and consists of natural Mulberry silk fibers obtained from silkworms. Silk is not absorbent, has great slip, and is very delicate. However, Satin has a similar finish to silk but consists of polyester fibers. Satin and Silk are both excellent options for anti-aging and hair care, and they are also hypoallergenic. However, they are very delicate and not easy to care for.
Cotton – Cotton is the most widely used natural material in Pillowcases that is durable, hypoallergenic, breathable, and absorbent. However, depending on the thread count, cotton may be harsh on your skin and hair. If you do opt for cotton, look for higher thread counts such as 400 Tc and more. This creates a more satiny soft feel. You will also notice that the higher the thread count for the cotton, the more expensive it becomes. Cotton is not wrinkled or stain-resistant in turn so that it will need some maintenance and care.
---
Design of a Pillow Case for Contour Pillows
You get two basic shapes of Pillowcases for contour pillows, which is the design specifically for a Contour Pillow Case or a standard pillowcase.
Pillowcases designed specifically designed for contour pillows are generally specific to a brand and model of contour pillow, although there are some universal options available.
Standard pillowcases come in standard, queen, and king size options, and you will need to check the dimension of your contour pillow before opting for a regular pillowcase.
Keep in mind with a regular pillowcase that the fit will be slightly uneven, as it does opt to accommodate for the contours of the pillow.
---
Features of a Good Pillowcase for Contour Pillows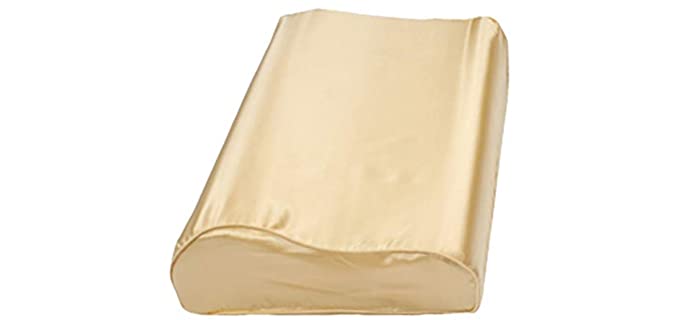 Materials – Bamboo is likewise the best choice in a pillow cover or case for a contoured pillow. Cotton is also a great natural option, along with rayon, and then polyester or microfiber in synthetic options. Make sure to look for a thread count at the lowest 200Tc.
Design – Most pillowcases for contoured pillows are designed specifically to fit the pillow's shape. However, a standard pillowcase design in a larger size may also fit a contoured pillow, depending on the size of the contoured pillow.
Options – Contoured Pillow Pillow Cases should be available in different colors, and maybe some prints depending on the brand, as well as size options.
---
Reviews: The Best Pillowcases for Contour Pillows
These are our top favorites when it comes to Pillowcases for the Contoured Pillow;
---
1
The THXSILK Momme Mulberry Silk pillow comes in many colors and size options for your contoured pillows.
This is one of the top ten brands for silk pillowcases from China.
The Pillowcase consists of pure Taihu silk that is luxurious, will not crease, and that has anti-aging properties.
The Pillowcases will fit most contour design pillows and have dimensions of 20″ x 12″ x 3.9″/2.7″.
They are OEKO TEX certified and free of all chemicals and other substances.
Silk is the perfect fabric as a pillowcase for memory foam pillows.
---
2
The Contour Products pillowcase is a cotton pillowcase available in a standard size option.
The Pillowcase comes in a standard or King-Sized option, with or without the Cooling technology.
It will fit most contour foam pillows easily and has a super soft velour material.
There is a large L-shaped zipper for easy installation, and the pillowcase consists of a blend of cotton and polyester,
The ends are gusseted for a more classic contoured shape.
---
3
The Contour Store CPAPMax pillowcase for contour pillows is designed specifically to fit this branded contour pillow.
This is a specific pillowcase for the CPAPMax contoured pillow design from the Contour store.
The pillowcase is a high-quality design and will securely attach to your CPAPMax Pillow.
It has a unique top open end for the CPAP Hose and tether to use it while the cover is on your pillow.
The cover removes easily and is fully machine washable.
---
4
The Zisa dreams cotton pillowcase for contour pillows come in different size options for all your needs.
The Zisa dreams pillowcase is designed to fit the Tempur-Pedic conventional or contoured memory foam neck pillows.
It is a 100% pure combed cotton percale and premium quality,
The Pillowcase comes in a small, medium, large, and queen medium size option.
It is, however, only available in the white color selection.
---
5
From Cozysilk, we have a pure mulberry silk pillowcase for your contoured pillow, available in more colors and size options.
Another Luxury silk pillowcase from CozySilk.
Silk is ideal to use on memory foam contour pillows.
The Pillowcase features a unique hidden zip closure for your protection.
It will not crease and is healthy for your skin and hair.
Very easy to care for a durable design.
---
6
The Eucoz Pillow Case for contour pillow covers is soft brushed cotton, and there are more colors available as well as sizes.
With this package, you get a pillowcase, as well as a sleeping mask included.
The pillowcase is available in a few soft pastel colors.
It consists of a soft cotton material that is brushed for softness and very breathable.
The Pillowcase has a hidden zip closure for your comfort and can be machine washed.
---
Index Table: Top Rated Pillowcases for Contour Pillows
---
---