There are those of us that sleep cool and comfortable, and then there are those of use that seem to radiate heat when we sleep.
Waking up with a hot and sweaty face and hair during the night can be awful and also prevents you from getting proper sleep.
So, why not invest in the best cooling pillowcases? Have you ever thought of this simple and affordable way in which you can change all of that and enjoy a cool and comfortable sleeping experience?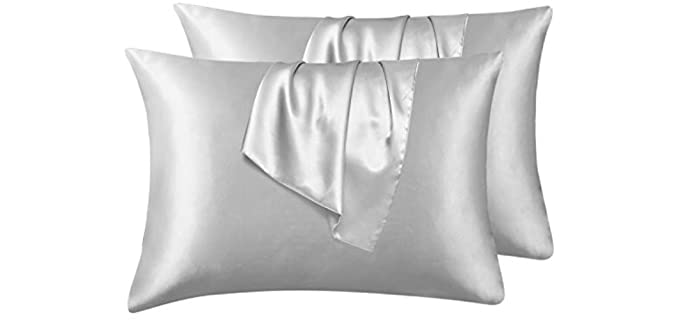 ---
Keeping Cool While You Sleep
A cooling pillowcase is an excellent and very healthy way to keep cool while you sleep without breaking the bank.
There are also some more ideas to keep you cool during the night;
1. If you have an air conditioner or cooling fan, the ideal temperature for your room at night needs to be between 60 and 67°F, so try to maintain that.
2. If you do not have an air conditioner, a regular standing fan or ceiling fan can also help to keep you cool.
3. Open some windows, i\the light breeze gives your fresh air and keeps you cool at night.
4. Keep your room dark. Switch off all lights, and glowing electronics as all of these actually add to the heat.
5. wear comfortable and lightweight pajamas that consist of natural and breathable fabrics such as cotton or bamboo.
6. Try to invest in a cooling mattress, pillow, sheets, and pillowcases.
7. Make sure to change your sheets and pillowcases to wash away sweat regularly.
8. Use only a sheet at night and remove other extra blankets and pillows from your bed.
9. Avoid any strenuous exercise or physical activities before bedtime.
10. Take a cold or lukewarm shower before bed rather than a hot shower.
These tips can all help you to get cooler when you sleep, along with your cooling pillowcases and maybe some sheets as well.
---
Cooling Pillowcase Materials
No, that we can get into cooling pillowcases. Some have specialized technologies to keep you cool, which we will review. Then some basic pillowcase materials are cooling all by themselves, so let us have a look at some of them;
Cotton – Cotton is a naturally cooling material, it breathes well and absorbs sweat which in turn keeps you cool and dry. Cotton is 100% natural and vegan and comes in a large variety of colors in pillowcases.
Silk – Natural silk is another fabric that keeps you cool, and that has a naturally cool feel to it. In turn, silk is ideal for frizzy hair and has anti-aging properties for your skin. Keep in mind that genuine silk is high maintenance and must be hand washed only.
Bamboo – Bamboo is a natural fiber used in some pillowcases that are cooling, hypo-allergenic, and absorbs moisture effectively. Bamboo is durable and can be hand washed.
Tencel Lyocell – This is a fabric that is made from wood pulp, it is breathable and moisture-wicking rather than absorbent, which means it draws moisture and seat away. These pillowcases are non-toxic, natural, and cooling.
Satin – Satin has similar properties to silk, but it is a synthetic material consisting of polyester fibers that are very finely woven. Satin is likewise cooling and moisture-wicking, but it is much cheaper and easier to wash and maintain than silk.
Polyester – Polyester is a synthetic fabric that, on its own, I would not recommend in a pillowcase. But some improved technology polyester fiber pillowcases are designed specifically to have cooling properties. So it is worth mentioning.
---
Features of a Good Cooling Pillowcase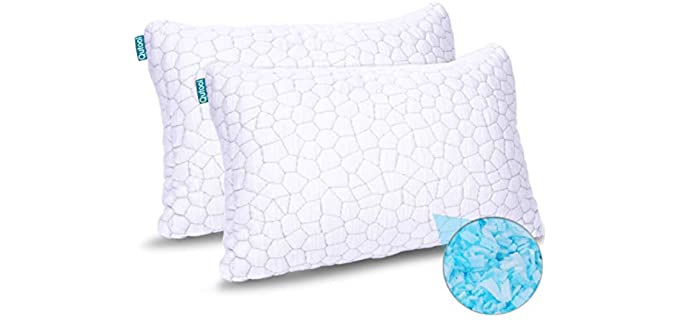 Materials – The Pillowcase can be a synthetic polyester with infused cooling fibres or technology. Natural fibres suck as bamboo, Tencel Lyocell, Cotton and silk all have cooling properties. Gel may likewise be layered on the pillow case for its properties of coolinga and distribution heat evenly.
Design – The pillowcase will have a standard, queen, or King size, depending on the options that the specific brand has available. Most pillowcases will have a fold-over closure or a zip closure.
Price – The price will differ according to the type of materials used and the technology. Silk will be one of the most expensive materials.
---
Reviews: The Best Cooling Pillowcases
Here are our reviews of the best available cooling pillowcases in a variety of materials for you to choose from as preference;
---
1
The Luxear pillowcase features premium cooling technologies.
It has a double-sided design that has a cool and silky side for summer and a warm and brushed cotton side for winter.
The soft texture is likewise very good for your hair and skin.
The Pillowcase comes in a set of two, and there are more colors and size options available.
---
2
The Ettude Pillowcase is a cooling Bamboo and Lyocell design.
It consists of 100% pure Lyocell bamboo fibers.
Bamboo is naturally absorbent and cooling, as well as fully hypo-allergenic.
Bamboo is also a completely natural and vegan fiber.
The pillowcase comes in a set of two, and there are more colors and sizes from which you can easily choose.
---
3
The Sheex Arctic Aire Max pillowcases are a silky-smooth design with CoolX technology.
They consist of a sateen weave Tencel Lyocell fabric with cooling technology.
The design reduces sweat and wicks away moisture.
They are also fully machine washable.
---
4
From Fishers Finery, you will get the absolute best silk pillowcases.
The Pillowcase consists of 100% pure mulberry silk of the finest quality.
Silk is naturally cooling and good for your skin and hair.
There are more colors and sizes available in this pillowcase model.
---
5
Here we have an organic c cotton pillowcase from Columbia Organic.
Cotton is a great choice as it breathes well, absorbs moisture, and generally stays cool.
This pillowcase is 100% GOTS certified organic cotton in its purest form.
The Omni-Wick design technology wicks away moisture to keep you cool and dry all night.
---
6
The Hanslee Satin set of four pillowcases are convenient and cool.
Satin is similar to silk when it comes to cooling properties but easier to maintain and much cheaper.
These pillowcases are high-quality polyester with a satin weave that wicks away moisture and keeps you cool.
They are available in many more color selections.
---
Index Table: Top Rated Cooling Pillowcases
---
---