Have you ever woken up from a good night's rest to look in the mirror and find a new pimple or two?
Your skin comes into very close contact with your Pillow Case, so it may trap whatever materials, oil, and bacteria in your Pillowcase could actually aggravate acne and even cause acne breakouts.
If you want to find out more about how your Pillow Case may be causing or affecting your acne, then this is the article for you.
We will also be looking into the Best Pillowcases for Acne to help reduce or prevent Acne's breakouts and further aggravation.
---
Is Your Pillow Causing Your Acne?
Your Pillow Case may not be as clean as you think. Dirt, oils, bacteria, and dust collects inside the fibers of your pillowcase, and when you sleep, your face and skin are burrowed into all these elements inside your pillowcase.
This gunk will find its way into your pores, clogging them, and eventually lead to pimples and acne on your skin.
In surprising news, your sleep position may contribute to facial acne. Why? Because your pillowcase isn't as clean as you think… and that might affect your skin.
In some cases, Acne Mechanica may occur, which is a form of acne resulting from certain material objects touching your face. That said, washing your pillowcase may not necessarily cure the problem, as the materials may be causing a breakout.
Yes, washing and changing your Pilow Case regularly is essential to prevent dirt from getting onto your skin, but it may also be wise to invest in the Best Types of Pillow Cases to prevent acne.
---
Best Types of Pillow Cases for Acne
Charcaol Infused Pillow Cases – A Pillo w case that has Charcaol in the material is naturally anti-bacterail, and charcoal also helps to draw out oils and toxins.
White Cotton Pillow Cases – If your Insist on cotton Pillow Cases, opt for white colors, as they allow you to see when the Pillowcase is dirty or oily and requires washing. Cotton is absorbent and breathable, so it is a good acne option.
Silk Pillow Cases – Natural silk does not absorb moisture and keeps your skin moisturized. It is also anti-bacterial and non-irritating because of its smooth texture.
Silver Infused Pillow Cases – A Pillow Case infused with silver has anti-microbial and anti-bacterial properties and will reduce inflammation and infection when it comes to acne.
Copper Oxide Pillow Cases – Pillow Cases infused with Copper Oxide particles are naturally antibacterial and promote collagen formation elastin in your skin to improve the health and texture of your skin.
Bamboo Pillow Cases – Bamboo is a naturally antibacterial, absorbent, and dust mite resistant material that is healthy and beneficial to your skin and in the prevention of acne breakouts.
---
Features of Acne-Fighting Pillowcase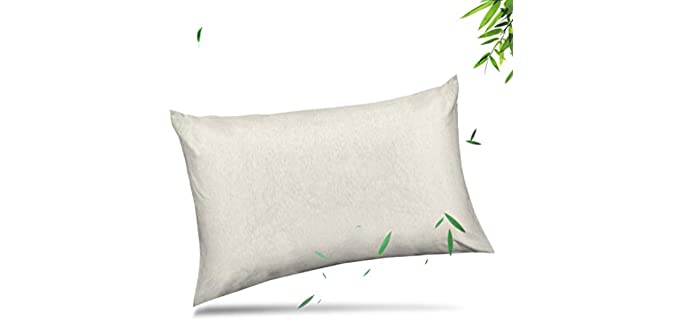 Pillow Case Materails – Look for these materials in your pillowcase that are safe and healthy for acne; Bamboo, Charcoal, Cotton, Silk, Copper, and Silver Ions.
Size Options – Pillow Cases for acne come in various size and color options that you should be able to select from. I usually advise whit colored pillowcases so that you can see when your pillow needs washing.
Clsoures – Most pillowcases for acne will have the folded closure design, although some may have a zip closure.
Technologies – Some acne Pillowcases come with specific technologies in the materials that use certain fibers and elements to prevent acne outbreaks as wells as for their antimicrobial properties.
---
Reviews: Best Pillowcases for Acne
These are some of our top favorites in Pillow Cases that are ideal for individuals who have Acne;
---
1
From Kleen Fabric, we have the PurThread Silver Technology Pillow Case for Acne.
The Pillow Case consists of quality polyester and Silver technology.
Silver technology helps you fight acne by protecting harmful germs and bacteria and fighting off infections.
The antimicrobial technology also offers powerful protection against mold, fungus, and mildew.
The patented Kleen Silver is powered by PurThread technology and works efficiently to fight acne.
The cover has a dense thread count of 90 GSM and with polyester and microfiber that is breathable and easily washable.
---
2
From Newmeil, we have another favorite Silver Infused Pillowcase design that is ideal for acne.
The pillowcase consists of 95% A-grade, renewable cotton fabric, along with 5% Pure Silver Thread.
The Silver technology is fully renewable and will not ash out in time.
Silver technology is antibacterial and will keep your face clean and infection-free all night.
Furthermore, the pillowcase is very soft to the touch, so non-irritating and breathable.
---
3
Their Original Pillowcase is designed specifically for conditions and issues such as acne from hygiene.
The Pillowcase consists of a unique blend of Cotton embedded with ionic Silver for its acne-fighting properties.
It offers maximum protection against bacteria, odors, and other pollutants to keep the face and skin safe while you rest.
The Hygiene Technology is designed specifically to prevent microbial growth of germs and bacteria that may cause acne on the face and create bad odors. Also, it blocks allergens to reduce the risk of acne.
The Silver Ions will not dissipate with washing, and the Pillowcase is fully machine washable.
---
4
Alfred offers you their Silk Soft Pillow Case option with Fiber Silver technology for acne.
the Pillowcase consists of Silk Soft fibers, with woven silver-coated threads into the fabric itself to ensure it doesn't weaken with time.
The Silver Fibres fight bacteria and infections and help to keep your skin clear and clean.
The Pillowcase is fully machine washable for versatility.
Furthermore, it is recommended by doctors, especially for acne.
---
5
The Bedford Home Luxury Pillow Case consists of a fiber blend that will not aggravate acne.
This Bedford Home pillowcase consists of a high-quality, 100% Polyester Microfiber Satin blend.
Satin is gentle against the skin and will not aggravate acne. Polyester is very breathable and durable.
The Blended Pillowcase will prevent excess absorption of dirt and oils and is highly breathable.
Satin is also known for its moisturizing capabilities, so it will not dry your skin.
Its sleek texture also protects the skin from sleep lines and wrinkles and keeps bacteria and germs from accumulating to prevent acne.
---
6
The Newmeil Bamboo Pilow is an excellent option in a natural Pillow Case for Acne.

Bamboo is naturally antibacterial, dust mite resistant, absorbent, and hypoallergenic.
The soft texture will not irritate your skin.
Bamboo fibers will absorb excess sweat and moisture, drawing it away from the skin to prevent further breakouts.
Furthermore, Silver Fibers is woven into the bamboo as an antibacterial cleaning agent.
The jersey knit pillowcase is made with soft and renewable, A-grade Bamboo fabric and 4% Pure silver fiber.
It is soft to the touch, breathable, skin-friendly, elastic, eco-friendly, and comfortable to sleep on.
---
7
This is a specially designed pillow to fight Acne's growth and keep the skin safe from harmful bacteria.
It is made by weaving pure silver-coated threads into the Cotton fabric to harness the antimicrobial and antibacterial properties of Silver.
The silver in the pillow does not fade or lose its unique characteristics with time.
It is made with the silliest sustainable Organic Supima Cotton that is hypoallergenic, breathable, and silk-soft.
---
8
This pillow by ONYX is made using premium quality, 100% pure Egyptian Cotton for a luxurious experience.
It is enriched with Zinc to improve and calm various skin conditions such as Acne, Eczema, Seborrhea, etc., while also protecting the hair.
The pillow is designed to prevent bacteria and other germs, sweat, dirt from sticking to the skin and causing irritation.
It is hypoallergenic, antimicrobial, antibacterial, OEKO-TEX Standard 100, and soft to the touch.
---
9
This is an Enetix luxury pillowcase designed with premium quality Silky satin.
It is durable, lightweight, hypoallergenic, breathable, and cooling to the skin.
The pillowcase is designed to keep the skin hydrated, reduce the appearance of fine lines and wrinkles, prevents and controls acne, and also protect the hair from friction damage.
It comes in a standard size of 20 x 36 inches and is ideal for all seasons.
---
10
This is an Acne-fighting Real Nature pillow designed to protect the skin safe.
It is made with A-grade, renewable Cotton, enhanced with 5% Pure Silver thread.
The silver thread helps keep the skin safe from germs, bacteria, dirt accumulation, etc., as it is naturally antimicrobial and antibacterial.
It is hypoallergenic and suitable for hand washing only.
---
Index Table: Top-Rated Pillowcases for Acne
---
---