Sitting, whether for a long drive, at the office, or just for relaxation, may not always be the most comfortable or supportive position, especially if you do not have the right chair.
Then again, orthopedic design and luxury chairs can be quite expensive and will not provide a car seating solution.
This is where the top seat Pillows come in handy. A pillow designed to fit any seat comfortably provides you with proper support and spinal alignment to keep you comfortable when seated.

---
Why You Need a Seat Pillow and Who Will Benefit Most
Anyone that is in a sitting position for a prolonged period of time, no matter what the reason, will sooner or later feel discomfort and pain. Poor circulation and pressure can cause a range of issues when seated on a hard and unsupportive seat for a long period of time.
People who work on an office chair drive for long periods, and even those in wheelchairs can benefit greatly from a comfortable and supportive seat pillow or cushion.
The seat Pillow has materials and a design that offers pressure relief, proper support, and comfort, and cooling capabilities to keep you well ventilated and cool when seated for long periods of time.
---
Benefits of a Seat Pillow
A proper seat cushion or pillow can have many benefits;
Posture – Firstly, the ergonomic and supportive design of a seat pillow improves your posture, helping your body develop a more natural posture. A good posture will improve your overall health and be great for your confidence and physical appeal.
Less Compression – A seat pillow reduces pressure on your hips, spine, and tailbone, as well as your coccyx, which in turn can cause pain and fatigue. Pressure on these areas can lead to pain and joint issues. A good seat pillow provides cushioning that disperses weight evenly and reduces pressure points.
Circulation – The Seat Pillow will provide support and cushioning that, in turn, will improve blood circulation and cardiovascular health. Sitting on an unsupportive and hard surface can restrict blood flow to your pelvis and legs, and your back. In turn, the right seat pillow will prevent this.
Digestion – Another negative effect of compression while sitting is poor digestion, leading to many issues and conditions. Propet seated support aids in digestion and allowed for more room for your belly to work.
Comfort and Energy – If you are going to be seated for a long time, it is important to be comfortable. the right seat cushions will keep you comfortable and prevent fatigue, which may prove your overall energy levels.
---
Features of a Good Seat Pillow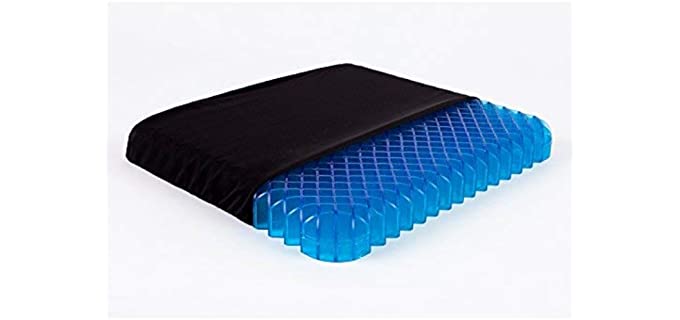 Fill – The fill should consist of a firm or moldable foam such as clustered polyester, memory foam, or latex. Gel padding can be added for cooling capabilities, and a ventilated design also helps with breathability.
Design – The design should fit neatly on the required chair with secure fastenings to prevent slipping. A contoured or shaped design that offers proper support is likewise ideal.
Cover – A durable cover must be considered for a set pillow. Materials such as vinyl, polyester, and cotton are ideal for their durability. Covers need to be removable and washable to keep them clean and germ-free.
---
Reviews: Best Seat Pillows
We have reviewed some of the best available models and brands when it comes to a variety of designs in seat pillows;
---
1
The Aylio is an Office Chair and Car Seat Pillow ideal for back pain and Sciatica.
The seat pillow reduces pressure or stress on the tailbone, coccyx, and hip bones while driving and sitting.
It also offers great relief from numbness, sciatica, and back pain, especially lower back pain, with the proper sitting position.
It can be used for car seats, office chairs, planes, trucks, and wheelchairs.
Furthermore, the cover is removable and machine washable, consisting of durable materials.
For the fill, a thick and durable plush foam is used.
---
2
From Xtreme Comforts, we have the Orthopedic Memory foam design Seat Pillow.
The seat pillow promotes equal weight distribution and helps relieve tailbone pain, lower back pain, and numbness.
The Pillow consists of a high-quality foam material that ensures comfort and durable use.
The durable cover is removable and machine washable.
The design helps in the spine alignment, increases the blood flow to your lower parts of your body, and makes the sitting position right.
It comes with a money-back warranty, and you can return the product within two years.
---
3
The Kimba Cool Gel pillow uses cooling gel technology to keep you cool and comfortable.
The Fill is infused with a cooling gel that aids in keeping you cool and preventing overheating.
It comes with a hundred percent premium therapeutic memory foam that ensures the product's durability.
The users recommend the Pillow for spine alignment, good posture, comfortable sitting, and proper weight distribution.
You can use it for any seat, including a car seat, plane seat, bench, chair, and wheelchair seat.
Furthermore, the cover is removable and washable for your convenience.
---
4
The Wondeergel seat Pillow is an ultra-soft cooling gel pillow for your comfort.
The seat pillow consists of ultra-strong, ultra-soft, solid rubber material that can offer your body support on any surface.
It is extremely flexible and can be used depending on your requirements with some adjustments.
With the combination of gel that offers excellent support to your body and keeps you cool while sitting for a prolonged period, you will stay comfortable.
You can use it in different positions and get the shape back after the use without leaving any permanent depression.
It is one of the best selling seat pillows and has received appreciation for the ease, comfort, and durability.
---
5
From Collections ETC, we have the Orthopedic design gel seat cushion for proper back support.
You can get the seat pillow available in different colors and shapes to choose the one depending on your preference and requirements.
It can offer you great support and peace of mind while working long hours in a sitting position.
The fill consists of a high-density foam that conforms and contours, offering you excellent support and comfort.
The pillow comes with a washable and a removable cover.
It is ideal for people with back pain and spine injuries.
---
6
This is a Ziraki Orthopedic seat cushion designed for comfort.
It is designed to relieve coccyx and back pain and Sciatica, Herniated discs, tailbone injuries, pregnancy back pain, hip pain, hemorrhoids, and other spinal issues.
The pillow comes in a U-shape design that provides support, comfort, and helps straighten and correct the posture, with targeted support at the lower back's natural arcs.
It comes with a machine-washable, zippered, Velour cover, and 100% memory foam filling.
---
7
This is an Arlee Chair pad seat cushion designed for sitting support.
The pillow comes with a 100% Polyester cover that is soft to the touch, and a 100% premium grade memory foam filling.
It is designed to adjust to the body's contours to reduce pressure on hips, tailbone, and lower back, and evenly distributes weight to relieve minor aches and pain.
The seat cushion features Microdot skid-resistant backing to ensure it doesn't shift or slip.
---
8
This is a Shinnwa seat cushion designed to provide sitting support.
The cushion comes with a super soft memory foam filling and provides additional hip elastic support for comfort.
It is designed to reduce the uncomfortable pain caused by long-term sitting.
The pillow measures 16 x 16 x 2 inches in size and high-quality short plush fabric.
---
9
This is a donut design orthopedic seat pillow designed by Lexia.
It is designed to provide extreme comfort to people with long-term sitting and designed to decrease pressure and pain.
The pillow also promotes spinal alignment and takes off the pressure from the Coccyx and lower back discs.
It comes with a high-quality memory foam filling, with an additional gel layer for cooling comfort.
---
10
This is a double-thick gel seat cushion designed by Helishly to provide comfort while sitting.
The cushion includes more than 500 balanced pressure and flexible honeycomb grids that perfectly fit the buttocks' curve.
It is designed to disperse the pressure from the buttocks, thighs, and lower back and coccyx area.
The cushion features a medical-grade gel material that does not irritate the skin and provides adaptive comfort and a soothing sensation.
---
Index Table: Top Rated Seat Pillows
---
---