In a world where memory foam pillows are the be-all and end-all of pillows, have you ever considered the Microbead pillow?
Not much credit is given to this superb pillow type that could actually be a much better option.
So if you want to find out more, then do not hesitate to look further into our article on the best Microbead Pillows.

---
The Microbead Pillow
Let me first explain what a microbead pillow is and exactly how it works.
The Microbead pillow refers to the fill of the pillow consisting of small polystyrene beads that are soft and squishy.
The Cover of a Microbead pillow is generally a stretchy polyester and spandex type material that stretches, allowing the microbeads to shift as they conform to your shape.
Microbead Pillows are one of the best options for neck support pillows. However, they are an excellent supportive and soft comfort pillow choice as a bed pillow in turn.
Besides this, microbead pillows are generally cooler because they circulate air much better than foam pillows.
---
Pros and Cons of the Microbead Pillow
There are, however, a few pros and cons when it comes to microbead pillows;
Pros – Microbeads are extremely durable and will last quite long in your pillow. Microbeads are antibacterial, antimicrobial, dust-free, and will not absorb sweat or dors. Microbead pillows are very lightweight and conform to your shape to provide proper support and comfort. The Microbead pillow is moldable and malleable so that you can adjust it for optimal comfort.
Cons – You may experience potential off-gassing from the polystyrene beads in Microbead pillows. The filling can also lose its volume and elasticity in time. You will have to adjust the shape of your pillow as it does not return to its original shape.
---
Features of a Good Microbead Pillow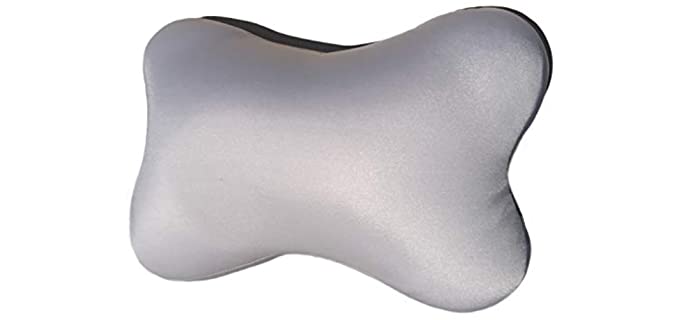 Fill – The fill in a Microbead pillow need to be a premium food grade microbead, and can come in different sizes. Polystyrene beads are used as the fill, thy can be different sizes, but are generally very small. The fill will be very lightweight and soft.
Cover – The cover should be soft and durable, and some models come with a replaceable or removable cover for refill and cleaning. You will, however, need to purchase your own pillowcase or an additional waterproof cover. The cover is usually a spandex or elastic material, as you need to adjust the fill of the microbead pillow to your liking. The Cover stretches and conforms to accommodate to your needs and the microbeads inside the pillow.
Types of Microbead Pillows – There are microbead bed pillows, neck pillows, lumbar pillows, and body pillow shapes available. The Microbead neck pillow is the most prevalent Microbead pillow as it is one of the best neck support aids because it is malleable and moldable for proper support.
---
Reviews: The Best Microbead Pillows
Here are a few different types of the best available Microbead pillows;
---
1
The Sobakawa Cloud pillow is a micro-bead-filled bed pillow with contours for optimal support and comfort.
This is a comfortable bed pillow for sleeping on.
The fill is 100% microbeads.
The pillow consists fully of polyester and spandex with a polyester cover.
The Micro Air Bead technology used in the microbeads allows for better ventilation and cooling.
The pillow comes in a standard size design with a comfortable cover.
---
2
The Squishy Deluxe is a microbead-filled lumbar pillow.
Here we have a bone-shaped comfortable lumbar pillow.
You place the pillow behind your lower back when sitting or lying down for optimal comfort and support in this area.
The pillow has a soft and durable cover.
It is filled with premium microbeads that are generally odorless.
---
3
The remedy Microbead fill pillow will keep you cool and comfortable all through the night.
A comfortable bed pillow for cool and pain-free sleeping all night.
The pillow is filled with non-removable spandex and polyester microbeads.
It is designed to cradle all the natural contours of your neck.
The pillow will keep you cool and comfortable all through the night.
---
4
From Deluxe Comfort, we have a very comfortable and supportive Microbead bed pillow in an extra-large size.
The Cloud Bedpillow is a deluxe size and very comfortable.
One of the best-beaded pillows that you7 will ever own that is top quality.
It has a Therapeutic design and offers anatomical support for your head, neck, and shoulders.
It consists of premium and highly durable materials.
---
5
The Cloudz Pillow provides excellent neck support when traveling and has a microbead fill.
This is a neck pillow for traveling, that supports your head, neck, and shoulders when sleeping while traveling or seated.
It is filled with premium microbeads and has a durable cover that stretches and is soft against your skin.
The design fits around your neck to offer support and comfort when traveling,
It has a snap closure so that you can secure the pillow around your neck.
---
6
The Maywind 3D pillow has an ergonomic design and is filled with 3D Micro Airballs.
The 3D pillow has millions of micro-air ball microbeads that ventilate well and provide support.
The pillow is a full polyester with a polyester cover, the Polysteryne beads are safe and have no odors.
The 3D ergonomic design reduces stress and tension and offers excellent support.
It is safe with no toxic ingredients and machine washable, which is extremely convenient for you and you're well-being.
---
7
From Cloudz, we have a neck pillow for travel with bamboo and cooling gel, as well as a microbead fill.
Another great travel neck pillow.
The Pillow is filled with microbeads and gel for cooling, so you stay comfortable and cool all throughout your trip.
It fits comfortably around your neck for sleeping when traveling, and it provides exceptional support for your head, neck and shoulders, likewise.
It consists of premium gel and bamboo for cool comfort, which are qulaity materials that are also generally hypoallergenic,
There are also two sides, a plush and warm side and a cooling gel side, making it ideal for all seasons.
---
Index Table: Top Rated Microbead Pillows
---
---