At least 74% of all sleepers are Side Sleepers, making it one of the most prevalent sleep positions. Side sleeping has many benefits and does not cause pain and pressure associated with Stomach sleeping, back and neck pain, and snoring associated with back sleeping.
But unfortunately, side sleeping comes with its own concerns. Sleeping on your side much time leaves your head much higher than your mattress, which impedes spinal alignment.
Having the Best Contour Pillows means that it will properly support your head and neck with enough space to keep your neck, improving spinal alignment for better support.
This article looks further into the benefits and many available Contour Pillows ideals for side sleeping.

---
What is a Contour Pillow
So what exactly is a Contour pillow?
Today, contoured Pillows comes in designs for leg pillows, body pillows, and head pillow. We will be concentrating more on the Head Contour Pillow, though.
The head Contour Pillow has a raised area for your neck to support the beach and shoulders, with a slightly deeper space to contour your head. Most Contour pillows also have a slightly elevated shape that becomes higher towards the head area, similar to a wedge pillow.
The Concave shape supports your neck and fills the hollow gap between your ears and shoulders. It is ideal for side sleeping and is usually filled with firmer foam for better support.
---
The Benefits of a Contour Pillow
The Contour Pillow has many excellent benefits, especially for side sleepers, so let us look at a few;
Therapeutic Treatment – A contour pillow can provide excellent support and comfort as well as therapeutic pain and muscle discomfort relief. Sleeping on an improper pillow can increase costs when you need massage therapy sessions that you could have otherwise avoided.
Comfort – The support that the contour pillow provides allows for better spine alignment, less pain and pressure, and in turn, more comfortable sleeping.
Shape Retaining – Most Contour Pillow models consist of memory foam or some form of foam that will retain its shape always to offer adequate and firm support and comfort,
Better Back and Neck Support – The Contour Pillow provides excellent back and neck support, relieving and preventing pain by fully supporting the spine in perfect alignment.
Reduces Snoring – In general, the people who sleep on their sides will snore less than those who sleep on their back. A contour pillow will likewise raise your head slightly to prevent airway obstruction.
Less Joint Pressure – Uncomfortable selling positions place strain on your joints that can cause stiff muscles, cramps, and pain. The contour pillow cushions your joints and prevents your muscles from testing up.
---
Features of a Good Contour Pillow
These are some features to look for in a quality contour pillow;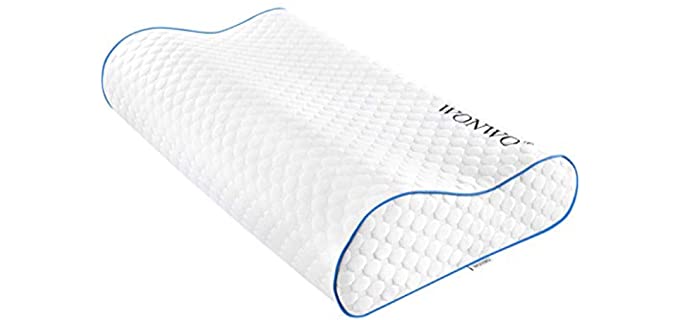 Fill – Most Contour Pillow models will either have a memory foam or latex fill or some form of foam fill for proper support.
Cover – Quality cotton, bamboo or polyester can be used for the cover. A removable cover is always ideal, as it is easy to wash.
Shape – The Contour Pillow will have a concave shape and can come in a wedge shape design or normal concave design. Different size options are also usually available.
Firmness and Loft -The Contour Pillow is usually medium to the firm with a slightly higher oft for side sleeping.
---
Reviews: Best Contour Pillows
Below are aour favorite slecetions n Contour pillow models an brands;
---
1
The Epabo Orthopedic Contour Pillow is a luxury bed pillow with orthopedic comfort features.
This is a luxury sleeping pillow that provides therapeutic relief for all sleepers.
The cover consists of a premium Rayon/Polyester fabric that is silky soft and designed to keep you cool and comfortable throughout the night.
The proven contour design perfectly supports and aligns the head, neck, shoulder, and back and allows you to fall asleep faster and more comfortably.
For the fill of the pillow, breathable memory foam is used to provide optimum air circulation and ventilation and medium-firm, moldable support.
you can sleep with confidence because the pillow is completely hypoallergenic and chemical-free.
---
2
The Contour Legacy contoured pillow is another favorite that provides effective pain relief and comfortable support.
The Orthopedic contoured design provides proper spinal alignment to prevent back, neck, in shoulder pain.
The wedge design is ideal for elevation and aids with gastrointestinal issues and acid reflux.
The fill consists of high-quality memory foam, and there is a breathable and durable cover.
The Legacy knee pillow wedge cushion is made with high-quality memory foam to deliver optimum comfort and support at the same time.
The pillow is ventilation for better air circulation and doesn't absorb or trap heat.
It has been shown to help relieve discomfort caused by Sciatica, hip pain, bone-on-bone discomfort, pregnancy support, arthritis, etc.
---
3
The Milemont Cervical contoured Pillow is filled with high-quality CertiPur Certified memory foam and offered proper support.
The Pillow cover consists of soft polyester and breathable Tencel materials.
For the fill, CertiPur-Certified memory foam is used that provides moldable support and comfort.
The Contoured Cervical design ensures proper alignment of the spine to relieve back, neck, and shoulder pain effectively.
The ergonomic shape also helps prevent pressure and evenly disperses weight for a comfortable resting position.
---
4
From Power Of Nature, we have a memory foam natural ergonomic contour pillow.
The Memory foam fill is soft and moldable, offering medium support with a high rebound.
The ergonomic contoured shape supports your sleep position and aligns your spine properly for optimal comfort.
The Pillow comes with a hypoallergenic, durable cover that also breathes well to keep you cool.
The cover is removable and fully washable for your convenience.
---
5
The Wow Pillow has an ergonomically contoured design and Luxury memory foam fill.
This pillow is designed for all sleepers, be it side, back, or stomach.
It is designed to support the neck, back, and shoulders, with different heights on the front and back.
In the dual side design, the higher side is ideal for side sleepers, whereas the lower side is perfect for back sleepers.
The contoured design properly supports the head, neck, and shoulders in whichever sleeping position you choose.
Luxury memory foam is used for the fill, which is also CertiPur-Certified, and there is a soft and breathable cover.
---
6
From Sleep Innovations, we have the Cervical design Contoured Pillow for optimal support and comfort.
The contour design pillow is specially designed to relieve neck and shoulder pain and provide therapeutic support for all-night-long comfort.
Its unique contoured design adapts to the head, neck, and shoulders to promote alignment and a more healthy sleeping posture.
There is a memory foam fill with breathable air holes to prevent overheating.
A comfortable, removable cover is added that is easily machine washed.
---
7
This is a contour pillow designed by Royal Therapy for customized support.
The adjustable pillow is designed to contour the body's shape to support the neck and head.
It features 3-layers of memory foam that allow you to adjust the pillow's firmness and height and customize it according to your preferred sleeping position.
The pillow comes in a Bamboo-derived Rayon cover that is naturally cooling and resistant to the growth of bacteria, mold, fungus, and dust mites.
---
8
This is a Cervical Contour Pillow designed by SEPOVEDA.
It is ergonomically designed to allow the neck and shoulder muscles to relax completely.
This pillow's contoured shape allows proper spinal alignment to relieve any discomfort and ease sleep.
It is made with high-quality 5s dynamic memory foam, with a center cavity to cradle the head for optimal support and breathing.
---
9
This is a Tempur-Pedic, TEMPUR-Ergo pillow designed with contours to fit the body.
The ergonomic pillow is formed to follow the body's natural curve for conforming, therapeutic support.
It is designed to relieve pressure and provide personalized support throughout the night.
The adaptive memory foam base maintains its shape, with a 4-inch profile perfect for medium frames.
---
10
This is a Contour Legacy contoured knee pillow for additional support and alignment.
The pillow is designed for side sleepers to remove the lower back's pressure and promote spinal alignment.
It comes in a unique hourglass shape to conform to the knees and provides cushioning and support.
The pillow is made with high-quality memory foam with a ventilated design featuring air holes to promote temperature regulation.
---
Index Table: Top-Rated Contour Pillows
---
---