Having the best throw pillows for leather couches can make your living room feel more cozy and homely.
Throw Pillows will make a huge difference to the aesthetic beauty and functionality of your leather couch.
So in this article, we will explore a bit more into how to style your leather couch with throw pillows and which ones are the best to choose.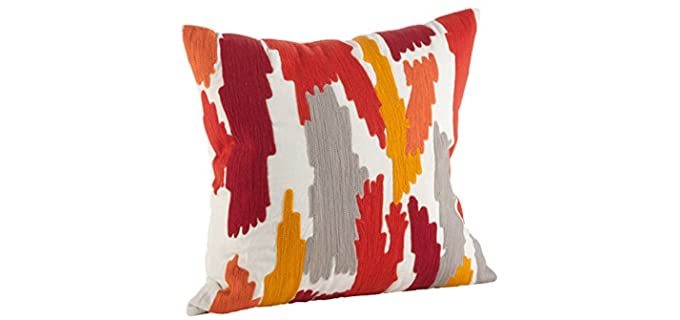 ---
Why You Should Style Your Leather Couch or Sofa
Leather couches are durable, they look great, and are extremely easy to clean. No wonder, so many of us have them in our homes.
To style them is just as easy, though there are a few tricks and things you should know.
It would help if you always kept in mind that a leather couch has much more slip compared to fabric couches, and when it comes to throws, throw pillows, and other decorative elements, you will need to opt for materials and designs that account for this factor.
So, here are a few ways in which you can decorate and style your leather couch;
Complementary Furniture – Firstly, your leather couch will dominate the entire room if you do not complement it with other pieces of furniture to even the space out. A center coffee table, or some side tables, and a longer length TV Cabinet or Cabinet will usually do the trick. Smaller items such as lamps and pot plants also even out heavy furniture.
Add Warmth – To add some warmth to the area, a medium to large-sized center rug in a solid or patterned color will do the trick. Keep in mind to match colors to that of your leather couch and room so that they complement each other.
Throws and Throw Pillows – Throws and Throw Pillows add texture and interest to your Leather couch. Opt for rougher textured throw pillows and throws rather than soft and satiny materials. Also, get lighter Down, or Microfiber fills. Throw pillows as they are less likely to slip off your leather couch. Play with colors and patterns to give the solid-colored leather couch some interest.
---
Tips on Choosing Throw Pillows for Your Leather Couch
If you are looking for the perfect throw pillows for your leather couch or sofa, here are a few points that you will need to consider;
1. Make sure that the colors of the throw pillows complement that of your leather couch and the rest of your room décor.
2. Avoid silk and shiny fabric that have a very smooth surface. They will slip off the leather couch.
3. Opt for textured fabrics such as velvet, cotton, linen, and other synthetic fibers.
4. Try patterned colored throw pillows. They add a bit of interest.
5. Neutral colors such as white, brown, black, and earthy colors give you much more freedom and options should you want to change the décor around a bit.
6. Opt for a Down or Microfiber-filled Throw pillow that is lightweight as they tend to stay on a leather couch much better than heavier fills which may slip off easier.
7. Try different shaped Throw pillows besides just the square small pillows. A lumbar pillow can be functional for comfort as well as decorative.
---
Features of a Good Throw Pillow for a Leather Couch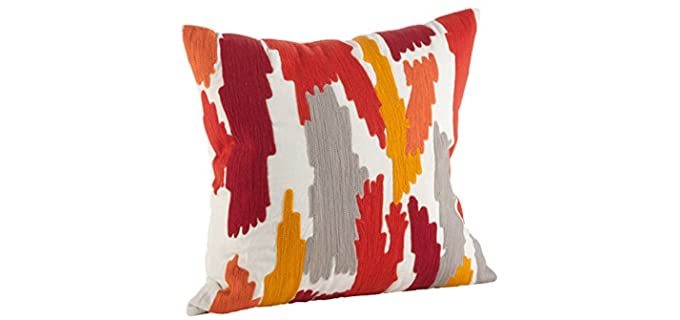 Shape and Size – Throw Pillows for leather couches come in various shapes and sizes. The regular shape is a smaller square pillow that comes in a 16, 18, or 20-inch size, and they tend to look and work the best. There are round pillows that are less common but give some balance if you have many angular shapes already. The Bolster pillow is cylinder-shaped and gives some softness and can be used to prop up your legs or a neck pillow. Then you get a lumbar pillow which is functional as back support but also decorative.
Print and Colors – You can choose from Solid patterns and stripes or prints with actual pictures. Try to stick to common color patterns and themes if you are mixing colors and prints. Vary your scale. If you have a printed rug and printed curtains in the room, rather opt for solid print throw pillows as too many prints will throw off balance.
Pull Colors from the Surrounding Space – Use colors based on your surrounding décor and the colors of your leather couch. Use similar colors and colors that actually complement each other. For example, stick with earthy hues and blues when you have a brown leather couch. For a Black or Grey Leather couch, you can opt for brighter and bolder colors.
Design – Make sure that the design of the throw pillow is good quality, look at the stitching, and always opt for a throw pillow with a removable cover that you can wash.
---
Reviews: The Best Throw Pillows for Leather Couches
---
1
The Saro Lifestyle Throw pillows are of great quality and come in some lovely designs.
This specific throw pillow is 100% cotton and 20 by 20 inches in size.
It is a square shape and has the Moroccan tile design available in more neutral color options.
The throw pillow has a removable cotton cover that you can wash and a down fill as a bonus.
---
2
The Stevie Collection Throw Pillow from refinery 29 has a tufted design and is ultra-soft.
It has a 100% cotton cover and fills, which is ideal.
It is 18 by 18 inches in size, which is smaller but still functional.
The throw pillow is soft with textured patterns, and more colors and sizes are available, likewise.
---
3
From ChezMax, we have this beautiful floral printed range.
You can choose from many colors and a variety of prints, which is so convenient.
The more textured cover and lightweight fill are ideal for leather couches and will not slip off.
It comes with a fully removable and washable linen cover for your convenience.
[/super_list]

---
4
The Main and Mesa decorative throw pillow for your leather couch is functional and aesthetically pleasing.
It is a lumbar pillow design that you can use to relieve lower back pain.
The color is a rusty red that is ideal for earthy-colored schemes.
The cover is textured, and the fill lightweight ideal for leather couches.
The cover is likewise removable and machine washable.
---
5
Another excellent addition from Saro.
This throw pillow has an embroidered cover with a brushstroke print available in a few gorgeous colors.
It is a 100% woven cotton cover that is removable and washable.
The fill is a very lightweight down.
The size of the throw pillow is 20 by 20 inches, and it is a square shape.
---
6
The Tommy Bahama Throw Pillow is from their Lago Leaves Collection.
It comes with a 100% cotton cover that you can remove and machine wash.
You get two euro shams pillows that are soft and cozy, and they are 26 by 26 inches in size, which is quite large.
Their color is an earthy yellow.
---
Index Table: Top Rated Throw Pillows for Leather Couches
---
---