Memory foam pillows are one of the most comfortable and unique pillow forms widely sold today in many forms. However, one of the largest issues with memory foam is its tendency to overheat, as it traps your body heat.
Asa solution to this, many manufactures have started using a cooling gel in their memory foam pillows and even mattresses to dissipate heat and prevent overheating.
This article looks at some of the best available Memory Foam Pillow with Cooling Gel brands and models.
---
What is a Memory Foam Pillow with Cooling Gel
The Memory Foam Cooling Gel Pillow refers to a pillow filled with memory foam and infused with or having a top layer of cooling Gel.
As memory foam tends to hold your body heat, which it uses to become more moldable, you may become hot during the night. The Added cooling Gel absorbs and dissipates the heat to keep you cooler and more comfortable.
The Cooling Gel is added as chips in a shredded memory foam pillow or infused in a solid memory foam pillow. Some Gel Models have a reversible option where there is a layer of cooling gel on top of one side's memory foam.
---
Benefits of a Cooling gel Memory Foam Pillow
there are many benefits to owning a memory foam pillow on its own, not to mention a cooling gel memory foam pillow;

Support – Because memory foam molds to the shape of your body, it offers customizable comfort and support that perfectly cradles your head and neck in a position where the spine is properly aligned. Memory foam pillows offer a firm to the medium support level, meaning they are not as hard as some foam or latex pillows, yet not too soft either, making them much more comfortable.
Pain Relief – Because of the optimal support the memory foam pillow provides, you are less likely to suffer from neck, shoulder, or back pain and will enjoy a peaceful and comfortable sleep.
Cooling – As memory foam holds heat, a cooling factor such as the cooling gel comes in quite handy. Cooling gel eliminates heat by absorbing and dispersing it to be cooler and more comfortable. Gel Cooling systems work very well with memory foam and add to the moldable comfort level.
---
Features of a Good Memory Foam Pillow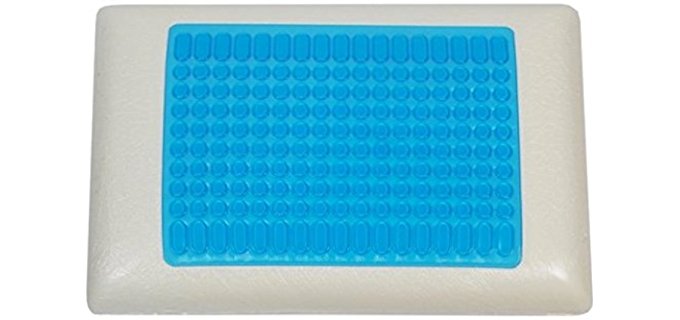 Fill – Look for a fill that consists of high quality shredded or solid memory foam or a blended option. CertiPUR-Certified memory foam is your safest and most natural memory foam form. Cooling Gels such as arctic gel and other technology gels can be added as an infusion in the fill or a top layer.
Cover – Cotton, silk, satin bamboo, and polyester covers are all breathable, durable, and washable covers for your memory foam pillow. Zip closure and removable design are ideal for easy washing and adjustability in some pillow models.
Size and Design – Cooling gel memory foam pillows come in many shapes and sizes as well as designs. Wedge and orthopedic design are available in cooling gel memory foam and standard options in a standard, queen or king-size, size option. You can also look at contoured models for side sleeping positions.
---
Reviews: Best Memory Foam Pillows with Cooling Gel
Listed here, I have some of the top brands and models fo quality memory foam pillows that have cooling-gel;
---
1
The PahtmeDoc brand is a top trusted brand that offers some of the best available memory foam pillows; in this case, their option with added Cooling Gel.
The Hypoallergenic material cover conforms to the best fit for preventing undesirables' build-up like allergens, dust mites, and bacteria.
The product is latex-free, BPA-free, Phthalate-free, and Lead-free to ensure safety and health.
The pillow has a high-quality solid memory foam that offers firm support and a medium loft.
The cooling gel inside the pillow provides the elimination of hot flashes and decreases body heat during your sleeping time.
---
2
The Classic Brands Cooling Gel Memory Foam Pillow has a removable and reversible cover as an addition.
The Pillow has a plush memory foam fill for medium support and comfort.
The design has a reversible option with cooling gel in the top layer and memory foam on the other.
You will also get a removable cover that is easy to wash and dry.
the pillow offers excellent cooling and comfort features.
---
3
ViscoSoft is another well-known brand that makes some of the best cooling gel memory foam pillows on the market.
the Pillow comes with a specific Arctic Cooling Gel, a new technology that improves cool comfort and ventilation.
The molded memory foam fill adjusts according to every movement of the body. The high-density foam facilitates this feature.
The super-responsive design adjusts gently without compromising comfort.
This product is the most hygienic material used with removable and washable covers.
The Cover consists of Coolmax technology fabric, which also breathes well and enhances cooling factors.
---
4
Another addition from PharMedoc is its unique firm support cooling gel memory foam pillow.
The Pillow has a firm memory foam fill infused with cooling gel to keep you cool and comfortable.
The cover is removable and can be machine washed.
With Contoured design, you can enjoy optimum neck and shoulder support.
The cooling gel is engineered to dissipate body heat, preventing overheating.
The Pillow and cover are hypoallergenic means free from mites and chemical-free like Phthalate, Lead, BPA.
The product is reversible in which cooling gel is on one side and memory foam on the other
---
5
The Relax Home Life cooling gel memory foam pillow is a luxury pillow that will keep you cool and comfortable all night.
The cooling gel in the pillow disperses the body heat in a wave pattern.
The pillow's two sides provide its customer with different levels of support and comfort.
Firmness is medium to soft with a more plush memory foam fill.
There is also a soft and comfortable, removable, and machine washable cover.
---
6
This is a memory foam pillow infused with a cooling gel, designed by WEEKENDER.
It is made with a soft, yet supportive CertiPUR US Certified memory foam designed to provide superior pressure relief and comfort.
The infused cooling gel provides temperature regulation for more comfortable sleep conditions.
It features a ventilated design that maximizes air circulation for hot nights.
---
7
This is a Milemont memory foam pillow designed with cooling gel for comfort.
Its gel-infused quality does a better job of regulating sleep temperature and can increase the pillow's density.
The pillow is durable, comfortable, and highly breathable to keep you cool and comfortable throughout the night.
It is calibrated to provide the right balance of support and comfort for a personalized sleeping experience.
---
8
This is a gel-infused dough memory foam pillow designed by Z Store.
It comes with a soft and smooth 100% Tencel cover to give a luxurious feel.
The unique combination of gel-infused foam with two liquid Z GEL packets provide the best temperature regulation for hot days.
It provides superior moisture-management, whereas the dough memory foam formula provides natural support for the neck and head.
---
9
This is a Sealy Essentils memory foam pillow infused with cooling gel.
It is made with high-quality adaptive memory foam for optimum support and comfort, with a refreshing gel layer for cool comfort.
The cooling layers aids in achieving optimal sleeping temperatures and provides soothing support.
It features a mesh cutout cover to enhance breathability and cooling capabilities, and is suitable for machine washing.
---
10
This is a cooling gel memory foam pillow designed by Brentwood Home.
It comes with a white stretch Tencel cover made in an environmentally-friendly, closed-loop process that reduces waste material.
The pillow uses Certi-PUR US gel memory foam and polyester blend to provide the ultimate nighttime comfort and support.
It is free of toxins, and available in various sizes, including standard, queen, and king.
---
Index Table: Best Memory Foam Pillows with Cooling Gel
---
---