Seat belts are mandatory in most states today, as well as vital to your safety in a motor vehicle. While seatbelts may not be the most comfortable thing, they are also quite uncomfortable and can pose dangers to children.
This is where I suggest the best seatbelt pillows for both adults and children, t provide safe cushioning in the case of an accident, or just comfort for resting on, or in general.
---
Why You Need a Seatbelt Pillow
A comfortable seatbelt Pillow can protect in case of an accident, are great for children, and is also more comfortable for adults.
Seatbelt Pillows for Children – A seatbelt could be quite hard and harsh on a child's body and cause bad injuries if you are in an accident. A comfortable seatbelt Pillow can provide cushioning and protection and be much more comfortable for the child to wear their seatbelt. Other than that, many seatbelt cushions are designed to help your child sit in a safe upright position and also provide a d comfortable head and neck support for sleeping during long drives.
Seatbelt Cushions for Adults – A seatbelt Pillow or cushioning for an adult passenger is more comfortable and can provide good head and neck support sleeping or just sitting comfortably. For the driver, the right seatbelt pillow can provide more comfortable support and help the driver stay awake and alert.
---
Different Types of Seatbelt Pillows
Paddeed Seatbelt Cover – This option is a cover that wraps around the entire seatbelt part that touches your neck and body. This seatbelt Pillow provides more comfort and protective cushioning and is ideal for children and adults.
Seatbelt Neck Pillow – The Neck or head design Pillow attaches to your seatbelt gives a comfortable space to rest your head on when you need to take a nap. It is also ideal for children to take a nap in the vehicle.
Postioning Seatbelt Pillow – A positioning seatbelt pillow provides proper alignment and a more comfortable seating position by supporting your neck. This design is also ideal for children.
---
Features of a Good Seatbelt Pillow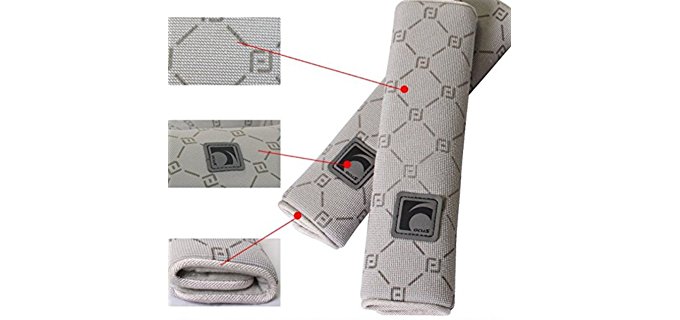 Material -The Cover should have a soft cotton, polyester, or velour material that is gentle against the skin, as well as easy to wash. For the fill, foam, polyester, or microfiber can be used.
Secure Closures – A secure closure and fit around your seatbelt is ideal. Zipper or clip closures are the most used.
Design – different design options are available, such as fun stuffed animal or printed designs for children and adult designs. You can opt for a padded seatbelt cover or a comfortable neck or positioning pillow design.
---
Reviews: Best Seatbelt Pillows
In this review section, we look at a variety of some of the best available Seatbelt Pillows;
---
1
The Bell Automotive is a Universal Fitting Memory Foam Seatbelt Pillow for Adults and Children.
The Pillow consists of high-quality microfiber memory foam and is soft and supple.
It comes with an easy hook and loop closure facility that is safe and secure.
The Universal fit fits almost all seat belts.
It can work both as a shoulder strap and a luggage strap.
The Pillow is ideal for keeping you comfortable when traveling very long distances.
---
2
Another addition from Bell Automotive is their Grey Options in the Memory Foam Seatbelt Pillow.
This is a high-quality foam seat belt pad made from quality memory foam.
The easy-to-use hook and loop cover offers a secure and safe fit.
It comes with a universal fit design & therefore, it can fit all seat belts.
The Pillow seat belt can serve the dual purpose of being used as a shoulder strap and as a luggage strap.
It does not dig into the neck and collar bone area, which often is the case with many seat belt pads.
The length is perfect and suits almost any body type and build.
---
3
From eBoot, we have a comfortable shoulder pad seatbelt pillow design.
It is a multipurpose car seat belt cover that offers protection while moving.
The belt strap is easy to assemble and disassemble and is also very easy to clear.
It can fit almost into all straps, which have a width of 5.5 centimeters.
The Pad consist of high-quality polyester material. It combines comfort with quality.
The design is quite ergonomic and appealing in turn.
The high-quality polyester material ensures that it does not irritate the skin.
---
4
The Ocus is a plush design seat shoulder pad, seatbelt pillow for all ages.
The universal fit design will fit almost any car seatbelt with ease.
It is superbly designed to offer the best comfort to adults and children.
The seatbelt Pillow is well cushioned with a soft yet durable cover material that will not cause chafing or discomfort, easily washable.
It can be used for comfort or to rest your head when sleeping in the car.
The beige color is neutral and appealing and will soot most car upholstery colors and designs.
It offers a very tight and secure fit around your seatbelt, so it will not slip off.
---
5
The Fun Plush Dinosaur is an all-purpose seatbelt pillow ideal for children and even adults, a protective pillow, or just a comfortable pillow to rest your head on for a short nap in the car.
The Seatbelt Pillow comes in a fluffy dinosaur plus design that is plush and colorful.
The dinosaur is fully padded and stuffed for proper comfort and optimal protection against a hard and unyielding seatbelt if you have an accident.
The size is ideal for covering the full body of a child for protection, as well as a versatile headrest for sleeping.
The seatbelt Pillow consists of durable and comfortable materials that are safe and offers a secure fit around most seatbelt types.
Likewise, you can opt for this tablet Pillow plush toy as a gift for a child and adult that is fun and very versatile in use.
---
6
This is a seatbelt pillow designed by Zento Deals.
It is made with soft, high-quality Faux Sheepskin in the form of a shoulder pad to promote a comfortable driving experience.
The seatbelt pillow is soft to the touch and provides the perfect amount of padding without bulky.
It comes in a pack of two seatbelt pillows.
---
7
This is a seat belt pillow designed by Renova Medical for ultimate comfort.
It is made with high-quality Polyester and a soft fabric cover to give a lush feel.
The pillow is ideal for post-recovery from Mastectomy, Breast Augmentation, Breast Reduction, Breast Reconstruction, Heart Surgery, etc.
It is suitable for machine washing and is easy to care for and maintain.
---
8
This is a high-quality seat belt pillow cover designed by Andalus.
The universal cover is designed to fit all seatbelts and eliminate chafing and irritation caused by seatbelts.
It is made of fuzzy Polyester fiber that promotes a comfortable feel.
The padded seatbelt cover is ideal for adults, kids, and toddlers alike and will make it easy for children to adopt the habit of wearing seatbelts.
---
9
This is a Seatbelt pillow designed by Yidexin for post-surgery support.
The chest pillow is designed to help recover from Breast cancer surgeries, Mastectomy, Lumpectomy, or breast reconstruction.
It is soft and supportive and provides underarm comfort to minimize chafing and irritation.
The seatbelt pillow is ideal for seatbelts for adults, children, pets, etc.
---
10
This is a Cloudz seatbelt buddy pillow designed for kids that are 3 years or older.
It is great for seat belts, car seats, booster seats, and even strollers.
The plush pillow comes in a Unicorn design to make the kids happy and protected at the same time.
It provides a cushioned support between the seatbelt and chest to eliminate chafing and irritation.
---
Index Table: Top Rated Seatbelt Pillows
---
---