Using a massage Pillow or Pillow Massager is one of the easiest and most effective, as well as cost-effective ways to relieve tense and sore muscles and cramps in the comfort of your own home.
However, choosing the best Pillow Massagers may be quite tricky, as there are so many different options to choose from on the market today.
There are quite a few factors to consider when choosing a good pillow massager, and in this article, we will look at some of your best available selections.

---
Who Will Benefit from a Pillow Massager
A Pillow Massager is basically just a pillow with either a massaging or vibrating capability. They come in all shapes and sizes to provide comfort for a different body area at different intensities.
Anyone who suffers from tight, painful muscles, knots, muscle spasms, neck tension, headaches will greatly benefit from Pillow Massagers.
The Pillow Massager is the most cost-effective way to relieve pain and tension, for which you would generally have to visit a professional, masseuse, or even a chiropractor.
---
Different Types of Pillow Massagers
Pillow Massagers comes in various types that offer unique features and specific shapes and designs to target certain body areas.
There are Generally four type of pillow massagers that you will see predominantly;
Vibrating Cervical Pillow Massager – The Cervical design pillow is a head pillow that focuses on neck and shoulder support. This design is taken with a Vibrating massage pulse to soothe neck and shoulder muscles.
Shiatsu Neck and Shoulder Pillow Massagers – These Pillow Massagers can come in different designs for the neck, shoulders, or a head pillow. Shiatsu massage is a more powerful vibration that loosens tight muscles easily.
Combined Pillow Massagers – Combined Massages is a Pillow Massager that offers both the deep Shiatsu massage as well as a more gentle vibrating massage.
Neck Massage Pillows – Most Pillow Massages massage your neck, and/or shoulders. Although you do get specialized neck massaging pillows that use infrared technology and other massage and vibration technologies to improve blood circulation with deeper penetrating heat.
---
Features of a Good Pillow Massager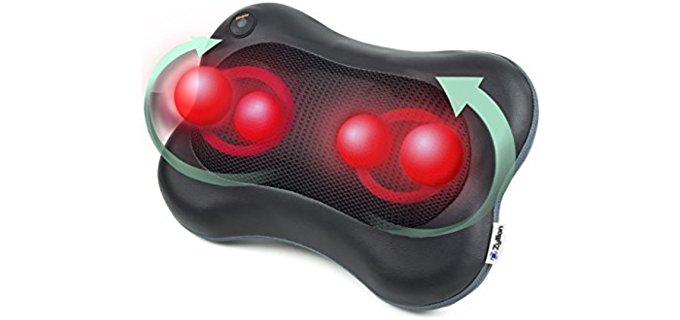 Easy Operation – Most Pillow Massagers comes with easy to operate heat and pulse or intensity settings. Some even have set programs. They are usually remotely controlled or controlled via an easy control panel.
Pillow Design – Pillow designs will have a foam fill that can consist of either memory foam, latex, or other materials. A smooth and comfortable cover can be removable and washable, depending on the pillow model.
Shape and Size – Most Pillow Massagers come in a neck and shoulder massage design that fits around the neck and lays on top of your shoulders, though other designs are available, such as the cervical pillow shape.
Power Source – The Pillow Massager will either be battery operated with rechargeable, or non-recharegeable batteries, or require an electrical outlet for powering.
---
Reviews: Best Pillow Massagers
Here we have some of the top designs and models when it comes to a variety of Pillow Massagers;
---
1
The Zyllion Pillow is a massaging Shiatsu and heat pillow that offers four deep kneading massage levels.
The Heating option will soothe aching muscles and add comfort and relaxation.
An automatic reverse of the massage nodes makes it more user-friendly.
The Ergonomic design makes it easy to use on the lower & upper back, calf, thigh areas, and abdomen.
It relieves shoulder pain, stress and will help to improve blood circulation.
Auto shut-off and overheat protection facility to ensure safety against any electrical malfunction.
The presence of four deep-kneading Shiatsu massage nodes. It helps relax and relieve the tightness of the muscle.
There is an adjustable strap to secure the cushion to the chair. Easy to carry while you travel.
---
2
The Gideon offers more targeted massaging and comfort in their back and shoulder pain relief pillow massager.
The Heat features four rotating nodes, which penetrate deep into the back to relieve stress, ache, tension, and loosen tight muscles.
There are specially designed rotating balls to penetrate tissues and muscles.
The pillow can be easily positioned on the back or neck while lying on the bed. You can attach it high up to target the neck or shoulders and attached it to the lower part of the chair to massage the lower back.
The adjustment of the massage's intensity depends on how hard you press against it.
The pillow massager's corded hand control allows the user to customize the experience by switching between clockwise and anti-clockwise penetration.
There is a stretchable strap to secure the massager with the chair.
---
3
From Restoration, we have a deep kneading technology pillow massager with new innovative technologies.
With innovative technology, the massager pillow ensures a relaxing massage with gentle warmth.
The Pillow promotes blood circulation and reduces neck, back, and shoulder pain.
The design is easy to use, versatile and multifunctional.
The gentle heat feature with heat compression affects the ease and relieves tension, pain, aches, and knots.
---
4
The Massage Pro is a full round bolster pillow designed to offer neck massage and spinal tension relief.
The Pillow consists of PU vinyl and high-density foam.
The full-round bolster design offers excellent neck massaging capabilities.
The Neck Bolster provides support for the spinal cord and neck.
It includes a handle with dimensions 6 inches and 26 inches, which helps carry the pillow.
---
5
From Electronic, we have the Travel Neck Pillow Massager for traveling.
The pillow features a 6-mode invigorating vibration massage, which eases stiffness and tension while kneading away muscle pain, tension, and fatigue. It improves blood circulation and quickly releases tiredness and paralysis.
There is an auto shut-off facility after 20 minutes.
The Headrest elastic strap makes it easy to mount between the headrest and car seat with a neck massage pillow.
The Pillow is very lightweight, portable, soft, and durable.
There is a wear-resistant polyester and spandex cover at the bottom.
Because it is battery-operated, you will require two AA batteries.
---
6
This is a 3D powerful rotating massage pillow designed by VIKTOR JURGEN.
Its deep-kneading shiatsu massage relaxes overused and tight muscles to provide pain relief.
The gentle heating function in this pillow helps soothe aching muscles and can be turned off if needed.
Its ergonomic design fits perfectly behind the neck, shoulder, lower and upper back, abdomen, calf, and thigh contours.
---
7
This Papillon neck and back massager pillow is designed for a deep tissue massage.
It is ergonomically designed to merge with different body parts' contours, including neck, back, foot, shoulder, and legs.
The pillow features four powerful 3D massage nodes that automatically change direction to adapt to the body's contours.
It comes with 3 adjustable speed settings to provide you the desired amount of pressure and heat.
---
8
This is a 3D massage pillow designed by Homedics.
It features a Shiatsu and Vibration massage technology to deliver a circular kneading massage,
The pillow's massaging nodes move inward and outward motion for a deeper and more effective shiatsu massage.
The pillow also features heat support to relax tight muscles and stimulate blood flow to sore muscles.
---
9
This is a Snailax massage pillow designed to deliver an effective Shiatsu massage.
It utilizes 4 rotation shiatsu nodes to provide deep tissue kneading massage to relax tense and sore muscles, tight knots and provide relief from fatigue and muscle pain.
The massager effectively reaches and conforms to any body area such as neck, shoulders, back, lumbar, legs, and feet.
It also features a heat function to add gentle warmth to the massage to soothe tired muscles and melt away the tension.
---
10
This is a truShiatsu dream machine pillow massager designed by truMedic.
It delivers an invigorating Shiatsu massage at any part of the body, be it your neck, back, or shoulders.
The rechargeable pillow features an ergonomic designed to fit the body better and features a heat function to soothe aching muscles and relieve tension.
It also includes an auto-reverse functionality that periodically reverses massage nodes' direction to release knots and soreness effectively.
---
Index Table: Top rated Pillow Massagers
---
---