Today, many manufacturers ate unveiling their ranges of antibacterials and antimicrobial sheets, and bed linens. Antimicrobial sheets will keep fresher and cleaner for longer and reduce your risk of disease and infection.
So why not invest in the best antimicrobial sheets today, and follow our extensive list of some of these top brands.

---
Why Use Antimicrobial Bed Sheets
Your bed sheets may be brimming with nasty bacteria, dust mites, fungi, and other microbes.
You are supposed to wash your bedsheets and pillowcases at least once every two weeks.
If not, things like viruses, fungus, dust mites, bacteria, and other microbes may grow in your sheets and cause health issues.
Only bacteria and certain germs are destroyed and prevented with an antibacterial sheet. However, you are sure to be rid of germs, bacteria, dust mites, fungi, and viruses in turn with an antimicrobial sheet.
---
Difference Between Antibacterial and Antimicrobial
Antibacterial – Antibacterial products will prevent bacterias such as E.Coli and MRSA from forming and also destroy already present germs.
Antimicrobial – Antimicrobial products do not just prevent and destroy these types of germs and bacteria but go as far as also destroying and preventing fungi, parasites, dust mites, and other viruses.
---
Materials Used in Sheets that are Antimicrobial
Certain technologies and materails can be used in your sheets to make them antimicrobial;
Copper and Silver Infusions – Silver and copper have a very long history of being antibacterial and antimicrobial substances. Silver or copper may be infused in your sheets to give them antimicrobial properties, as well as odor resistance and healing capabilities.
Bamboo Fibers – Bamboo is a unique plant that is robust, rapidly growing, and also has some remarkable anti-microbial traits. Bamboo fibers used in sheets and bedding are perfect for antimicrobial purposes and also are naturally cooling.
Silk Fibres – Silk is used as a textile fiber in many sheet and bedding linens. Silk naturally has some antimicrobial properties. However, this is still debatable. Most antimicrobial silk or even synthetic satin sheets and bedding may be infused with copper or silver ions for this property.
Zinc Treated – Some sheets are treated with a zinc-based treatment. Zinc is an effective antimicrobial and antibacterial substance that reduces odors and skin irritations.
---
Features of a Good Antimicrobial Sheet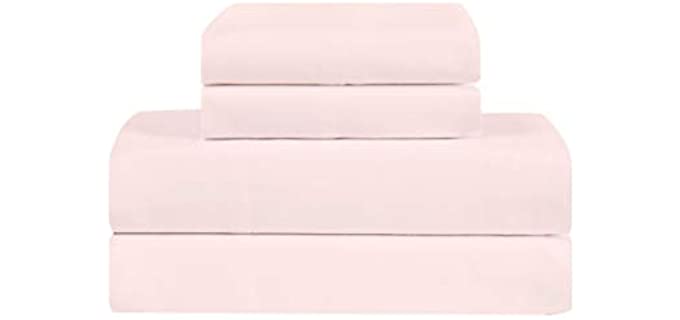 Materials – Sheet materails can include cotton, supima cotton, micrifibber, bamboo and silk. Many choices will be infused with silver ions, copper or other technologies, such as zinc for antimicribial properties, and odor resistance.
Weave – Good quality bedding should have a thread count of around 200 to 500, giving you a much more durable and softer feel. High thread count fibers usually have a satiny soft feel, gentle against the skin.
Options – Sheets usually come in sets where you get a fitted sheet, flat sheet, and two pillowcases. Some brands and models offer a single sheet only, of your choice. Ost brands have color options available, though the color options are more neutral.
---
Reviews: The Best Antimicrobial Sheets
---
1
The Miracle Made Extra Luxe Bed Sheets are antimicrobial and consist of 500 thread count quality Supima Cotton.
The sheets are the finest quality 500 Thread count Supima cotton with a satin-soft texture and high durability.
They are designed with antimicrobial technology to keep your sheets clean and safe.
There is also odor-blocking technology and silver ions used in the fibers to kill bacteria.
More color options and sizes are available to you.
---
2
The Nestl Bedding Saniwoven sheets are premium antimicrobial and hypoallergenic sheets.

The sheets have silver ions incorporated for resistance against bacteria, mold, and fungi, so they are odor resistant and antimicrobial.
These are premium microfiber sheets woven from high-quality microfiber, and double brushed on both sides.
They are easily machine washed and dry pretty quickly.
You can choose from a few neutral colors available and more size options.
---
3
The Superior Cotton sheets are treated to be antimicrobial and odor resistant.
The sheets consist of 100% pure breathable cotton.
The cotton is treated to be antimicrobial and dust mite resistant.
You get a soft satiny feel with the 300 thread count weave.
This is a solid-colored sheet available in a coral color option.
---
4
The DreamFit antimicrobial bamboo sheets are a premium, luxury item.
The sheets consist of 70% bamboo and 30% cotton, a natural and pure blend.
Bamboo is naturally antimicrobial and odor-resistant, and cotton is light and breathable.
Bamboo also has cooling properties for more comfortable sleep.
The sheet set comes in different color and size options available.
---
5
From Truly Calm, we have a set of antimicrobial sheets and bedding.
The bedding consists of a 100% microfiber fabric treated with a pure Antimicrobial treatment.
You get a fitted sheet, flat sheet, and two pillowcases with every set.
There are also different bed sizes and color options available from which you can select.
HeiQ Pure technology is used as an antimicrobial and anti-odor treatment.
---
6
With Spyder Performance, you get a 6 piece bed set in the size and color of your choice.
The sheets and bedding consist of Microfiber with and antimicrobial treatment.
The microfiber is also reinforced and advanced to be more durable and long-lasting.
You will get a full bedding set consisting of six pieces with your purchase.
There are a few neutral color options available.
---
7
The Zinc treated sheets from CleanLife are odor resistant and antimicrobial.
Zincore technology is used, which is said to kill 99.9% of germs and bacteria.
The sheets have a sateen weave for a soft luxurious comfort feel.
They are antimicrobial and odor resistant thanks to the zinc treatment and consist of pure cotton.
You get a flat sheet, fitted sheet, and pillowcases in every set.
More colors are available for your perusal.
---
8
From Nautica, we have antimicrobial cotton sheets in a range of nautical color options.
The sheets consist of 100% pure cotton that breathes well and is soft against your skin.
You get a set of a flat sheet, fitted sheet, and a standard pillowcase with every set, depending on the size.
The sateen weave of the sheets ate ultra most with a 300 thread count.
The design is antimicrobial and antibacterial to keep you safe and comfortable.
There are more colors and size options available in the Nautica range.
---
9
Bamboo is a naturally antimicrobial fiber used in this sheet with cooling technology to keep you cool and comfortable.
The sheets consist of 100% pure bamboo fibers that ate organic and OEKO-TEX standard 100 certified.
You get a complete set with a fitted sheet, flat sheet, and pillowcases in every set.
There are neutral colors available, as well as different bed size options.
The sheets breathe well, and bamboo will naturally absorb sweat to keep you cool and comfortable.
The sheets have a 300 thread count sateen weave and deep fitted pockets on the fitted sheets.
---
10
The Silvon Anti-Acne Satin sheets have antibacterial and antimicrobial properties with silver infusions.
A dermatologist recommends the sheets to help treat and prevent acne and infections.
They consist of Organic Supima cotton that is weaved into a stain soft fabric that is gentle against your skin.
The fibers are infused and coated with a silver that helps eliminate and prevent harmful bacteria on your skin.
There are more neutral colors available and different sheet sizes and pillowcases in this range.
The sheets are likewise machine washable.
---
Index Table: Top Rated Antimicrobial Sheets
---
---