Sometimes it feels like a million things are coming between you and getting a good night's rest. If you have tossed and turned, finding the side sleeping position most comfortable, you may also have noticed how your arm is n the way and can become numb and painful underneath your pillow.
Side Sleeper Pillows with armholes are the latest in innovation to prevent this and help side sleepers find their optimal spelling positions.
This article will look at some of the best pillows with armholes ideal for side sleepers.

---
Benefits of Side Sleeping
So What exactly is a Pillow with an Arm Hole, and how does it work?
The Arm Hole pillow is exactly what it says, a pillow with a pocket or hole that allows your arm to rest more comfortably and naturally beneath you while you sleep.
The Carved out arm section creates a space for your arm to rest to reduce the pressure on your shoulder, arm, wrist, and hands to help relieve physical discomfort, including numbness and shoulder pain, while you sleep on your side.
While every sleep position has its issues, back sleeping intensifies snoring. Stomach sleeping causes pressure on limbs. Side sleeping actually has many more benefits than drawbacks, especially if you have e a good side sleeping pillow with an armhole.
---
Benefits of Side Sleeping on an Arm Hole Pillow
As there are benefits to side sleeping, there are even more benefits inside sleeping with the Best Pillows with Arm Hole. Let us look at some of those benefits;
Side Sleeping Alleviates Acid Reflux – Sleeping on your side helps prevent and alleviate Acid Reflux, as you are in a better-aligned position is no pressure on your stomach and organs.
Decreased Back and Neck pain – Side sleeping with the proper support supports your spine and allows for better spinal alignment, which helps prevent back and neck pain.
better Berathing – Side sleeping gives you a position in which your airways are open, which helps improve breathing, and in turn, also prevents snoring.
Fewer Pressures – Side sleeping with an arm ole pillow reduces the pressure on your arms, wrists, hands, and shoulders that, in turn, will prevent numbness and tingling associated with sleeping on your arms.
---
Features of a Good Pillow with an Arm Hole
You can look fr these features n the Best Pillows with Arm Holes;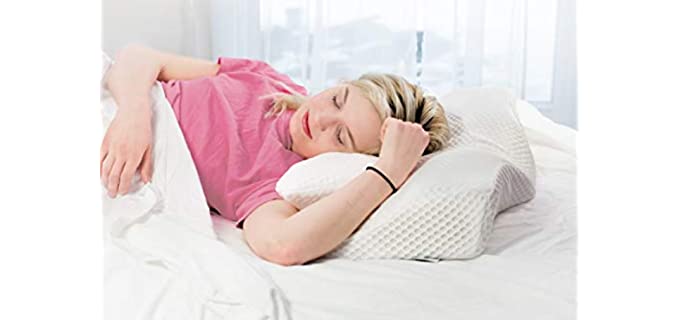 Size – Arm pillows come in a range of shapes and sizes. Make sure that you get the right size for your bed and body shape, and size.
Ergonomic Design – Many Side Sleeping Pillows with Armholes will have an ergonomic shape and design to offers proper support for side sleeping. Contoured and wedge designs offer ideal head and neck support.
Fill Materails – Top quality fill materials such as Memory Foam, Latex, and synthetic fills are mostly prevalent inside sleeper arm hole pillows. For a cooling effect, a Gel can be added to the Bamboo fibers.
Cover Design and Materails – A removable cover with zip closure allows adjustability and easy washing of the cover. Materials such as cotton, bamboo, viscose, and polyester are ideal cover materials.
Loft and Firmness The ideal loft and firmness for side sleeping pillows are a medium to firm and a higher loft.
---
Reviews: Best Pillows with Arm Hole
I have chosen and listed some of the best available Pillow models and brands that all have an arm hole or pocket for side sleeping;
---
1
The Elvis Cervical Pillow design is ideal for Spinal Support and has an armhole for side sleeping.
Firstly the contoured design offers optimal spinal alignment by supporting your head, neck, and shoulders. This, in turn, prevents pain and discomfort and gives you a good night's rest.
The armhole reduces pressure on your arms and allows for more comfortable sleeping positions and side sleeping with your arm tucked.
The fill consists of a high density and high rebound memory foam for a firmer support with a breathable and washable polyester pillowcase that has blended Ice Silk technology to keep you cool.
There are also two sides of the pillow with designs for back or side sleeping, which is ideal.
---
2
The Collision Ice Silk is an arm support side sleeping pillow and has unique cooling technologies.
The Pillow comes in a special curved design, with space underneath to comfortably place the arms.
The hollowed design allows you to keep the hand in its natural posture to relax the body and sleep comfortably.
A high-quality memory foam that rebounds slowly and provided firm support for the fill.
The cover consists of Ice Silk technology materials that are naturally hypoallergenic and have cooling properties to prevent overheating.
---
3
The Wowza Bamboo Charcoal pillow is safe on your skin and comes with an arm support armhole design.
The Pillow is filled with charcoal-infused memory foam that is natural and skin-friendly.
CXharcaol has anti-bacterial properties and also draws outdoors and toxins.
Memory foam will mold to your unique shape and provide comfortable medium-firm support.
The pillow design has an armhole, e, and an L-shape to ease arm pressure when you sleep on your sides.
It comes with a velvet cover that is soft and easily removable for washing,
---
4
Chilling Home offers you their contoured arm hole support pillow for side sleeping.
The pillow's Contoured design offers proper alignment and support, while the armholes prevent you from sleeping directly on your arm, causing pain and pressure.
The unique arched design helps to maintain the spine and neck contour's natural curve.
This pillow provides ample space underneath the arch for the arm while sleeping on the side and works efficiently as an arm pillow.
A central orthopedic cavity effectively relieves neck, shoulder, and back pain for a comfortable sleep.
The Fill consists of high-density Bamboo Charcoal memory foam with a 3-5 seconds rebound rate for cervical protection.
It is skin-friendly, breathable, and moisture-absorbing, with an Ice Silk, hypoallergenic Pillowcase equipped with a detachable zipper.
---
5
Delux Comfort Bed Pillows offer you their Microbead Filled Arm Hole design Pillow.
The pillow's design gives you a space for resting your arms when sleeping, relieving pain and pressure.
The unique fill of air-infused microbeads mold the body's contours and improve sleep quality.
The pillow is designed with two arm-tunnels, one along the front and one through the middle, to reduce the arms' risk of numbness and pain.
I also love the design because it's ideal for two people who want to cuddle each other.
the Cover is durable and consists of high-quality materials.
---
6
The Better Sleep Pillow is a Tunnel design head Pillow that reduces pressure on your arms and hands.
The Better Sleep Pillow is constructed with a unique Tunnel design, especially for side sleepers, to reduce pressure on the arms and hands.
The Pillow is filled with a soft and quality memory foam for medium-firm, moldable support.
There is a supportive design for head and neck support to relieve pain and reduce snoring.
The pillow comes encased in a soft velour cover that is stain and dust-resistant.
---
7
This is an arched couple sleeping pillow with an arm hole designed by LOCYOP.
It comes with an additional eyemask and earplugs to make your sleeping experience even better.
The pillow features a 100% Polyurethane core, high-density inner memory foam, and a plastic steel frame cover.
Its unique tunnel design helps ease the arm's pressure when you sleep on your side.
---
8
This is an Anti-Pressure Arm Hole Pillow designed by AYELMME.
It features a versatile design that allows up to sleep on the side without squishing your arm, which might cause numbness and discomfort.
The pillow is made with 100% memory foam that is breathable and allows for a slow rebound.
Its ergonomic design is soft enough to comfort the neck and comes in both right and left-hand designs.
---
9
This is a multifunction pillow with an armhole designed by Gtest.
It is an ergonomically designed arched pillow that effectively fits the cervical vertebrae to relieve neck, shoulder, and back pain.
The pillow offers soft support for side sleepers and keeps your arm from getting numb due to constant pressure.
It is constructed with a memory foam core with a removable ice silk cover for comfort.
---
10
This is an arched Cuddle Pillow with a unique armhole designed by Magneticspace.
It is constructed with 100% memory foam that is resilient and maintains its shape, and breathable for comfort.
The pillow features a contour that offers support to the neck and shoulders and allows the blood to flow easily through the arm.
It comes with an Ice silk fabric cover and Polyester pillow liner that is breathable and skin-friendly.
---
Index Table: Top-Rated Pillows with Arm Hole
---
---