Sitting upright, whether in your comfortable lounge hair, a car seat, office chair, or any other chair type, can strain your back, causing back pain and discomfort.
Lumbar Back Support Pillows can help t alleviate pain from sitting upright, and what is more, they actually fit neatly on most chair types for that added support and comfort.
This article will discuss and look at some of the many types and best options for lumbar support pillows and cushions available to you.

---
What is a Lumbar Back Support Pillow?
The question here is, what exactly institutes a cushion or pillow, a lumbar back support pillow?
Well, the answer is easy. As you will see from the design, this type of pillow fits comfortably in the lower back area, where you usually get pain and stiffness from sitting for a long time.
The Lumbar back support pillow offers added support and proper spinal alignment when you are seated to prevent back pain a stiffness.
Furthermore, this pillow attaches securely to most chair types and are even employed in car seats for comfort while driving.
Many other technologies such as cooling, heating, and massaging may be used in some lumbar back support pillows to enhance comfort and provide soothing relief and support.
Persons who sit for long periods of time, whether on an office chair, driving, or lounging, can all benefit greatly from Lumbar Back Support.
---
Benefits of Having a Lumbar Back Support Pillow
The Lumbar Back Support Pillow offers excellent back, neck, and spinal support and are ideal in many ways;

Long Periods of Sitting – When you have to be seated for a long time period, such as for driving or at work in an uncomfortable and unsupportive chair, the Lumbar Back support pillow will provide comfort and proper support to prevent pain, muscle stiffness, and fatigue.
Post Op Or Injuries Support – A Lubar Back Support Pillow is the ideal recovery aid when you have had an operation or suffered an injury that may affect your neck, back, or even other areas of the body.
Cost Effective – Investing in a separate Lumbar Back Support pillow is much more affordable than buying a high-end support chair.
---
Features of a Good Lumbar Back Support Pillow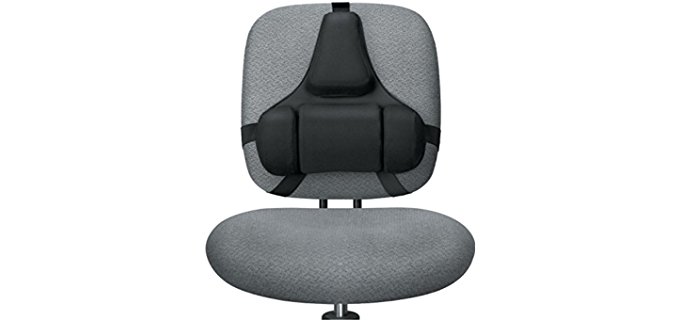 Fill Materail – For a fill material, a durable and firm support foam such as latex, memory foam, and other types of synthetic support foams are ideal. The foam can be infused with gel for cooling and comfort.
Cover – A durable material cover is ideal, mostly removable covers which you can wash with zipper closure. Some cover employs a mesh structure or breathable materials that aid with ventilation to prevent overheating and sweating.
Technologies Used – Some Lumbar Back Support pillows may come with technologies such as heating, vibrating, or massaging features that improve comfort and support.
Design – The Lumbar pillow has a unique design that offers cushioned support to your lower back, and that keeps your spine properly aligned.
---
Reviews: Best Lumbar Back Support Pillows
Below are our top favorite Lumbar Back support pillows and cushions for all your requirements;
---
1
The Duro-med Lower Back Support Pillow will ensure optimal spinal support and orthopedic back pain relief.
The Duro-Med Back Lumbar Cushion comes with an adjustable strap for lower back pain.
The Pillow reduces the lower back pain people usually get from sitting on the chair and car seats.
It is recommended by the chiropractors to offer excellent support to the lower back, neck, and spine and to decrease the pain.
This is one of the best-selling lumbar support designed to help get a proper posture and keep your spine properly aligned.
It offers additional firmness and advanced support for your back.
---
2
The Love Home Netilating design Lumbar support Pillow will keep you cool and comfortable and well supported.
The 3D Ventilated Lumbar support design is ideal for getting relief from lower back pain and will keep you cool.
The Pillow is perfect for giving you relief from the lower back pain that gets after prolonged sitting.
It is made of quality foam material to provide lumbar support and provide relief and comfort to your back.
As this pillow comes with an adjustable strap, it can fit any position, and you can use it for the office chair, wheelchair, car seat, SUV seats, or any of the convenient places.
It comes with sixty days warranty offer.
---
3
The Fellowes Lumbar Support Pillow offers excellent back support with a plush memory foam fill.
The design of the pillow ensures excellent back support and spinal alignment.
The Fill Consist of high-quality memory foam helps provide moldable cushioning and supports.
It comes with three memory foams to offer comfort and relief to your lower back.
It has a tri-attachment system that eliminates any need for readjustment.
---
4
The Everlasting Comfort Memory Foam Back support lumbar pillow is hypoallergenic and ideal for persons prone to allergies.
the memory foam offers moldable firm support and comfort.
The fill consists of a hundred percent quality memory foam without any addiction that makes it durable and easy to use.
It is specifically designed for back pain, and it gives complete support to your back that includes the lower, middle, and upper.
It comes with adjustable straps that can tighten this lumbar support to any chair.
The cover is completely hypoallergenic and made from safe materials.
---
5
The FitPlus is a Premium Deluxe Lumbar Back support pillow with a breathable mesh cover.
The quality memory foam fill offers excellent support and a comfortable plush feel.
The fill consists of a luxury, high-quality foam material and offers maximum flexibility and comfort in the best possible manner.
It has an extra strap that makes it easy to fit this lumbar support to any seat, including the chair, car seats, and other surfaces.
The Pillow offers excellent support to the back and back muscles and decreases the back and thigh pain.
Furthermore, the 3D mesh cover is highly breathable and will keep you cool and comfortable.
---
6
INSTANT BACK PAIN RELIEF AND COMFORT – Soothe your tired, aching back with the Ziraki memory foam cushion that gently supports the natural contour of your spine. Enjoy comfort and productivity with precisely molded memory foam that allows you to sit for hours at a time in your office or car comfortably.
✔✔ IMPROVE AND PERFECT YOUR POSTURE – Straightens and corrects your posture, with utmost support along your lower back's natural arcs. Protects you from sitting wrong in harmful positions.
✔✔ 100% SATISFACTION GUARANTEED – If you don't absolutely love your Ziraki memory foam cushion, we guarantee you that we will reimburse you for 100% of your order.
✔✔ Traveling Bag for Cushion Your Ziraki memory foam cushion is designed to adjust to wherever you go. Therefore, your Ziraki memory foam cushion comes with a handy, sturdy travel bag so you can take it along with you. Clear and lightweight, with a comfortable green mesh handle, your Ziraki memory foam cushion is coming places with you
PLEASE NOTE. This is not a soft foam pillow, this
---
7
This is a Large size Lumbar Support Pillow designed by Wonder Comfort.
It is an ergonomically designed pillow that promotes proper posture and provides relief from back pain.
The pillow is constructed with Visco-elastic Polyurethane Foam formula that maintains its shape, and comes wrapped in a Cotton Velour cover.
It is breathable, soft to the touch, machine washable, and comes with two adjustable straps for convenience.
---
8
This is a Premium quality, Full Lumbar Back Support pillow designed by Vertteo.
It is constructed with 90% molded Memory foam in an ergonomic high-back design to provide Lumbar support.
The orthopedic pillow is designed to provide full support to promote full spinal alignment and be used in the office, home, traveling, etc.
It comes wrapped in a soft, faux fur, Velvet-like cover hypoallergenic, and equipped with an elastic secure strap for convenience.
---
9
This is a Medical-grade Lumbar Back Support Cushion designed by Vaunn.
The pillow is designed to help relieve numbness, soreness, and pressure on the back, hip, and spine caused by prolonged sitting.
It is constructed with contoured and molded Memory foam with an additional warm/cool gel pad for enhanced therapeutic relief from soreness and discomfort.
The pillow employs a highly effective and non-invasive method to align the spine and correct the posture instantly.
---
10
This is an Ergonomic Lumbar Support Pillow designed by Powsure for back comfort.
The pillow extends up to 21 inches in width, giving your back an unprecedented and comfortable resting place.
Its ergonomic design improves posture, promotes spinal alignment, and alleviates pain.
The pillow is constructed with high-density memory foam, and comes with two extension straps to keep it in place on any seat.
---
Index Table: best Lumbar Back Support Pillows
---
---