Many individuals turn to knee pillows to increase comfort and ease various pains and discomfort when sleeping.
The knee pillow is particularly adored by persons who sleep on their sides to improve spinal alignment and provide comfort specific to this sleeping position.
In today's article, we look at some of the different designs, benefits, and best purchase options for the Best Knee Pillows.
Who knows, maybe the knee pillow has been just the answer you were looking for, for a more comfortable and better night's rest.
---
What is a Knee Pillow and How do You Use It
Well, it is quite simple when you think of it; a knee pillow is just a pillow placed between your knees, not exactly. There are specialty-designed knee pillows that come in many varieties that are much different from just placing a pillow between your knees.
A proper knee pillow is designed with support materials and a shape that ideally supports the spine and hips in proper alignment to prevent pressure and pain, specifically when your sleep on your side.
As mentioned, knee pillows are ideal for sleeping on your side to reduce pressure by preventing the upper leg from placing pressure on the lower leg.
Side sleepers and pregnant women are most likely to benefit from using a knee pillow. Back sleepers and people with back or hip pain can also benefit from using a knee pillow.
---
Knee Pillow Benefits
So let us first look at some of the many benefits of a knee pillow for side sleepers and even back sleepers;
Reduces Pain – Because of improper spinal alignment and the pressure of one leg on top of the other, you may suffer hip, leg, neck, and even back pain from sleeping on your side. The knee pillow has a unique design to provide optimal support and spinal alignment and reduce pressure, which provides optimal pain relief.
Eases Tension – The knee pillow prevents your knees from knocking against each other and removes this pressure. It also aligns your spine so that there is less tension in your muscles.
Better Breathing – For persons who supper from sleep apnea, breathing issues, and even snoring, a pillow underneath the knees that elevates them can actually help a great deal.
Varicose Vein Prevention – When you sleep on your side with your knees and legs on each other, the pressure may lead to issues such as Sciatica and varicose veins. The knee pillow reduces and prevents this pressure, and in turn, prevents these conditions.
Straighter Side Sleeping Position – The Knee Pillow allows for much better spinal alignment and hip placement, so you are in a comfortable and supportive sleeping position.
Prevents Hip Rotation – Sleeping on your side can cause your hips to rotate unfavorably when you move. The knee pillow provides secure placement and stability to prevent hip rotation.
Better Circulation – Lifting your legs with a knee pillow underneath while sleeping on your back greatly improves blood circulation. Side sleeping with a knee pillow also improves circulation.
Pregnant Women – Pregnant women are mostly encouraged to sleep on their sides further in their pregnancy. In this case, a knee pillow or body pillow that supports between the legs becomes almost vital for proper support and to reduce pressure on the legs and body.
---
Features of a Good Knee Pillow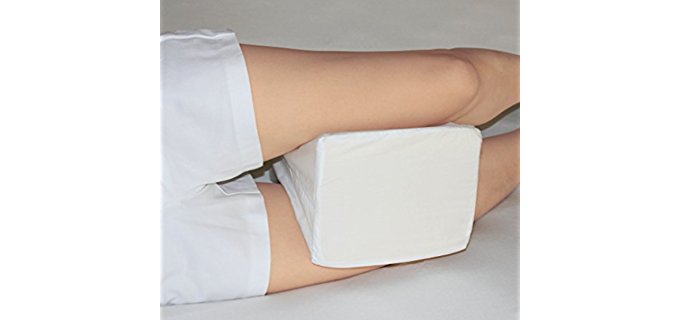 Shape – The knee pillow has a contoured design and shape that fits between your knees or that fits along the length of your claves when sleeping on your back.
Support Features – Knee pillows offer firmer support and have a design and shape that supports the curves and lines of your body.
Fille – For the fill, a foam such as memory foam or latex is usually best in a solid form. Other foams or dense materials may also be used.
Cover – Look for a durable and removable cover that you can wash. Polyester, Cotton, Polycotton, and bamboo all make good and durable cover materials.
---
Reviews: Best Knee Pillows
below we have some of the best available brands and models in a variety of knee pillows;
---
1
The Comfilife Wedge design pillow is ideal for back and knee pain and offers excellent support.
This particular knee pillow from ComfiLife has some interesting and beneficial features, a few of which are mentioned below:
The pillow is best suited for all those who suffer from sciatica, leg pain, back pain, hip, joint pain, and women going through pregnancy.
The fill consists of high-quality and high-density memory foam.
The ergonomic design helps keep the knees, spine, hip, and legs in the right alignment.
the pillow comes with a high-quality breathable cover and a 100% satisfaction guarantee.
---
2
The MedX Memory Foam Knee Pillow is ideal for static nerve pain and works very well for pregnant women.
The Pillow is filled with premium memory foam.
The Pillow also acts as a quality maternity pillow for expecting mothers.
People suffering from sciatic nerve pain find benefit using this knee pillow because it allows proper distribution of weight and support of the hips.
The pillow comes with a 100% product guarantee, and if you are not satisfied, you could return the goods and get your money back.
Since it has a wedge design, it cuddly fits into the knee and offers full support to it and other parts of the lower extremities.
---
3
The Cushy Form Knee Pillow is a comfortable and supporting knee pain relief pillow for side and back sleepers.
The Cushy Form Knee Pillow is ideal for Sciatic Nerve Pain Relief.
It helps provide a comfortable night's sleep for those suffering from sciatica and other such problems.
The Pillow contributes to ease back pain, leg and ankle swelling, and pain by providing proper spine alignment.
For the fill, a premium quality memory foam is used.
It is essential for those who sleep on their sides and, therefore, extremely suited for pregnant women.
The Pillow comes recommended by doctors, therapists, sports trainers, and chiropractors.
---
4
From InteVision, we have a two-layer design knee pillow with an Egyptian Cotton cover for luxury comfort.
the pillow features a unique two-layer design with quality memory foam and a layer of resilient firmer foam.
It also features high quality 100% cotton cover made from 400 thread count Egyptian cotton, which you can easily remove for easy cleaning.
The Pillow plays a significant role in keeping hips, legs, spine parallel and correct alignment. It helps in better blood circulation in various areas of the lower leg.
As an extra quality confirmation, it comes with 100% product satisfaction, and you can return it for a full refund within 30 days, no questions asked.
---
5
This is a Contour Legacy contoured knee pillow for additional support and alignment.
The pillow is designed for side sleepers to remove the lower back's pressure and promote spinal alignment.
It comes in a unique hourglass shape to conform to the knees and provides cushioning and support.
The pillow is made with high-quality memory foam with a ventilated design featuring air holes to promote temperature regulation.
---
6
This is a Wedge Contour Knee Pillow designed by 5 Stars United to promote alignment and comfort.
The pillow works as a knee divider that corrects the spacing between the knees, thereby removing the lower back's added stress.
It promotes spinal alignment to deliver a rejuvenating sleep, especially for side sleepers and pregnant women.
The pillow is made with high-quality Memory foam that is high density and enhanced with a light lemon aroma for freshness.
---
7
This is an Adjustable Knee Pillow designed by Everlasting Comfort.
It is designed to improve posture, provide leg support, and promote spinal alignment while sleeping by managing the space between the knees to reduce pressure on the lower back.
The pillow's hourglass design helps with Sciatica pain and provides superior comfort during pregnancy and other such conditions.
It comes with adjustable straps that you can easily remove if unnecessary to keep the pillow in place throughout the night.
---
8
This is an Orthopedic Knee Pillow designed by Luna for added support and comfort.
It is designed to fit comfortably between the knees and provides maximum comfort and support to relieve and reduce Sciatica and pain and pressure on the lower back.
The pillow is constructed with high-grade Memory foam that is natural and free of any Ozone depleters, heavy metals, flame retardants, and other harmful chemicals.
It comes wrapped in a silky cover that is breathable and comes with a zipper for easy removal and machine washing.
---
9
This is a Half Moon Bolster Knee Pillow designed by beautiful life.
It is made with 100% premium-quality, Visco-elastic Memory foam that provides excellent comfort and support to the body.
The pillow can be used to relieve pain and pressure on the lower back, knees, hips, legs, or ankles and can be used by back, side, and stomach sleepers.
It is hypoallergenic and covered with Organic Cotton that is breathable and machine washable.
---
10
This is a Cozy Labs Orthopedic Knee Pillow designed for knee and leg support.
The pillow is made with high-quality and high-density Memory foam that maintains its shape and does not flatten out over time.
It is designed to relieve Sciatica nerve pain, Hip, and Joint Pain and help recover from injuries and surgeries.
The pillow responds to body heat by molding to the body's natural contour to provide personalized support.
---
Index Table: Top Rated Knee Pillows
---
---