More and more people, especially side and back sleepers, are opting for a Latex fill pillow rather than memory foam and other fills.
The best Latex Pillow is a natural fill that is hypoallergenic and has a similar feature a feel to that of a memory foam pillow.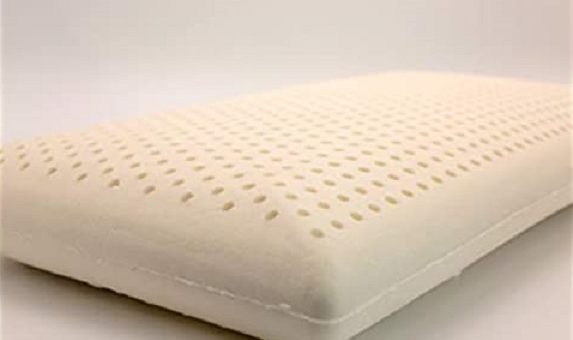 ---
What is Latex
Before we get into the Latex pillow, let us look a bit further into what Latex actually is, how it works, and most importantly, why it works so well as an actual pillow fill.
When you think of the word latex, organic, natural, and hypoallergenic may not be the first things that spring to mind, as the word itself seems so "chemical." Yet when you talk about mattress and pillow fills, that is exactly what Latex is, a natural, hypoallergenic, and sometimes organic materials.
Latex is derived from the sap of the Rubber tree that is processed into a material that is placed into a mold.
There are two ways to create latex foam for a pillow or mattress, the Talalay or Dunlop method.
The Talalay method uses processed latex and pours it partway into a mold, and the rest of the mold is filled with air for a more uniform density.
With Dunlop Latex, the entire mold is filled with liquid latex to result in a product with different densities.
Because Latex and Organic latex specifically is completely plant-based it is non-toxic, hypoallergenic, and very breathable. Latex also will not retain heat like memory foam and is naturally resistant to mites, bacteria, and mold.
---
Benefits of Sleeping on a Latex Pillow
There are quite a Few benefits to sleeping on a latex fill pillow, here are just a few
Temperature Regulation – Latex does not absorb your body heat like memory foam. Because of its cellular structure, latex will stay naturally cool throughout the night Latex is also much more breathable.
Pain and Pressure Relief – Latex in a pillow offers soft and proper support for your back neck and shoulders, It ensures proper spinal alignment and also has a light molding effect similar to memory foam.
No Allergens – Apart from being completely natural and hypoallergenic, Latex also resists dust mites, mold, and bacteria naturally. It is a very safe and convenient fill for a pillow for persons with allergies.
Durable – Latex is an extremely durable material. Because it also resists mold and dust mites, this, in turn, improves its durability.
No Noise – Latex is a soft material that will not rustle or make any noises during the night.
Support – Latex is a foam that properly supports your head, neck, and shoulders and relieves tension and strain. Your sleep will improve, and you will be much more comfortable.
There are some controversies and caparisons between memory foam and Latex, so here is a video to compare the two;
Latex VS Memory Foam Pillows
---
Features of a Good Latex Pillow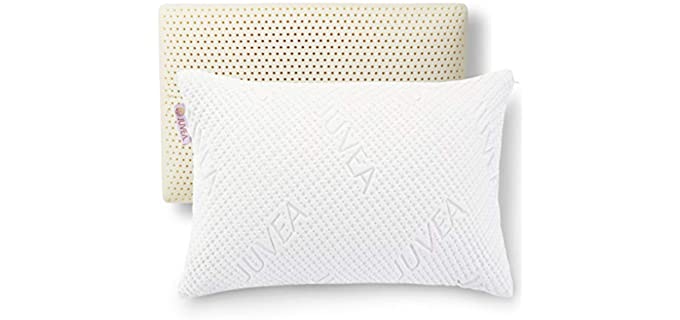 Fill – Mostly Latex is natural, but some brands offer completely organic latex awhile other are just natural latex as a fill. The fill may be a solid latex foam or in the form of chips, called shredded latex. The solid fill is firmer and more supportive, while the shredded latex is more adjustable and softer.
Loft and Firmness – Latex pillows are generally quite firm; however, I have noted Talalay latex to be slightly more cushioning and plusher than Dunlop latex which is a bit firmer. The loft is the pillow's height, which is ideally high to medium for side and back sleepers and lower for stomach sleepers.
Pillow Cover – The cover is important to protect your pillow, and most can be removed for washing or adjusting the fill-in shredded latex pillows. The cover may be natural cotton or bamboo or synthetic polyester.
---
Reviews: The Best Latex Pillows
These are our top favorite picks in Latex pillow brands and models;
---
1
The All-Natural Latex pillow comes in a king-size with a soft and comfortable loft.
The pillow consists of 100% natural latex and has an organic cotton cover.
The cover is removable and washable.
The pillow offers excellent comfort and support.
It is breathable and hypoallergenic.
---
2
Fro Lucid, we have a Latex foam pillow.
The pillow has a mid to fir loft and is still soft and comfortable enough.
The pillow has a pure latex fill that cradles your head, neck, and shoulders.
There is a soft and breathable cotton cover that can be removed for washing.
The Pillow comes compressed and rolled but will form to its natural shape.
---
3
This pillow has a natural Talalay latex fill that is a bit softer and more plus.
The fill consists of 100% natural latex infused with air.
It comes with a natural washable and removable cotton cover.
The pillow is an all-natural, eco-friendly and vegan design.
---
4
The Kiss dream Latex pillow is ideal for all sleeping positions.
It is filled with 10-05 pure and natural latex in a solid foam base, with the Dunlop construction method.
The cover is 100% pure cotton with a zip closure for easy on and off.
You can remove and wash the cover easily, which is quite convenient.
---
5
Here we have another Talalay method latex fill pillow that is high quality and comfortable design.
The pillow is filled with air-infused latex that offers a softer and more plush loft for all sleeping positions.
It has an all-natural latex fill and a breathable contoured support design, which is perfect for proper spinal support, as well as back, shoulder, and neck pain and tension relief.
The cover is removable and washable for your convenience.
---
6
The Simmons pillow also has a Latex Fill that consists of premium and all-natural latex from the rubber tree.
Simmons is a well-known quality brand that makes some of the best available pillows.
This is their latex fill pillow that is a standard size, which is ideal for side and back sleepers.
The cotton cover is breathable and removable for washing, making it very convenient and a more natural option.
---
Index Table: Top Rated Latex Pillows
---
---