Acid Reflux, Indigestion, and GERD all seem to be at their worst at night when you are trying to get some much-deserved rest.
The symptoms of these conditions can truly cause much discomfort and even pain when you are trying to sleep.
Well, today, I am here to tell you that the Best Pillow for Acid reflux could just be what you need to help curb the symptoms and improve your sleep.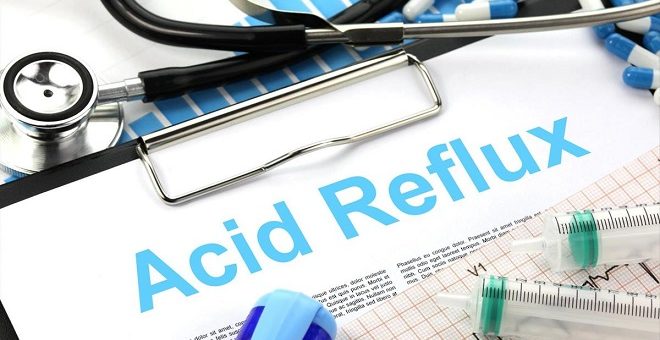 ---
Acid Reflux and How it Affects You
Acid Reflux, known by names such as indigestion, GERD Dyspepsia, and many others, refers to that burning sensation located in your throat, chest, or stomach. This sometimes leaves a sour taste in your mouth and can also make you feel bloated, nauseous, and sick.
Acid Reflux occurs because the stomach and lower oesophageal sphincter push above the diaphragm. The diagram muscle keeps the acids in your stomach. Still, when part of the stomach pushes up above the diaphragm, the acid moves into your esophagus because the diaphragm muscle that needs to be taught to keep the stomach opening to the esophagus closed becomes weak and does not close or stay closed as it should.
Don't Eat Close to Bedtime – Try not to eat right before you go to bed, and eat at least two hours before bedtime.
Avoid Triggering Foods – Certain foods such as spicy foods, alcohol, and caffeine tend to trigger Acid Reflux. Make a list of what triggers your acid reflux, and try to avoid these foods.
Avoid Smoking – Smoking does trigger acid reflux, unfortunately, and it is a terrible habit, in turn, so try to quit if you are smoking.
Stay in Shape – Keep your weight in check, as obesity may also lead to acid reflux and similar conditions
Don't Wear Tight Pyjamas – Tight clothes when you are sleeping causes unnecessary pressure which may aggravate Acid Reflux.
Invest in a Good Pillow – A good pillow that tilts your head and the upper body gradually is an excellent investment to prevent acid reflux when you are sleeping. The wedge pillow is the ideal design for acid reflux.
---
How the Right Pillow will Help for Acid Reflux
There is an easy and very effective solution in preventing the symptoms of acid reflux when you are sleeping, and that is to elevate the upper portion of your body while you are sleeping.
You can sleep on your back or side with this elevation and still feel comfortable, with no acid reflux issues.
One of the best pillows that I have found that is most effective to create this elevation is the Wedge pillow. The Wedge pillow elevates your head and the upper body gradually in a perfect position for sleeping on your back or side and to prevent acid reflux and acids from pushing up.
As you will see from my review list, there are a few variations in the wedge pillow design, and all of them work equally well. Some just have a few more extra features.
---
Features of a Good Pillow for Acid Reflux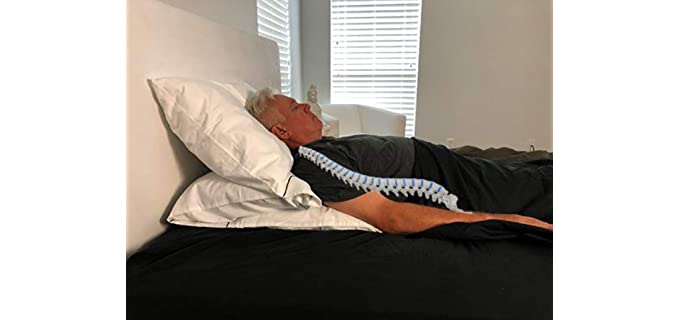 Design – A wedge design pillow is one of the best options in pillows for persons which have acid reflux you can get a general wedge design, or and incline pillow, or the triangular wedge design pillow. Wedge Pillow are also available in different sizes for your specific needs. The wedge design pillow can be used for sleeping and sitting up, so it is quite versatile.
Fill – Memory foam with cooling gel or just memory foam makes the best fill as it molds to the shape of your body for optimal support. You also get other forms of foam, such as polyester and latex foams, which are just as good.
Cover – A good washable and removable cover is ideal to protect your pillow. Covers can consist of microfiber, polyester, cotton, or more natural and hypoallergenic bamboo.
---
Reviews: The Best Pillows for Acid Reflux
Listed below, we have some of the best available wedge design Pillows which will help with Acid Reflux and GERD;
---
1
The MedSlant acid reflux pillow has a wedge design with memory foam and a washable soft microfiber cover.
A wedge design pillow that elevates your upper body for better breathing and acid reflux prevention.
The fill is a Certi-PUR certified ISOFresh technology hypoallergenic memory foam.
The pillow has a wide and accommodating design, so you can easily spread it out on your back or side.
There is a removable and washable microfiber pillow cover for your convenience.
---
2
The ONDEKT gel memory Foam wedge pillow is the ideal multipurpose pillow for individuals who have acid reflux.
A multipurpose adjustable wedge pillow.
The fill is a Certi-Pur certified memory foam for proper support.
There is a hypoallergenic and dust mite resistant, removable cover.
The pillow is very easy to clean and maintain.
---
3
The MedCline Wedge pillow for GERD and Acid Reflux is a medical-grade pillow that offers clinically proven relief from acid reflux.
A Full reflux system design wedge pillow that is designed specifically for persons with acid reflux.
The pillow has a tri-component system with an arm pocket for side sleepers.
It has a memory foam fill that molds to the shape of your body.
The cover is removable and washable, with a zip closure.
---
4
The FitPlus bed Wedge is a premium wedge design pillow for Acid Reflux with a memory foam fill.
The pillow is filled with a high-density memory foam for firmer support and comfort.
The multipurpose wedge design is ideal for sleeping and sitting up.
As you will see, the cover is removable, as well as soft and breathable.
The pillow has a therapeutic and comfortable design.
---
5
The Xtra-Comfort Incline Bed Wedge can be used for sleeping and reading and is easily washable.
A versatile three in one foldable bed wedge pillow for acid reflux.
The pillow has a supportive and breathable memory foam as a fill with high-density memory foam.
There is a removable and washable cover made of breathable polyester.
It is a wedge shape with many functions and uses for all your sleep requirements.
---
6
The Relax Home Life Bed Wedge pillow is ideal for persons who struggle with acid reflux and comes with a hypoallergenic Bamboo cover.
This pillow design is completely safe and hypoallergenic.
It has a bamboo viscose cover that is removable and washable.
There are a memory foam top layer and a firmer base foam for support.
The design is ideal for alleviating pain and migraines, as well as for acid reflux.
---
Index Table: Top Rated Pillows for Acid Reflux
---
---