On average, we spend a third of our lives sleeping, which means that comfortable and supportive sleep is necessary.
It is even more important for individuals who get migraines to get proper sleep, which can help alleviate headaches and pain.
Getting proper support from your pillow and mattress helps to align your spine properly and, in turn, relieves the tension that can help with migraines.
In this article, we will look at some of the best pillows for migraines and exactly how they can help you.

---
Pillow Types for Migraines
Memory Foam – Memory Foam Filled pillows can either be solid or shredded. Memory foam reacts to pressure and heat and molds to your shape for optimal neck, head, and shoulder support, which relieves pain and tension.
Latex – Latex pillows are similar to memory foam but contains natural rubber that also conforms to your shape but has a much better rebound and offers firmer support.
Buckwheat – Buckwheat fill pillows is a good choice because it does not have a smell, and is hypoallergenic. So, if your Migraines are triggered by smells and allergies, this is a good choice. Henceforth, Buckwheat pillows are softer and adjustable, also molding to your shape for better support.
Water Fill Pillow – Although new and somewhat a preference option, water pillows can be adjusted by fill and offer good height for back sleepers.
Contoured or Standard – Contoured pillows have neck support and space for your head, they offer better support for the head, neck, and shoulders for side and back sleepers. To alleviate pain and prevent migraines. Standard pillows also provide good support without the contours, so it is all just a preference.
Cervical – The Cervical pillow is designed to place your head, neck, and shoulders in optimal positions for better spinal alignment that relieves tension, back pain and can help with migraines.
---
Choosing the best Pillow for Migraines
Choosing the best pillow for your migraine will depend largely on what triggers your migraines. If your sleeping position causes tension in your back, neck, and shoulders, it may trigger a migraine, and therefore you need a supportive pillow such as a contoured or cervical pillow.
Migraines triggered by smells or allergies will need to look for a pillow with a hypoallergenic cover and fill. Latex and Memory foam pillows do have strong smells initially, especially memory foam.
If cooling your head helps with migraines, opt for a water-filled pillow with cold water or a cooling gel memory foam pillow.
---
Features of a Good Pillow for Migraines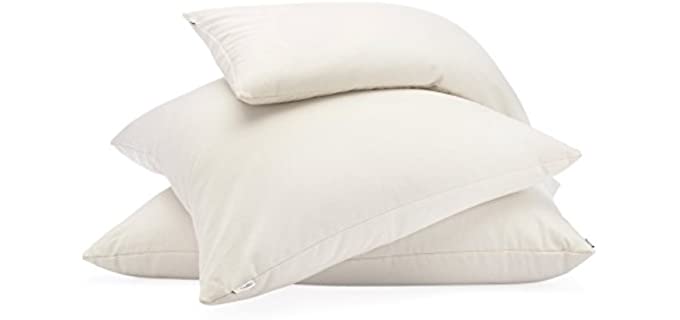 Fill – Fills such as memory foam, bamboo, Buckwheat and Latex all provide comfortable and adjustable support to relieve migraines.
Cover – A hypoallergenic and removable cover is ideal for preventing migraines that may be caused by allergies. Cotton and bamboo are natural fibers that could be considered in a cover.
Design – A contoured or cervical pillow design will support the head, neck, and shoulders for proper spinal alignment in most sleeping positions. By reducing tension in these areas, you will also reduce migraines.
---
Reviews: The Best Pillows for Migraines
Listed below are some of your best options n comfortable and supportive pillow for Migraines;
---
1
The Xtreme Comfort Bamboo and Memory foam pillow is a more natural alternative that is hyper allergic and supportive for Migraines' relief.
This is an award-winning memory foam pillow that uses Certi-PUR certified memory foam.
The pillow is an ultra-deluxe premium design filled with shredded memory foam that is adjustable.
The Micro-vented Kool-Flow technology in the bamboo cover regulates temperatures to keep you cool and comfortable.
The Pillowcase is hypoallergenic and machine washable for your convenience.
---
2
The Hullo Organic Buckwheat Pillow is an all-natural adjustable pillow that is perfect for migraines.
Here we have a buckwheat fill pillow that is comfortable and adjustable.
The Buckwheat used is organic and pure, and there is an organic twill cover.
No chemical-based foams or feathers are used in the pillow.
It is completely odor and allergen-free.
There is a high-quality zip closure allowing you to adjust the loft to your liking.
---
3
The Tempur-Pedic neck Pillow provides excellent tension relief to reduce migraines caused by tension in the neck, spine, or shoulders.
The Tempur Pedic pillow design offers firmer support rather than softness to relieve tension and provide proper posture.
The pillow is filled with TEMPUR materials that never lose their shape.
It has a four-inch medium profile ideal for stomach and back sleeping.
There is a polyester knit fabric pillow cover that is hypoallergenic and washable.
---
4
This is a memory foam cervical design pillow for optimal support and pain relief with a breathable and washable cover.
This unique pillow design offers excellent neck and back pain relief, with a butterfly wing design and low loft ergonomic curves.
It is an ideal tension reliever to prevent migraines caused by strain and stress.
There is a hypoallergenic bamboo fiber pillowcase, and all the materials are chemical-free, and EOKO Tex certified.
You also get an eye mask included and a portable travel bag for your pillow.
---
5
The BAAOBAAB memory foam pillow provides excellent spinal and cervical support to relieve tensions and prevent migraines.
This is an ergonomic design memory foam pillow that fits your cervical curves for better support.
It consists of high-quality thermostatic memory foam that remains bouncy even in winter.
The pillow is said to bring relief from migraines and neck pain.
It also comes with a removable and washable cover.
---
6
The UTTU sandwich pillow has orthopedic contours and adjustable memory foam for optimal support and comfort to alleviate migraines.
The UTTU sandwich pillow is adjustable and ideal for alleviating migraines.
The loft is fully adjustable as it is filled with layers of memory foam, creating contours.
The UTTU dynamic foam used conforms to your natural curves and supports your head, neck, and body fully,
There are a durable bamboo and polyester cover that is breathable and cooling.
The cover is removable and can be washed inside a washing machine.
---
7
The pillow is an ergonomic design for optimal neck support.
It has a unique dual shape curved with a soft area for your head and firmer neck sides.
The pillow is durable and can be refilled as needed.
Enjoy migraine pain relief and comfortable support all night.
---
8
This is a memory foam pillow that is contoured.
It has an ergonomic cervical design for optimal support.
The pillow has a firmer memory foam fill that molds to your specific shape.
There is also a removable and washable outer cover.
---
9
A comfortable neck support pillow that will help with migraines.
The pillow has a memory foam fill and an inner polyester cover.
It is a high-density with slow rebound for your comfort,
The pillowcase is removable and washable, as well as very breathable.
---
10
An ergonomic cervical pillow for migraine pain relief.
The pillow fully supports your head and neck to reduce tension.
It is recommended by chiropractors and doctors.
The pillow is premium quality with a hypoallergenic cover and fill.
---
Index Table: Top Rated Pillows for Migraines
---
---