The pressure relief cushion is designed specifically to provide relief to persons in the same position for extended periods of time, usually seated.
This is ideal for people in wheelchairs who have issues with mobility and can only sit or lay down.
The best pressure relief cushions will help prevent pressure ulcers and other issues related to being seated for long periods.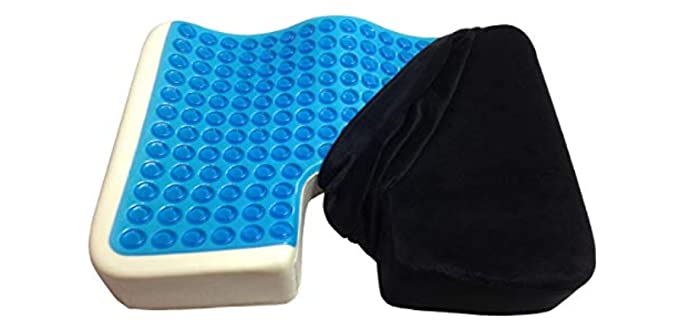 ---
How Pressure Relief Cushions Work
Spending extended periods of time in the same position, whether sitting, standing, or laying down, can cause much discomfort and even pain.
One approach to help with this issue, particularly when seated for long periods of time, is to use a pressure relief cushio0n or a pressure relief mattress for persons who lay down for long periods of time.
The pressure relief cushion consists of materials such as a basic foam that is high density for support, and then softer foams such as memory foam for comfort and gel foam for its cooling properties. You also get air pressure relief cushions which are inflated for pressure relief.
However, there are two types of pressure relief cushions for seating: one for temporary use after an operation in the lower area of your body, or an injury, deeding recovery time. The second is a more permanent use for people who are and wheelchairs or seated most of the time.
For those needing a pressure relief cushi9oning on a more permanent basis, I highly recommend a more advanced foam type of pressure relief cushion, whereas, for temporary use, a regular foam or air-inflated pressure relief cushion is more cost-effective.
For long-term use, a pressure relief cushion has the main aim of preventing pressure sore by evenly distributing weight and taking the weight of pressure points. It also helps to prevent pain and numbness by providing proper support and comfort.
Pressure relief cushions are designed to fit most chairs, and some have a design that is also ideal for wheelchair use. Make sure that the size and shape you get will fit the chair or wheelchair that it is intended for.
---
Materials Used in Pressure Cushions
There are generally a few basic materials used in most pressure relief cushions, and these are what you should look for;
Foam – Foam of a higher density will be used in the base for support with a more moldable or softer foam in the top layers for comfort. Memory foam is mostly used.
Gel – Gel can be used in a solid top layer for cooling or in the foam for cooling and vibration resistance. Gel offers excellent stability and keeps you cool.
Air – Inflatable pressure cushions are ideal because you can adjust the amount of air to your comfort, and they are more portable in design. However, with air pressure cushions, they have a higher risk of being punctured and deflating and are not highly recommended for daily long-term use.
Combination Materials – Some Pressure cushions may have a combination of foam and gel and even air in their cushions to get proper support levels and comfort. Many pressure cushions will have a firm foam base, with softer memory foam layers and a top gel layer that disperse heat and weight more evenly.
---
Features of a Good Cushion for Pressure Relief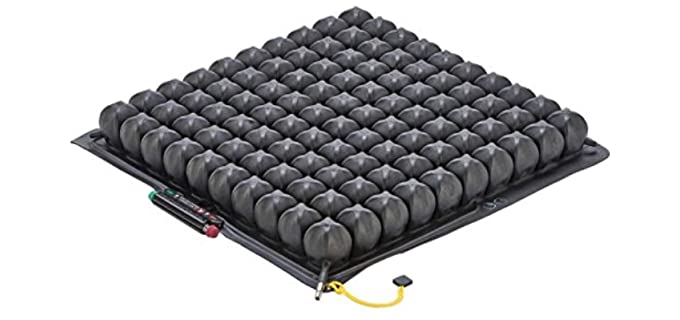 Pressure Relief Cushion Types – Pressure relief cushions come in a variety fo shapes and size and each is designed for a specific purpose and to fit a certain sized chair or wheelchair. Make sure that you get the right size for the chair that it is intended for. Some pressure relief cushions are also designed specifically to provide relief and reduce pressure on the tail bone and coccyx are, for after and operation or injury.
Risk Rating – You will notice that some medical-grade pressure relief cushions come with a risk rating and different levels of support. This aims to provide pressure relief for persons according to their level of risk when it comes to developing pressure sores and ulcers. So 6yoy will get a low, medium, or high-risk support pressure cushion rating.
Materials – As we have discussed pressure relief cushions are either foam, air inflatable or combination materials. Gel and memory foam are the two most prevalent and best materials and are usually combined. Some designs will have an egg crate top layer which also helps to reduce pressure points.
---
Reviews: The Best Pressure Relief Cushions
---
1
The Purap pressure relief cushion is ideal for multiple purposes.
It is designed to fit most chairs as well as most wheelchairs.
It has clinically tested 3D flotation technology that is ideal for pressure relief.
It has foam and cooling gel fill which is ideal for a pressure relief pillow.
---
2
From Fomi, we have a premium pressure relief cushion for all purposes.
It has advanced buckling technology that disperses your bodyweight evenly.
There is a unique cooling gel top layer to prevent overheating, and the foam is able to retain its shape for optimal support and comfort.
The cushion comes with a carry bag for portability.
---
3
The Apex Medical pressure relief cushion is an alternating pressure relief design that comes with a portable pump.
This is an inflatable pressure relief cushion that is ideal for lower back and butt pain.
It is more of a temporary relief design than for patients who are in wheelchairs or chairs all day.
The cover is a four-way stretch fabric with a waterproof lining.
---
4
The Kieba Pain and coccyx seat pillow is designed to relieve pain and help with surgery recovery to the tail bone and coccyx area.
The design prevents any pressure on the tail bone and coccyx specifically.
It has a premium memory foam fill that is therapeutic grade and ergonomic design.
It comes with a removable and washable velour cover.
---
5
The Quadro is a lower profile seat cushion ideal for chairs and most wheelchairs.
It has an adjustable low profile so that you can adjust it to your shape and weight.
The cushion is portable and comes with a convenient carry handle.
The cushion is repairable and flame resistant consisting of neoprene.
It is lightweight and fully washable.
---
6
From Drive Medical, we have the skin protecting and gel pressure relief cushion.
The cushion has a pressure distributing design and will prevent pressure ulcers.
There is a viscous gel bladder encased in a fire retardant polyurethane foam shell; for better support and comfort,
The base cover of the cushion is fully waterproof and durable.
The cover is water-resistant and can be removed for washing.
---
Index Table: Top Rated Pressure Relief Cushions
---
---