Did you know that your choice in pillowcases may actually be aggravating your acne and causing breakouts?
Well, this is, in point of fact, a regular pillowcase can collect dirt and oils, as well as bacteria's that can cause breakouts and aggravate your acne.
The best Pillowcase for Acne. Luckily, it could help to provide balance and prevent further acne breakouts.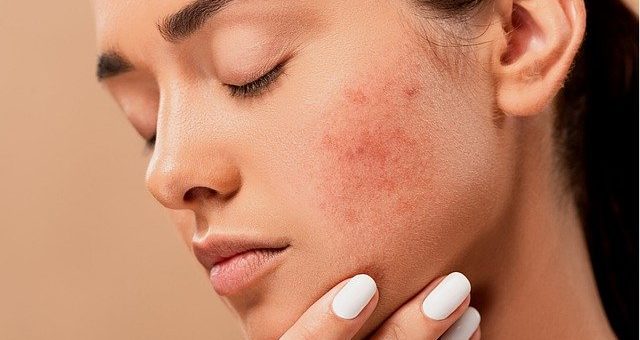 ---
How Your Pillowcase Affects Acne Prone Skin
Fabrics like hemp, polyesters, and cotton absorb oils and dirt from your hair and skin. In this, bacteria can grow, and the oils and dirt can cause acne and exacerbate the condition if you already have acne.
Not to mention certain synthetic pillowcases that cause overheating and sweating, which may also worsen acne.
There is much being claimed about silk and satin pillowcases and their benefits for the skin and hair.
Generally, softer, silkier materials cause less irritation and do not absorb oils and dirt.
Then there are also pillowcases infused with silver ion technology, which fights against bacteria that can cause acne breakouts.
Anti-Acne pillowcases ate non-invasive in design, chemical-free, and designed to be antimicrobial to fight the condition.
Anti-Acne pillowcases absorb oil and dirt and pull them away from the surface of the pillowcase so that they do not come into contact with your skin.
---
Pillowcase Materials That Do Not Aggravate Acne
There are a few type sand materials in pillowcases that will help t prevent acne breakouts, and that will not aggravate acne;

Bamboo – Bamboo is naturally hypoallergenic and antimicrobial. It also absorbs moisture and holds it without it coming into contact with your skin. Bamboo pillowcases are generally soft and not irritating.
Copper Oxide Infusions – Copper Oxides infused into a pillowcase has anti-ageing effects. Copper ions boost skin regeneration and stimulate the production of collagen and elastin, which helps with the structure and health of your skin.
Satin – Satin mimics the softness and feel of silk, consisting of synthetic polyester. The technology used creates a smooth and soft barrier that does not absorb moisture or cause friction.
Silk – Silk is naturally anti-bacterial and anti-allergic. It will not harbor bacteria and germs and helps to retain moisture in the skin. This, in turn, balances the oil in your skin to prevent acne breakouts. Silk also does not chafe or irritate the skin.
---
Features of a Good Pillowcase for Acne
There are a few key features to look for in a good pillowcase for acne;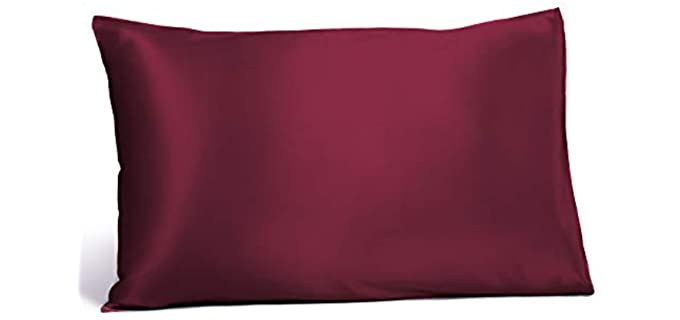 Materials – The best pillowcase materials for acne include, silk, satin that is synthetic, natural Bamboo or Rayon derived from bamboo. Copper and silver ions can be infused in the pillowcases to improve antibacterial and healing properties.
Design – The pillowcase size and fit should be similar to that of your pillow. You get standard, queen, king, and larger pillowcase sizes.
Closure – Most pillowcase designs have an envelope closure, while some may have a zip closure.
Options – Besides different size options, most pillowcases for acne also come in a variety of colors and prints.
---
Reviews: The Best Pillowcases for Acne
Below is our list of some of the top choices in pillowcases that will help with your acne problems;
---
1
The pure mulberry silk pillowcase from Fishers Finery is an all-natural option for your acne.
The Pillowcase consists of 25mm of pure mulberry silk, which is of excellent quality and a very luxurious type of silk.
Silk is naturally antibacterial and hypoallergenic, which means it will not aggravate your acne or cause any allergic reactions.
The soft texture will not chafe or irritate your skin, and it will not cause acne breakouts.
The Pillowcase is available in more colors and size options from which you can choose to your liking.
---
2
The genuine silk pillowcase from Alaska Bear is one of your best options against acne.
Another pure Mulberry silk pillowcase option, which is fine quality and super soft.
The Pillowcase has a very soft and non-irritating texture that will not aggravate acne or harm your skin anyway.
It is all-natural and hypoallergenic and will not cause any breakouts.
There are also more colors and sizes available in this brand and model.
---
3
The satin pillowcase range from Bedsure will surely help to prevent acne breakouts and will not aggravate acne.
The 100% Polyester satin pillowcase is a more affordable option than silk, which has many similar properties that are also ideal for acne skin.
It is smooth in texture and will not absorb dirt and oils, which can aggravate acne and cause breakouts.
There are a few colors and sizes available, from which you can select for your own personal preference.
The pillowcase is soft and luxurious to the touch and will not cause any friction to your skin or hair in turn.
---
4
The Newmeil pillowcase consists of A-Grade luxury cotton infused with silver ions for acne.
The Pillowcase consists of 95% very soft and silky A-grade cotton that is better for your skin.
It is infused with silver ions that is a powerful anti-acne agent because of its antibacterial properties and silver technology.
The pillowcase comes in regular sizes in sets that you can choose from.
It also has a very soft and non-irritating finish, which is great for your hair and your skin in turn.
---
5
The EXQ satin pillowcase range is also ideal for acne and comes in many colors and size options.
This is a satin pillowcase for acne.
It is soft and non-irritating as well as not absorbent.
The satin pillowcase is available in more colors and sizes.
It is more affordable than silk, yet almost as good in quality.
---
6
The Cova anti-acne pillowcase is infused with silver ions that help to fight acne and prevent breakouts.
The Pillowcase consists of 95% cotton that is an A-Grade luxury cotton that will not aggravate ane at all.
The cotton is infused with Silver Ions that are antibacterial and help to heal acne.
The Pillowcase is durable and of exceptional quality, which you can rely on.
The finish is soft and will not chafe or cause any friction against your skin.
---
Index Table: Top Rated Pillowcases for Acne
---
---