The Buckwheat pillow is also known as a Sobakawa, a traditional Japanese pillow filled with hulls that encase the Buckwheat seeds.
Because buckwheat is springy when compression and provides firmer and more contoured support, it also properly supports your head, neck, and shoulders when sleeping on such a buckwheat pillow.
So today, we look further into the best buckwheat pillows that are available.

---
Who Should Invest in a Buckwheat Pillow
Anyone looking for firm and strong support un a pillow for their head and neck will be well suited to a buckwheat pillow;
Side Sleepers – The Buckwheat pillow molds to the head and neck to provide unique and custom support, this, in turn, ensures proper spinal alignment when sleeping, which is usually lacking with a lower or softer pillow for side sleepers.
Back Sleeping – Back sleepers enjoy a buckwheat pillow with a medium loft that keeps their body on an even plane when sleeping, which in turn prevents pressure points and backache.
Allergies – Although individuals have allergies toward buckwheat, it is extremely rare. Buckwheat is an excellent fill alternative for persons with latex or feather fill allergies.
Hot Sleepers – Buckwheat Pillows are perfect for hot sleepers as the hulls do not trap body heat like foam, and they also cruciate air exceptionally.
---
Pros and Cons of a Buckwheat Pillow
With every good thing in life, there are some pros and cons, so here are the good and the bad on buckwheat pillows;
Pros – Buckwheat Pillows offer very firm and strong support. They are exceptionally cooling, allowing excellent ventilation, and do not hold your body heat as most foam pillows do. Buckwheat is also hypoallergenic and all-natural.
Cons – On the other hand, a rare few individuals may be allergic to Buckwheat. Buckwheat pillows offer firm support. However, some individuals may prefer something softer. They are also not well suited for stomach sleepers and are more ideal for side and back sleepers. Buckwheat hulls may not become wet at all, and you may wash only the pillow's cover.
---
Features of a Good Buckwheat Pillow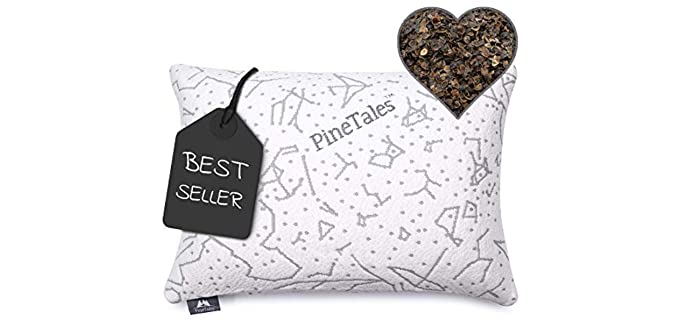 Moldability – The hulls of the buckwheat should feel like a very firm beanbag and mold quite close to the body.
Temperature Regulation – There should be no fill materials and a cover that offers good breathability and temperature regulation.
Materails – Look for a fill that consist of natural buckwheat hulls or organic. The cover should be breathable organic or natural cotton, or bamboo.
Shape – Buckwheat pillows come in various shapes and sizes, such as bed pillows, neck pillows, bolster pillows, and body pillows.
Options – Options available usually size for bed pillows ranging from standard to queen and king-sized pillows.
Loft – The Loft of a Buckwheat Pillow will generally be adjustable.
---
Reviews: The Best Buckwheat Pillows
Here are some of our favorite picks of brands and modesl in natural buckwheat pillows;
---
1
A comfortable and supportive Buckwheat pillow from Zen Chi.
The fill is 100% organic and natural buckwheat,
The hulls naturally adjust to your head and neck for optimal support.
The hulls are refillable and adjustable for the firm or soft support,
It comes with an organic cotton cover.
---
2
The Bean Products Buckwheat pillow is hypoallergenic and natural.
This is a Kings Sized pillow with buckwheat.
The fill consists of natural organic buckwheat, which is safe, chemical-free, and hypoallergenic for those who suffer from allergies.
There is an organic cotton cover with an easy zip closure that is hypoallergenic and all-natural.
The pillow's fill is fully adjustable so that you can get just the right loft and firmness from your pillow.
---
3
From PineTales, we have a Japanese-style premium organic Buckwheat pillow.
A premium Japanese-style buckwheat pillow just as they were initially intended.
It is filled with organic natural buckwheat,
The inner shell consists of 100% pure cotton, and you can choose the pillowcase for your taste with your pillow.
There is a zipper closure on the cover so that you can adjust the fill.
---
4
The ComfyComfy Premium buckwheat pillow has extra buckwheat hulls for adjustability.
Ideal for superior support and comfortable pain relief by providing firm support for your neck, head, shoulders, and back.
The pillow is filled with premium buckwheat and has a 3D structure for optimal airflow.
The cover is breathable and very durable.
The size of the pillow is the classic standard size.
---
5
The Sachi Organics Buckwheat pillow is all-natural, even the cotton cover.
The pillow comes with a 100% natural cotton cover that is breathable and durable, as well as hypoallergenic and safe.
The fill is organic USA-grown buckwheat hulls that are fully hypoallergenic, clean, and safe with no additives or odors.
It is handmade in the USA and comes covered in a sturdy canvas cotton casing.
The cotton used is likewise organic, which means it is completely safe and natural.
---
6
Here we have a fully organic Buckwheat pillow with a natural and organic cotton cover.
The Buckwheat pillow is available in various size options you can choose from, which enables you to get the perfect fit for your comfort and your bed.
It has organic buckwheat hulls for fill and an organic cotton cover, which means that it is all-natural, so no allergies or chemicals come into contact with you.
The fill is fully adjustable, and the hulls allow for maximum airflow.
The buckwheat hulls are completely natural and elastic. They are fully hypoallergenic and can be adjusted to get the perfect firmness and loft for proper support and comfort.
---
7
The Sobakawa Traditional Buckwheat pillow is all-natural and comes in many size options from which you can select.
The cover is natural muslin cotton, which is highly breathable, all-natural, and hypoallergenic.
The fill is 100% pure buckwheat hulls with no additives, so it is completely hypoallergenic, natural, and safe for you.
The fill is refillable and fully adjustable, so you get the firmness and loft you need for the most comfortable resting experience.
The pillow comes in a range of bed pillow sizes so that you can get the p[erfect size to suit your bed and your sleeping needs.
---
Index Table: Top Rated Buckwheat Pillows
---
---