Getting a good night's rest with your CPAP machine might not be the easiest thing, and you can find yourself tossing and turning to get a proper sleeping position.
This is where the best pillow for CPAP Users comes in to play. These pillows are designed specifically to accommodate a CPAP machine and allow you the most comfortable and even versatile sleeping positions.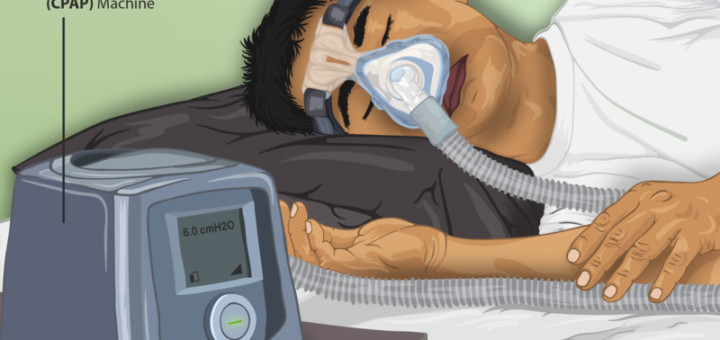 ---
How Will A Pillow help to Support Your CPAP Machine
To get the best night's rest while using your CPAP machine for sleep apnea and other sleep conditions, you will need a good CPAP compatible pillow that supports both your sleeping posture and your CPAP machine throughout the night.
The CPAP Pillow works with your ideal sleeping position for proper cervical alignment and accommodates for the CPAP machine and all its accessories. You can get a thinner design pillow for back and stomach sleeping and a firmer and higher pillow for side sleeping or side and back sleeping.
However, you will need to consider the location of your CPAP machine and the tube that connects to your mask before investing a Pillow for your CPAP machine.
---
Choosing the Best CPAP Compatible Pillow
So here are a few tips to help you choose the best available pillow design for sleeping comfortably with your CPAP Machine;
What is Your Natural Sleep Position – There is no need to try and introduce a new sleeping position to accommodate a new pillow for your CPAP Machine. Address what the most comfortable position for you is and what position do you naturally fall into when sleeping at night. Now look for a CPA Pillow design that accommodates for your specific sleeping positions.
Do You Sleep warm – Many materials in your bed and pillows may cause hot sinks, and if you are already overheated when sleeping, you do not want a pillow that adds extra heat. Look for a pillow that breathes well or that has cooling technology, such as cooling gel.
Are You Waking Up with Aches and Pains – Poor posture and not resting properly can cause you to wake up with aches and pains and generally causes a poor night's rest. A soft, malleable, or supportive contoured pillow will provide good pressure relief and will support your head, neck, and shoulder for proper spinal alignment to reduce pain and tension.
---
Features of a Good Pillow for CPAP Users
Design – CPAP User Pillows usually have a contoured design, and some have cut-outs for more comfortable sleeping while using a CPAP machine. The CPAP Pillow is usually adjustable and designed for either back and side sleepers, or for stomach and side sleepers.
Fill – The best fill for a CPAP Pillow is usually memory foam, with or without cooling gel, although other types of foams may also be suitable.
Cover – The CPAP Pillow usually comes with a cover that is polyester, microfiber, bamboo, or cotton, and that is removable to be washed. Some brands give you two covers for your pillow.
---
Reviews: The Best Pillows for CPAP Users
Here we have pillows that are designed specifically to accommodate a CPAP Machine for all your sleeping position and comfort needs;
---
1
Contour Products, CPAPMax 2.0 Pillow. The white case for Sleeping with CPAP Machine, Works for Side, Back and Stomach Sleepers, alleviates Leaking, Reduces Noise, no Odors.
The CPAP Pillow has a memory foam fill with fiber fill layers, and the loft is adjustable.
It is comfortable for all sleep positions and comes with a 2-year warranty.
The shape has a contoured design for optimal support and comfort,
It is also the ideal height for all sleep positions.
---
2
The EnduriMed CPAP pillow has a contoured design and comes with an extra case cover for your convenience.
The CPAP Pillow has a 1-year warranty for quality and a loft of 6 inches.
It is filled with premium memory foam, and a has a hypoallergenic removable cover.
The pillow will reduce pressure caused by your mask and offers excellent head and neck support.
You can also use it with multiple styles of masks.
---
3
The Lunderg CPAP pillow is adjustable and ideal for all CPAP users' sleeping positions.
This is a comfortable and innovative design in CPAP pillows.
The pillow comes with two additional removable and washable pillowcase, that is quite convenient.
The thickness is adjustable, and you can adjust the height and the firmness of your pillow.
It has a contoured design for better support and spinal alignment.
---
4
The Mars wellness has the ideal side and stomach sleeper pillow for CPAP users, with a removable free cover.
This is a premium CPAP pillow for stomach and side sleepers.
The pillow has a design that reduces pressure from the mask, sleeping on your side or stomach.
It is ideal for CPAP, BiPAP, and APAP machine users.
Very soft and comfortable with a firm base support that will support your neck, head, and shoulders for proper spinal alignment and pressure relief.
---
5
The Snugell CPAP Pillow has four adjustable heights that are ideal for back and side sleepers.
This is an ergonomically shaped and designed CPAP pillow that is available in four different leaf thicknesses,
The pillow is adaptable and contoured to accommodate the mask and hose of your CPAP machine.
It has a premium quality memory foam fill and an allergen and dust mite resistant cover.
The design is a supportive clover shape that will support your head, neck, and shoulders for proper spinal alignment, which will alleviate tension while also adequately accommodating your CPAP machine.
---
6
The CPAP design pillow from Pillows with a Purpose has a unique contoured design with cut-outs for your comfort.
The pillow is designed with contour cut-outs that help to ease discomfort when sleeping with a CPAP Machine.
The cover and pillow are hypoallergenic and very breathable, so safe and healthy for you.
There is a center dimple for ample neck support, and it is ideal for side and back sleepers.
The pillow comes in standard size with a cover included, which is quite convenient.
---
Index Table: Top Rated Pillows for CPAP Users
---
---