Shoulder pain or Chronic shoulder pain is not as uncommon as you may think. Many persons suffer from this condition. Many reasons can cause shoulder pain, one of them being an uncomfortable sleeping position; your pillow may cause that.
Replacing your pillow with the Best Pillows for Shoulder Pain can alleviate shoulder pain and even help to correct the issue.
There are many pillows sold that are specifically designed to support your head and neck in such a manner as to reduce pressure in the shoulders and surrounding areas. We will look at some of these pillow options in today's article.

---
Shoulder Pain and Sleeping
Your sleeping position and sleep aids can be directly related to your shoulder pain, and even if not, they can improve and alleviate the pain.
Some people experience pain, numbness, tingling, or even muscle spasms in their shoulders regardless of how they sleep and which position they employ, which can interrupt sleep and cause a lack of energy the next day.
Depending on whether you have a shoulder injury, condition, or poor sleep position, the Best Pillow for Shoulder pain can alleviate the symptoms, if not providing a complete solution.
The right pillow for your shoulders is sure to mitigate some of your nightly shoulder aches and pains effectively, as well as provide further comfort and support for a good night's rest.
---
Positioning your Pillow for Shoulder Pain
If you have chronic shoulder pain, you may struggle to get the best sleeping position to reduce or relieve the pain. Depending on your condition and the reasons for your shoulder pain, here are some Pillow Positions that will help with Shoulder Pain.
Side Pillow Position – If you have pain in one shoulder, it is a good idea to sleep on the other shoulder that does not have pain. For Pain in one shoulder, place one pillow underneath that armpit, another pillow between your legs, and a third cuddled against your stomach, as well as the fourth pillow beneath your head. This improves spinal alignment for pain relief.
Back Pillow Position – Back sleeping improves spinal alignment and does not pressure your shoulders. You can sleep on your back with the proper pillow under your head and one pillow under the painful shoulder armpit to alleviate the shoulder pain.
Pillow Between The Knees and Side Pillow – This is often a chosen position for pregnant women. Place a pillow between your knees to improve spinal alignment and a pillow under your head, sleeping on the side, not painful.
Back Pillow for Side Sleeping – Some side sleepers experience shoulder pain because of improper back alignment. Therefore a thin pillow placed under the back and hips can improve spinal alignment, reducing shoulder pain.
Stomach Sleeping – Sleeping on your stomach causes way more aches and pains than back or side sleeping, in general. Therefore, it is not recommended for persons who have shoulder pain to sleep on their stomachs.
---
Features of a Good Shoulder Pillow
So you have decided to invest in the Best Pillows for Shoulder Pain, well then make sure to look out for these features;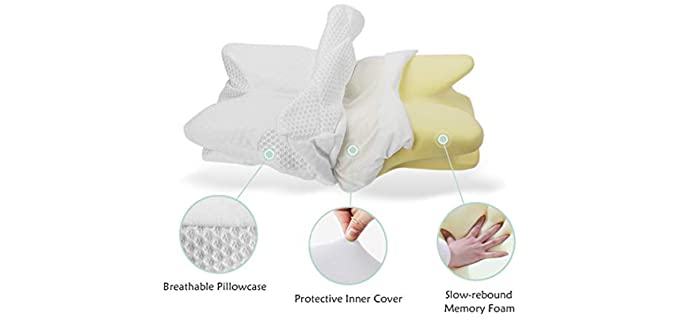 Loft – The Loft or the pillow's thickness will greatly affect how supportive it is. A higher loft that is firmer is recommended for side sleepers, while a lower loft that is less firm is ideal for back sleepers. Stomach sleeping is not recommended. However, a lower loft is ideal for stomach sleeping.
Support – The Pillow will need to keep your head upright and cradle your neck, so look for pillows with more contoured support shapes that fully support your head, neck, and shoulders.
Firmness – The Firmness level depends on your preference; however, I would recommend a medium to the firm pillow for support to relieve shoulder pain.
Shape – Most specialty Pillows, particularly for neck or shoulder pain, will have an irregular shape. A contoured shape, wedge shape, or shape the supports the head, neck, and shoulders is ideal.
Materials – The Materials used in the Pillow will affect its support and comfort levels, as well as quality and longevity, so it's ideal to look for high-quality materials. Materials such as Memory Foam, feathers, and Latex, as well as buckwheat for the fills, are ideal. For the Covers, cotton and polyesters are quite durable, and Bamboo and Viscose fibers. The materials used to construct a
---
Reviews: Best Pillows for Shoulder Pain
below we have some of the best available brands and models of Pillows that are ideal for Shoulder Pain;
---
1
From Coisum, we have a Cervical Shape pillow that is ideal for relieving shoulder pain.
This pillow is filled with premium memory foam that offers firmer support with a 60 density level.
Proper spinal alignment is promoted with the design that offers optimal neck, head, and shoulder support in the right amounts.
There is a cutout under the wing to support side sleepers for a space for the arm and support the shoulders.
It comes in a breathable and hypoallergenic cover that is removable and washable.
---
2
From CushionCare, we have the Orthopedic Cervical design pillow that properly supports your head, neck, and shoulders for good spinal alignment.
The Cervical design offers excellent head, neck, back, and shoulder support and properly aligns your spine with reducing [rressure points and pain.
The High-density quality memory foam fill has excellent rebound and offers medium comfort firmness for all sleeping positions.
It comes with a comfortable and soft polyester and mesh cover that is also hypoallergenic and safe.
The medium loft design makes it ideal for back and side sleeping positions.
---
3
The HOMCA Shoulder Pain pillow has a contoured design for optimal support and comfort.
The pillow's Cervical contoured design is ideal for preventing and relieving neck, back, and shoulder pain.
The strategic design keeps your head, neck, and back in perfect alignment.
The fill consists of high-quality Memory foam, and there is a Rayon and polyester cover that is safe and hypoallergenic.
The pillow features two contour heights on both sides, with the lower side 3.5 inches high and the higher side measuring 4.2 inches in height, and allows you the luxury of customizing your sleeping experience.
---
4
The CushionCare Pillow is an Orthopedic design pillow with cooling Blue Foam and good Shoulder Pain Support.
The pillow's Contoured Orthopedic design aids in relieving neck, back, and shoulder pain and helping to reduce snoring.
The pillow's fill consists of high-quality memory foam, with a high-density blue core that rebounds quickly and has cooling technology.
It also features a high-tech, temperature-sensitive foam feature that adjusts to the body's heat and weight to provide the perfect amount of neck and shoulder support.
The Pillow offers a medium of firm moldable support and has an armrest design to prevent shoulder and arm pain when you sleep on your sides.
The pillow comes with a soft cover with a mesh design that is hypoallergenic and dust-mite resistant.
---
5
From Malouf, the Shoulder Zone design shoulder pillow is comfortable and will reduce shoulder pain.
The Fill consists of a doughy and moldable memory foam infused with soothing lavender, which aids in relieving tension.
In the design, the pillow features a unique shoulder recess designed specifically for side sleepers.
There is also zoned technology that cradles the head and supports the neck to reduce shoulder and related pain.
It comes with a premium quality Tencel cover that offers great moisture and temperature regulation and is also quite breathable.
Furthermore, the memory foam used in the pillow is Certi-PUR US certified.
---
6
The Sleep artisan Adjustable Side Sleeper Pillow is designed to prevent and relieve neck and shoulder pain effectively.
The Pillow is a natural and environmentally safe product that uses natural materials that are certified.
The Fill consists of Latex from natural rubber that offers firm and comfortable support.
The Cover is removable for washing and also consists of natural materials.
The Curved design allows you to personalize your experience for proper head positioning, spinal alignment, and shoulder pain relief.
Likewise, the pillow is hypoallergenic with no allergens or chemicals and dust resistant.
---
7
This is an Orthopedic Shoulder Support Pillow designed by EPABO.
It is designed to provide therapeutic relief for neck and shoulder pain.
The pillow features a contour designed that promotes spinal alignment and relieves discomfort.
It is made with high-quality, breathable, Memory foam, covered with a Polyester and Rayon blend pillowcase.
---
8
It is ergonomically designed to allow neck and shoulder muscles to relax completely.
Its contoured shape promotes proper alignment and relieves neck and back discomfort, thereby rejuvenating your body.
The pillow features a spinal alignment design, along with a left and right airway system, as well as a 5-second rebound Memory foam.
It is made with 100% Memory Foam that fits the neck's curve and properly aligns the spine while sleeping.
The center cavity in the middle of this pillow helps cradle the head for optimal support and makes you breathe better and easier.
This therapeutic pillow comes wrapped in a 75% Cotton and 25% Polyester blend cover.
---
9
This is an ergonomic Shoulder Pain Relief Pillow designed by Elviros.
It features a proven contour design that perfectly supports and aligns the head, neck, shoulders, and back.
The pillow conforms itself to the body's natural curves to provide relief from shoulder pain and discomfort.
It is made with 100% memory foam that is high-density, and low-rebound.
---
10
This is a Tri-Core Ultimate Cervical Pillow designed by Core Products.
The pillow provides four firm support options, with firm support for back sleepers.
It features a dual-sided design, with the firm side for when you sleep on your back and the molded side for side sleeping.
The pillow allows for ear pressure relief and jaw relief through its unique design.
---
Index Table: Top-Rated Pillows for Shoulder Pain
---
---