Your pillow is one of the primary sleeping aids which can either give you a comfortable night's rest r keep you tossing and turning.
The best sleeping pillow is a long-term investment that we should all consider profusely to get the rest that we need every night, remain pain-free, and wake up refreshed every morning.
When it comes to choosing a good pillow, the options are overwhelming. So in this article, I will explain some types and designs of pillows that will cater to your specific needs and look at some of the top available brands and models in these designs.
---
Why Choosing Right Pillow Is Important
Certain Pillow shapes and fills provide better support and comfort for certain sleeping positions and certain conditions and ailments.
If you are prone to neck, shoulder, or back pain, even hip pain, pillows' right selection can help prevent and reduce pain. Similarly, if you sleep on your side, back, or stomach, which is not recommended, a certain loft,m design, and firm or less firm pillow type is required to fully support your body and spine for more comfort and support in that specific sleeping position.
That is why it is necessary to choose the best sleeping pillow according to your specific requirements and sleeping position.
---
Pillow Types and Fills Available
When it comes to choosing the best sleeping pillow, there are a few main consideration;
Fills – When it comes to pillow fill, your get softer and plusher feeling fills, pliable fills, and firm support foam fills. A medium to firm fill is advised for people who need to add support for neck or shoulder pain and better alignment, particularly back and side sleeping. A higher loft is required for side sleeping, while a lower or medium loft is advisable for back sleeping. Memory foam is pliable and moldable and comes in solid or shredded options offering medium to firm support and a more moldable and comfortable feel. Latex as a fill offers firmer support and is less pliable, with a better rebound. Latex is a natural rubber derived fill, while memory foam is synthetic and tends to overheat in solid form. Through, cooling gel infusions or layers are now added to most memory foam pillows to dissipate heat. Other more plush fils such as down or feather fills, feather and down alternative fills, as well as polyester clusters are used for a comfortable and softer loft. These fills are ideal for most sleeping positions that do not need too much support. A very low and flatter design pillow is advised for stomach sleeping, where stomach sleeping, no matter what, the support is not advised.
Designs – Sleeping Pillows comes in a standard solid design, a contoured design with a raised area at both ends to support your neck and a hollow for your head, or a cervical design with a raised neck area and a lower uniform area for your head. The choice here depends mostly on support. Contoured and cervical designs are great options for neck, back, and shoulder pain as they fill the gap between your neck and the bed for better spinal alignment. However, memory foam and latex fill pillow will mold your contours to give a similar support type.
Cover – The cover is important. I always op for a waterproof cover to protect my pillow, which protects against dust motes and allergens. A removable design with a zipper is ideal as it allows you to adjust the loft in layered or shredded fill models and allow you to wash that pillow cover as needed.
Pillowcase – your pillowcase is just as important as your pillow. Your pillowcase needs to breathe well to keep you cool, resist dust mites and allergens, and provide a comfortable and soft surface for sleeping n. Every fabric used for pillowcases has its own benefits, such as silk for keeping your skin and hair healthy and moisturized, bamboo for ist antibacterial, hypoallergenic, and absorbency cotton for cotton its breathability, hypoallergenic, and comfort features. Of course, Egyptian cotton is one of the most desirable cotton types in bedding. The pillowcase's Thread count is also important as a higher thread count is always better in durability, density, and resistance to holding mites, dust, and trapping dirt.
Size – Pillows comes in three standard sizes, a standard adult size, queen or king size. However, there are larger options available and smaller options for children and toddlers. the preference here is completely up to you.
---
Features of a Good Sleeping Pillow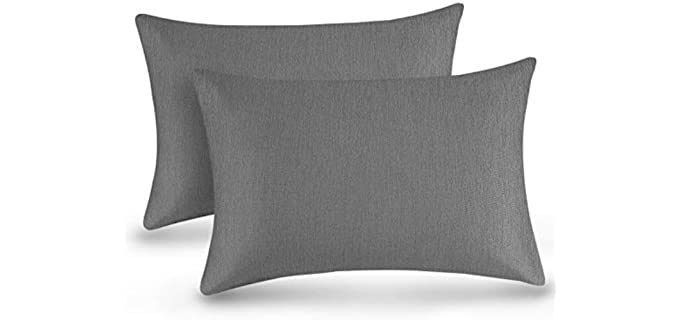 Fill – The fill will consist of either latex, memory foam, foam, Polyester, or a down or down alternative fill, and also feather fills. The loft and firmness depending on the types of fill and whether it is a solid or shredded foam fill.
Cover – Covers can be waterproof or not and come in either cotton, polyester or bamboo materials, or blended material. Some covers may be infused with essential oils, silver, or copper for antibacterial and hypoallergenic properties.
Size Options – Most pillow models will comes in size options available such a s toddler, standard, queen, King and larger king sizes, or continental options.
---
Reviews: Best Sleeping Pillows
When it comes to pillows for sleeping, we have you covered with our comprehensive list of a variety of the best available sleeping pillows with the best ratings;
---
1
The Coop Home Goods Shredded Memory Foam pillow is a top favorite for the memory foam pillow range.
The design is excellent for all sleeping positions.
The filling consist of high-density shredded memory foam of the highest quality memory foam.
The Cover and pillow is dust and mite resistant and hence a good choice for allergic and hyperallergic people.
You can remove the cover and wash it in your washing machine.
The memory foam is Certi-PUR-US® certified and does not make you go sweaty even in summers.
The foam used in the pillow is of high quality and standard.
---
2
The Snoogle Body Pillow is a favorite in the body pillow range that offers full-body comfort and recommendations to nurses.
This pillow offers support to your pelvic region, neck, and tummy.
The full-body design is ideal for all sleeping positions, as well as for pregnant women.
You can snuggle into the pillow and enjoy the support without the fear of extra heat generation.
Its removable cover can be washed in a washing machine.
---
3
Little Sleepyhead brings you their top-rated toddler and children's pillow that is safe and hypoallergenic.
The pillow's size is ideal for toddlers and children and is also portable.
The Pillow and cover are soft, comfortable, and hypoallergenic.
The cover can be removed and machine-washed.
the fill offers plush comfort and good support.
---
4
Sleep Innovations is a top brand, and its standard-sized Contour Memory foam Pillow is one of the best available for side sleepers.

The Cover consists of 100% durable and breathable cotton.
For the fill, high-quality solid memory foam is used.
The contoured design offers proper head, neck, and shoulder support to relieve pain and provides the perfect sleeping position for side sleepers.
The design helps to align your spine and offer excellent pain relief properly.
The memory foam has a high rebound and offers firmer support and moldable comfort.
---
5
The Xtreme Comforts Shredded Memory Foam Pillow employs Kool-Flow technology to prevent overheating and keep you comfortable.
The Memory Foam used top quality and CertiPUR-US standards for content, emissions, and durability.
The Pillow contains no ozone depleters or phthalates, or mercury.
The Cover and all materails used are completely hypoallergenic and safe.
Kool-Flow Technology and a Micro-vented design prevents overheating and keeps you cool all night.
A cover consisting of Bamboo allows your pillow to ventilate.
---
6
This is a specially designed luxury pillow for sleeping by Beckham Luxury Linens.
It comes wrapped in a soft and smooth, 100% Cotton cover that is breathable, fade-resistant, and stain-resistant.
The pillow filling is plush gel fiber constructed to maximize comfort in all sleeping positions.
It is also free of any harmful chemicals, allergens, and resistant to dust mite, mold, and mildew.
---
7
This is a contoured pillow designed for optimum pain relief by ZAMAT.
It is designed to provide support to the neck by conforming to the neck and shoulder curves and promoting spinal alignment.
The memory foam cervical pillow offers a medium soft feel and allows you to customize the memory foam fill layers.
It is built with double pillowcases to reduce neck pain and provide support, whether you sleep on your back or side.
---
8
This is a gusseted pillow in a pack of 2 designed by Utopia Bedding.
It is designed with blue piping and double stitching to give it a luxurious finish, while also increasing durability.
The pillow measures 18 x 26 inches in size and allows you to sleep in any position.
It comes with a poly-fiber filling that is adjustable and provides optimum support and comfort at the same time.
---
9
This is a BioPEDIC ultra fresh sleeping pillow to keep you cool and comfortable throughout the night.
Its cover is treated with anti-odor Ultra-fresh technology to make the pillow antimicrobial and antibacterial and keep you fresh and clean.
The pillow provides a 99% reduction in bacterial growth to protect from odor and stain growth.
It is filled with Polyester fiber that is adjustable and provides lofty comfort, while also being Hypoallergenic to keep you safe.
---
10
This is a sleeping bed pillow designed by Casper in a variety of sizes.
It comes with a 100% Cotton cover that features a percale weave, which is breathable and designed to increase airflow to keep you cool and comfortable throughout the night.
The pillow features an innovative pillow-in-pillow designed packed with microfiber fill for support and cofmort.
Its outer layer is machine washable for easy cleaning and maintenance.
---
Index Table: Top rated best seller Sleeping Pillows
---
---