Yoga and Meditation are so beneficial to your health, it improves muscle strength, concentration, relaxation, flexibility and relieves stress.
However, many of the meditation and practice poses require of you to be in a still stead position or still position on your knees.
When you have to do this on a hard floor or even an EVA mat, it can become quite uncomfortable and hinder your overall experience.
This is why we want to introduce you to the best Meditation Pillows.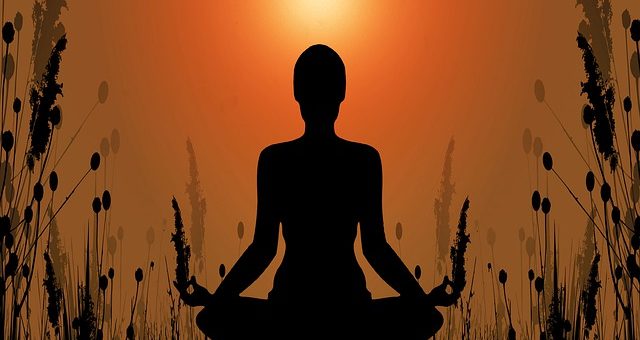 ---
Why You Need a Meditation Pillow
Sitting comfortably in an unsupported Cross-legged or lotus position means you need to sit tall and straight to maintain the natural curves of your spine.
This position requires mobility in the ankles, knees, and hips that most of us do not naturally have.
This may result in some cramps, pinching, slumping, and pain that can make it tough to focus, and even more so when you are on a hard surface.
Thus, the mediation pillow helps to cushion you and to lift your hips, rolling them slightly forward to support the natural curves of your back. Once your spine is properly aligned, the rest of your body falls into place and is more relaxed.
Without proper support, your body can succumb to the surface on which it rests, and this can cause misalignment of the shoulders, spine, hips, and legs that can be very uncomfortable. The Meditation pillow basically provides a soft d comfortable aid to sit on that also supports proper alignment.
---
Meditation Pillow Types
In the Video are some Options in Choosing a Meditation Pillow
Zabuton Meditation Pillow – The Zabuton is basically like a mini futon, its has a wide and rectangular shape with a foam or cotton fill, and a cotton or synthetic cover.
The Sukasana Meditation Cushion – This is a very small and portable meditation cushion that does not provide much support but is ideal for traveling.
The Meditation Bench – This is a wooden bench with a meditation pillow on it. You do not need to sit cross-legged on it. Thus you have better alignment, and it can also increase your energy levels.
The Zafu Meditation Pillow – Zafus are the traditional round shaped meditation pillows. They are usually around five inches high and are ideal for most people.
The V-Shape Meditation Pillow – The V-Shaped Meditation Pillow is similar in shape and purpose to the Zafu Meditation pillow. It is ideal if your hips and legs need more support as it slants forward slightly more.
The Zen Meditation Cushion – A Zen cushion is similar in height to a Zafu, but it is rectangular and wider in shape.
It does not matter which design Meditation pillow you decide on, as long it is comfortable for you personally. Keep in mind whatever you choose must allow you to sit in a comfortable and relaxed position where all your spinal curves are properly in tact.
---
Features of a Good Meditation Pillow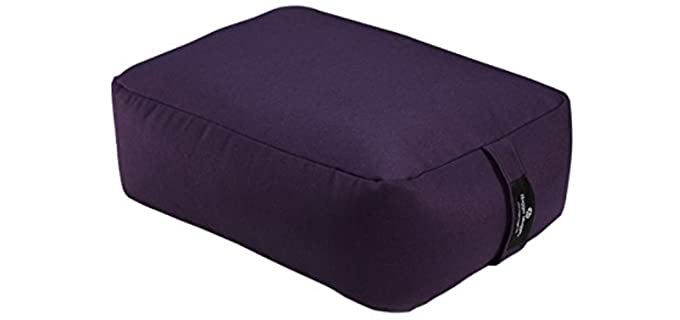 Type – You will need to choose the type of Mediation pillow that you prefer, and I have included all the main types in the review section. They include the Meditation bench, Zafu, Zabuton, and the V-Shaped Meditation Pillows, among some others.
Washability – Look for pillow options that you can machine wash or hand wash as needed. Most Meditation pillows do come with a removable and washable cover.
Portability – Some, especially smaller mediation pillows, are more portable and may come with an additional handle or bag for carrying.
Height – Mediation Pillows come in different height options, normally around 5 inches in height. If you are generally a tall person, it's advised to opt for a pillow that is a bit higher.
Materials – Most Meditation Pillows consist of more natural materials such as Buckwheat for the fill and cotton or bamboo for the cover, however you d get synthetic options such as merry foam, foam, or a polyester fil and cover. Many meditation pillows will be eco-friendly and vegan in their materials and construction, few meditation pillows are actually synthetic in material as you will notice from our review list.
---
Reviews: The Best Meditation Pillows
I have listed some of the best options in the different types of meditation pillows;
---
1
From Reehut, we have the basic Zafu mediation pillow which is the most common meditation pillow design.
It has a zip cover that can be removed and washed and a comfortable buckwheat fill.
The pillow offers excellent support for proper spinal alignment.
Many color options are available from which you can choose.
---
2
The Hugger-Mugger V-Shaped Meditation pillow has a slanted V shape to promote proper alignment and a comfortable sitting position.
The design has a buckwheat hull fill and a zip cover that can be removed and washed.
It also has a convenient carry handle for portability.
---
3
From Mindful, we have a cotton Zabuton meditation pillow in a larger rectangular design.
This design is comfortable but not very portable.
The meditation pillow has a cotton cover available in more colors and a plush and comfortable fill.
It can be used as a cushion alone or used on a meditation bench.
---
4
Another addition from Hugger Mugger us their Zen Meditation pillow.
The meditation pillows are sturdy with durable upholstery fabric.
It will cushion and conforms to your natural contour for proper support and comfort.
There is a zip closure on the removal cover so that you can refill the mediation pillow as needed.
---
5
Here we have a full meditation bench along with a meditation cushion.
The bench consists of natural and durable acacia wood and is a perfect size.
There is a comfortable cushioned seat on the bench for your convenience.
The bench and cushion are likewise available in more color options.
---
6
Another excellent choice is a bolster design yoga and meditation pillow such as the Peace Yoga design.
The Bolster pillow offers proper spinal support and comfort for relaxation and relief.
It has a buckwheat fill and a natural cotton cover.
The design is natural, as well as eco-friendly in materials and construction.
---
Index Table: Top Rated Meditation Pillows
---
---