The Half Moon Bolster pillow is a pillow design with so many uses and comfort features.
It has an exceptional capability of reducing pain and strain in many areas of your body.
This is why I would greatly be recommended the best Halfmoon pillows.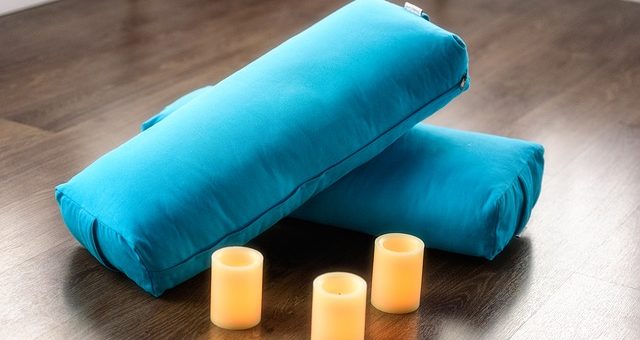 ---
Why Choose a Halfmoon Pillow
So why should you choose a Halfmoon bolter pillow?
Well, if you are someone with issues with your neck, back, hips, knees, legs, or any other health issues, you will most definitely benefit from a Halfmoon pillow.
Other than that, you can just use a half-moon pillow as a comfortable support, Or even just as a decorative pillow on your bed.
The Halfmoon bolster pillow looks similar to the cylindrical bolster pillow, but the one side is flat, so basically a bolster pillow cut in half.
You place the Halfmoon bolster pillow under your knees for leg support or to elevate your legs. You can place it behind your back for lower back or lumbar support or behind your neck for neck and shoulder support and pain relief.
The Halfmoon Bolster Pillow also makes an excellent sleeping aid just for that little bit of comfort and can provide support to help you sleep much better.
---
How to Use a Half Moon Pillow
In the video, we feature the Everlasting Comfort Halfmoon Bolster Pillow and how to use it;
If you would like to know more, there are a few ways in which you can use a Halfmoon Bolster pillow;

Under the Knees – Place it underneath your knees to elevate your legs or to get relief from leg and knee pain.
Under the Ankles – If you need to elevate your feet, you can place them underneath your ankles.
Neck and Shoulder Support – You can place the Halfmoon bolster pillow underneath your neck or shoulder to reduce pain and tension in the neck and shoulders.
Lumbar and Back Support – While seated, the Halfmoon bolter pillow can be placed by your lower back for lumbar support.
Use it as a Sleeping Aid – You can use the Halfmoon Bolster pillow in any way your need as a sleeping aid. Behind your back, between your legs for hip support, besides your arm as an armrest, or even just to prop yourself up in bed.
Decoration – The Halfmoon Pillow in a colorful and suitable pillowcase also makes a splendid decorative throw pillow for your bed or couch.
---
Features of a Good Halfmoon Pillow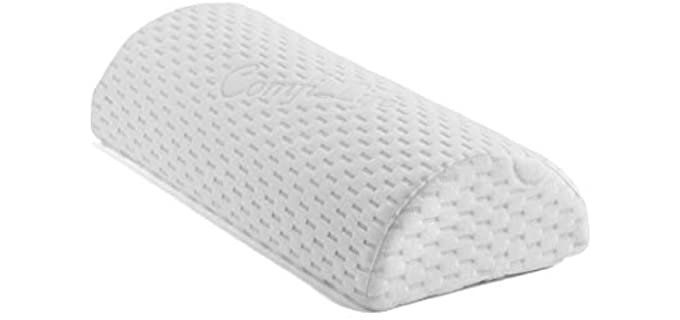 Fill – Most halfmoon Bolster pillows will have a firm foam fill as they provide support. The foam may be latex, memory foam, and may be infused with gel for its cooling purposes.
Cover – A removable cover is a must for you to be able to wash the cover. They usually have a zip cover that easily zips open and protects your pillow from any dirt and dust entering. The pillow cover can be natural bamboo or cotton or a synthetic polyester materials. Some may even have a waterproof cover.
Size – The Haflmoon Bolster Pillow generally comes in a single standard size option.
Colors – You may be able to select color options on the covers of the Halfmoon Bolster pillows. However, most come in a white color, and you will need to select a pillow cover for your Halfmoon to bolster the pillow separately.
---
Reviews: The Best Halfmoon Pillows
These are some of the top rated available Halfmoon pillows on the market;
---
1
The Everlasting Halfmoon Bolster pillow is comfortable and supportive for multiple purposes.
It has a quality memory foam fill with no additives.
The Bolster half-moon pillow is initially designed for leg support and to be placed between your legs for hip support, although it can be used for either purpose in turn.
The Halfmoon bolster pillow has a durable and removable white cover that can be washed and that breathes well.
---
2
The Carex Halfmoon Bolster pillow is initially a lumbar support pillow that supports and helps with proper alignment of the lower back area.
The pillow is placed behind your back for lumbar support when lying down or seated.
Other than that, it can be used for many other purposes as well.
The Halfmoon bolster pillows have a premium quality memory foam fill and a removable cover.
It is safe and completely hypoallergenic.
---
3
Soothing Company brings you their versatile and multiple use Halfmoon pillow in all its glory.
This Halfmoon bolster pillow offers effective support and comfort.
It has a memory foam fill that is of premium quality and a very durable and washable cover.
The pillow is a standard and comfortable size for all purposes.
---
4
From Zen, we have a more natural option Halfmoon bolster pillow, that is safe and completely hypoallergenic.
This Halfmoon Bolster pillow features a natural Bamboo cover that is hypoallergenic, dust mite, and allergen resistant, as well as breathable.
The fill is a plush memory foam that offers good support yet is still soft and moldable enough to be comfortable for whichever use it is intended for.
Furthermore, the Halfmoon bolster pillow is versatile in use and very comfortable for all types of support and pain relief.
---
5
From Coop home goods, we have the four-position Halfmoon Bolster pillow.
It also features a memory foam fill and a removable and washable Lulltra bamboo cover,
The design effectively helps to relieve back, neck, and shoulder pain, as well as knee and ankle pain.
It can be used for your neck, back, ankles, and knees for support and pain relief.
---
6
The ComfiLife Halfmoon Bolster pillow has versatile and multiple uses that are all so convenient for your needs and personal preferences.
The size is that of a standard Halfmoon bolster pillow design and very effective.
It has a premium memory foam fill and a removable and washable cover, which is convenient and very easy to use.
High-density memory foam is used for the fill that will not go flat.
You can use it for your back, knees, ankles, and neck as support and comfort to reduce pain and strain in these areas effectively.
---
Index Table: Top Rated Halfmoon Pillows
---
---