You can use spa bath pillow at your home while taking a bath in the bathtub to get the feel that you are getting treatment at a spa. The 3-penal design of these pillows provides you extra comfort by supporting your neck and back from three sides. Along with the three penal design of these pillows, they also include suction cups to keep them fix on their place on your bathtub. The chemical and mildew resistance of the spa pillows make them easily maintainable. The main purpose of using these pillows while taking a bath in the bathtub is to keep your back and neck in comfortable position.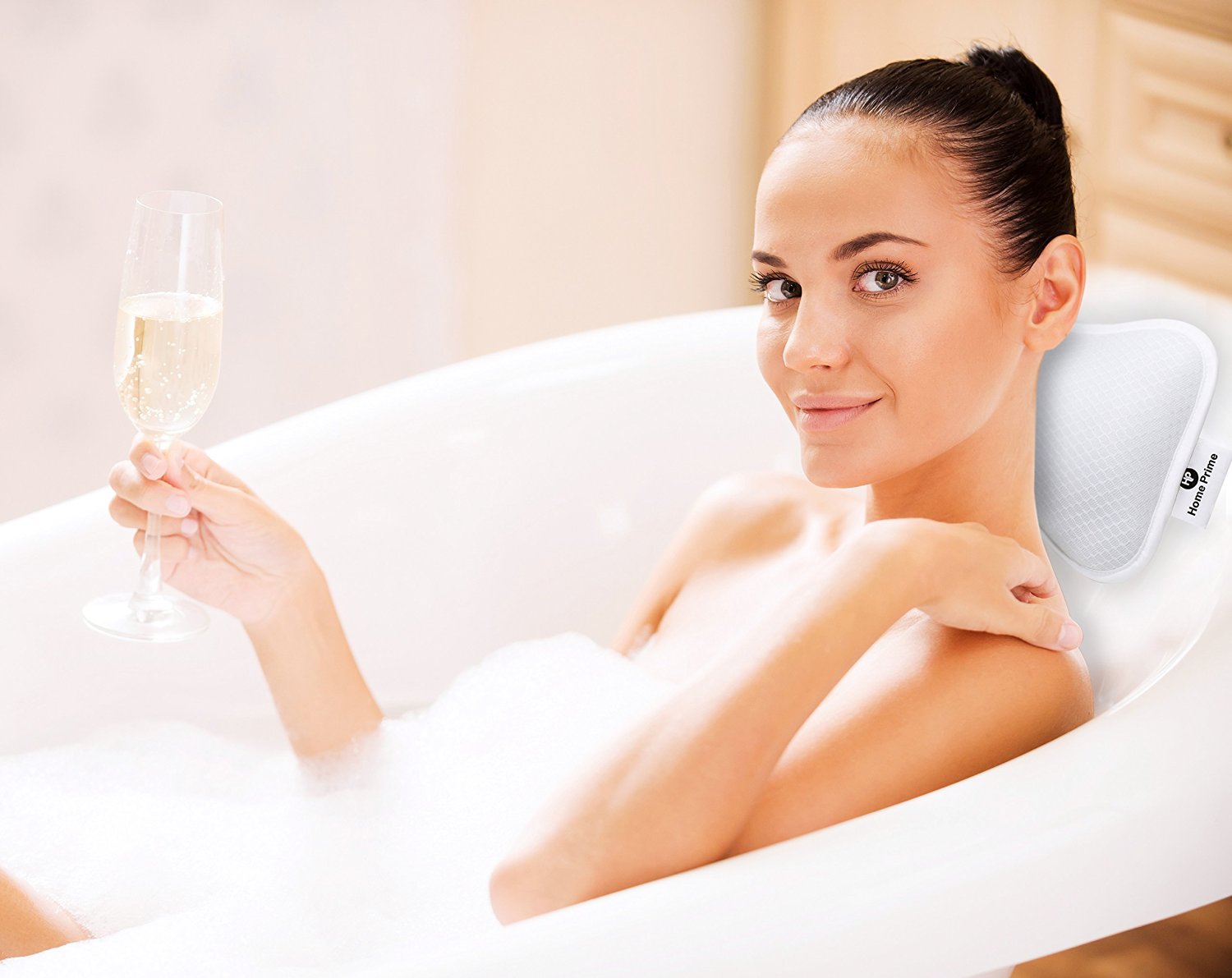 Index Table of Best Spa Bath Pillows
Features of spa bath pillow
Comfortable design: When you want to enjoy some time specifically for your own then the best way is to get into your bathtub with a bath pillow and relax there. You can rest on the comfortable and soft pillow under your neck and back when you sit in your bathtub. The 3-penal design of these pillows includes its central part to support your neck and upper back and the side sections on both of its sides to support your shoulders.
Waterproof: To make spa bath pillows waterproof they are usually designed to be made of vinyl or thick plastic. It makes easier to clean and maintain these pillows easier as they can be cleaned just by wiping them off with a dry cloth.
Suction cups: Most spa bath pillows have 6-7 suction cups, two on the top of it and rest on the lower portion of these pillows. Though the suction power of these suction cups is not much effective but still they keep the pillow fixed in its place on the bathtub.
Variety: Two types of spa bath pillows are available in the market these days. Some of them are inflatable whereas other non-inflatable. The pillows that do not require being inflated or deflated are considered more comfortable and lasting than the inflatable bath pillows. They provide better support and comfort to your upper back and neck.
Easy to use and store: The three penal design of spa bath pillows supported by hinges can help you to provide more comfort and support to the rest of your body by providing it extra space on the curve of your bathtub. Moreover, they are easy to store n your bathroom cabinet as it can be folded through hinges to save space in your storage area.
Though these spa bath pillows have several benefits for you, you should use them carefully. They can open up from various locations if used roughly. It can also destroy its softness and comfort level by filling it with water.
Brief reviews of 5 best spa bath pillows are provided in this write-up to help you in selecting the best suitable bath pillow for your personal use. These pillows offer the best way of relaxing in your private bathtub at your home when you are tense due to today's fast moving lifestyle.
1
The Original GORILLA GRIP (TM) Non-Slip Spa Bath Pillow.

All the suction cups of this spa pillow are not equal to improve their grip on the smooth surface your bathtub. They may lose grip if they are of the same size.

It provides luxurious comfort as it is padded with 2" layer of ultra smooth and soft luxurious foam.

It can be used in the bath, spa or Jacuzzi tub of any size due to its best design. It's nonporous and waterproof surface allows you to keep it clean easily just by wiping it up.

The two penal orthopedic design of that great spa pillow provides support to your neck, shoulder, and head.

It is supported by 10 years 100% money back guarantee without asking any question

Product Specification: Width: 14.5 inches, Height: 11 inches, Thick: 2 inches, Weight: 11.2 Ounces.
---
2
This spa pillow allows you to relax in matchless luxury due to two times thick layer of luxury foam used in it.

Thus pillow was designed with the inspiration of the luxury pillows used in top class spas.

Its comfortable foam provides much needed warm support when you are tired.

Its suction cups are largest and thickest which make them most powerful in the market.

Its cups are placed strategically to ensure the perfect position of your head.

It can be used ideally on tub by any person.

Its two-panel design cradles your neck, head, and shoulder perfectly after bending around the edge of the bathtub.

It is adaptable to any shape of the bath due to its flexible hinge.

It can be gifted from the daughter to the mother or anyone of your loved ones as a wonderful gift at any occasion including bridal parties or birthdays.

To ensure the quality of this pillow it has been supported with comfort guarantee for 10 years. You can get your money back if it does not exceed your expectations

Product Specification: Width: 14 inches, Height: 12.5 inches, Thick: 1 inches, Weight: 9.6 Ounces.
---
3
If you are looking for a perfect spa bath pillow then it is the best for you as it is filled with quality sponge loofah.

You can also gift it to your loved ones as it is offered perfectly in as a gift set.

This spa pillow made of polyester mesh has two suction cups to support your firmly on the bathtub.

It is easy to clean as it does not attract dirt and mold and dries quickly.

Supported by 100% money back satisfaction guarantee.

Product Specification: Width: 10.4 inches, Height: 7.2 inches, Thick: 4 inches, Weight: 6.4 Ounces.
---
4
Aquasentials Inflatable Bath Pillow.

This comfortable spa bath pillow is made of terry cloth.

Its size is large.

It has 4 suction cups for holding the bathtub safely.

It is available in assorted colors including White, Blue or Purple.

Product Specification: Width: 23 inches, Height: 15 inches, Thick: 4 inches, Weight: 5.6 Ounces.
---
---
---
---