After a very long day, there is nothing more relaxing than a long bath with your favorite bath salts and soaks to sweep your cares away. Whether you have a Spa bath or a Regular bath, depending on the design, it may not offer proper neck and head support, which can quickly cause discomfort that can disturb your relaxation.
This is where the best Spa Bath Pillows can come in quite handy to provide you with a more comfortable space to rest your head and support your neck for complete comfort and full relaxation.

---
Choosing and Using a Spa Bath Pillow
There are many different types of spa bath pillows available, and they have to fit your bath securely for proper use. Here are a few tips on choosing and using your spa bath pillow;
Choose Something Durable – Your bath Pillow will need to withstand the extremes of hot and cold water as well as any bath products you may need to use. So make sure to choose a durable design made from quality materials. Durable plastic or vinyl designs are usually your most durable options. Bath Pillows with fabric covers usually become moldy and do not last long in the humidity.
Consider What You Need – Reach for a specific bath pillow with a design and materials that aim for your needs and requirements. If you like scorching baths, opt for something with vents to prevent heat build-up. Some Bath Pillows can be filled with hot or cold water to be used as a press. These options s are usually ideal for headaches and neck pain. Then there are also those with massaging nodules that can massage your neck and shoulders.
Secure Fit – Most bath pillows come with suction cups to hold them in place against the side of the bathtub. Ensure that whatever fit design your spa bath pillow was, you fit properly and securely in the right place and height to fully support your head, neck, and shoulders.
Regular Cleaning – Because your spa bath pillow is constantly in humid and wet conditions and comes into contact with your bath products, it is important to clean it regularly. clean your pillow and particularly suction cups to prevent it from molding, and make sure to use an anti-bacterial form of spa or cleaning agent.
---
Benefits of a Spa Bath Pillow
Having a spa bath pillow for a spa or regular bath can be very beneficial to you in many ways;
Fits Almost Any Tub – Most spa bath pillows are designed to stick to your tib with suction cups or other forms of secure fastening, which means they will not slip off and stay securely in place.
Easy to Clean and Durable – The spa bath pillow usually comes in design with easy to wipe clean materials, and that will last quite long in wet conditions, even with bath products.
An Ideal Gift – If you are looking for the perfect gift for someone, everyone can benefit form a luxury spa bath pillow.
---
Features of a Good Spa Bath Pillow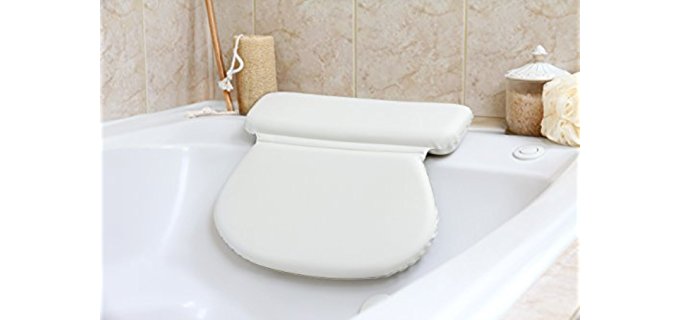 Design – Look for a comfortable design that supports your head, neck, back, and shoulders. Most bath pillows have a 3-penal design, a top pillow for your head, neck roll, and a flatter design pillow behind your back. Some even have side sections that support your arms and shoulders.
Materails – Vinyl and plastic for the cover are ideal, or any other waterproof material or water-resistant quick-drying material. A comfortable and firm foam filling is more durable and offers good support.
Secure Fit – Most spa bath pillows have a form of suction cups that attach easily and securely to your bath. They are also uniquely easy to clean and durable. However, other forms of fitting may also be available.
Inflatable or Non-Inlfatable – You can get inflatable options of bath pillows as well as those that can be filled with water and sued as a press. The non-inflatable options usually have a foam fill.
---
Reviews: Best Spa Bath Pillow
Below we have some of the best available spa bath pillows on the market today;
---
1
The Gorilla Grip is an excellent choice in spa bath p[illows that will fit securely on any bathtub.
The Original GORILLA GRIP (TM) Non-Slip Spa Bath Pillow offers the best fit and grip for your bathtub.
All the suction cups of this spa pillow are not equal in size to improve their grip on the smooth surface of your bathtub.
It provides luxurious comfort as it is padded with 2" layers of ultra-smooth and soft luxurious foam.
It can be used in the bath, spa, or Jacuzzi tub of any size due to its best design. It's nonporous and waterproof surface allows you to keep it clean easily just by wiping it up.
The two penal orthopedic design of that great spa pillow supports your neck, shoulder, and head.
It is supported by 10 years 100% money-back guarantee without asking any question
---
2
The Epica Luxury spa bath pillow has strong suction cups and a very comfortable and supportive design.
This spa pillow allows you to relax in matchless luxury due to two times a thick layer of luxury foam used in it.
Thus pillow was designed with the inspiration of the luxury pillows used in top-class spas.
Its comfortable foam fill provides much needed warmth and support when you are tired.
The suction cups are the largest and thickest, making them the most powerful in the market and strategically placed to ensure your head's perfect position.
It can be used ideally on a tub by any person.
The two-panel design cradles your neck, head, and shoulder perfectly after bending around the edge of the bathtub.
It is adaptable to the bath's shape due to its flexible hinge.
---
3
The Home Prime Luxury spa bath pillow is of high quality and very easy to clean and use design.
If you are looking for a perfect spa bath pillow, you should fill it with a quality sponge loofah.
The Spa Bath Pillow comes in a lovely set that makes it ideal for giving as a gift.
The entire bath pillow consists of polyester mesh has two suction cups to support your firm on the bathtub.
It is easy to clean as it does not attract dirt and mold and dries quickly.
the Pillow comes supported by a 100% money-back satisfaction guarantee.
---
4
From Aquaessenti, as we have an inflatable spa bath pillow model.
Aquasentials Inflatable Bath Pillow is ideal as it is also portable and very compact to store.
This comfortable spa bath pillow has a terry cloth top layer that is soft and comfortable, as well as quick drying.
It has a large and comfortable supportive size.
There are 4 suction cups for holding the bathtub safely.
It is available in assorted colors, including White, Blue, or Purple.
---
5
Another excellent spa bath pillow from Aquaessentials is their back and neck support inflatable design.
The design is ideal for supporting your back and neck fully.
It is inflatable, making it an easy travel size and easy to store.
The materials used are durable and easy to clean.
The open-air fibers in the cover allow the moisture and airflow to give you the cushioning required.
The pillow is safe from mildew and mold.
Its bolster neck-rest supports your shoulders and neck perfectly.
The pillow holds the tub with suction cups and dries quickly.
---
6
This is a luxurious and ergonomically designed bath pillow by Bath Haven Store.
The pillow features a sumptuous cushioning that envelops the head, neck, and shoulders in blissful comfort.
It features a premium wave pattern stitching that provides strategic support for sensitive joints and muscles and prevents aches and soreness.
The pillow includes a QuiltedAir Mesh with 3D ventilation to make it breathable, and keep it fresh.
---
7
This is a Kandoona neck and back bath pillow designed for in-spa use.
The pillow features 6 extra-large airtight vacuum suction cups to keep the pillow from sliding and moving around in the bath.
It includes elevated sides to help the muscles relax and provide ergonomic support for the neck and shoulders while you relax.
The pillow comes covered in a soft, breathable fabric with 3D air mesh technology that prevents it from sticking to your skin and helps it dry faster.
---
8
This is a bath and spa pillow designed by AmazeFan to provide support and relaxation.
It is constructed by unique 4D Air Mesh technology that allows water and air to permeate through the holes easily for quick-drying, breathability, and ventilation.
The pillow features a 2-panel designed with seamless contours that support the head, neck, and shoulders, allowing tense and aching muscles to relax.
It includes 7 large, stitched-in suction cups that keep it stuck to the bath and prevent it from sliding around.
---
9
This is a luxuriously comfortable spa bath pillow designed by Coastacloud Store.
It comes with 2 large and powerful suction cups that grip the tub's surface and prevent it from sliding around, and includes a flexible hinge that is adaptable to any shape and size of bathtub, spa, or jacuzzi.
The pillow is designed with 3D mesh technology that allows water to enter and flow out through the pillow for quick drying and keeps it smelling fresh.
It features a headrest to cradle the neck and head area for optimum comfort and relaxation,
---
10
This is an extra thick and luxurious bath pillow designed by Viventive Store.
It is designed to pamper and relax while bathing, with its extra thickness and softness.
The pillow measures 14 x 13 x 4 inches in size and comes with 4 extra large and strong suction cups to keep it in place.
It features a 3D air mesh technology material that allows water and air to flow through the pillow to keep it fresh and dry.
---
Index Table: Top Rated Spa Bath Pillows
---
---