Copper Textiles have been used in hospital bed linens for many years because of their healing and anti-bacterial properties. Sometimes this metal is even used in bandages to speed up the healing process and prevent infections.
So it comes as no surprise that the Best Copper Pillows and Copper Pillowcases have made it into our homes today and have been making waves among many beauty experts for their exceptional skin benefits.
This article will look at some of the best brands and models of copper Infused Pillows and Pillow Cases available to you.
---
The Copper Infused Pillow and Why You Should Have It
A Copper Pillow is a Pillow infused with healing Copper Oxide particles. Copper Pillowcases are more readily available and consist of other fabrics such as cotton or satin infused with similar Copper Oxide particles.
Copper has a high antibacterial and anti-inflammatory capability and is a vital cofactor in collagen synthesis.
Thus, Copper can help improve your skin's health by preventing acne flare-ups, killing bacteria, healing the skin, and banishing wrinkles.
There have been clinical studies to prove a reduction in crow's feet wrinkles in persons who slept on Copper Infused Pillows for a certain period of time.
Although copper pillowcases are relatively new on the market in acne prevention and treatment, the use of copper in textiles isn't new. Copper has been infused in hospital linens, scrubs, and other medical fabrics to prevent bacteria's growth and spread.
In 2012 a random clinical study was done to prove the healing and anti-aging properties of Copper Infused Pillows. There was a clear reduction in Crows Feet wrinkles with patients sleeping on a Copper Infused Pillow for a period of time, compared to those that did not.
Copper likewise can repair damaged tissues making it ideal for acne and wound treatment.
---
Benefits of Copper Pillows
When it comes to the Best Copper Infused Pillows and Pillow Cases, there are quite a few benefits;
Anti-Bacterail – Copper is antimicrobial, healing and has anti-ageing properties. It is ideal for preventing and healing inflammation and helping with acne flare-ups, and preventing infections in the skin.
Anti-Inflammatory – Because Copper is an anti-inflammatory agent, it can reduce pain and inflammation in your skin and facial area or neck.
Anti-Aging – The Copper in a Copper Pillow or Pillowcase greatly enhances the formation of collagen in your skin, which in turn has excellent anti-aging benefits, which helps to prevent wrinkles and maintains the youthful health of your skin.
Cooling – Copper is a conductive element that works well with materials such as memory foam used in pillows that can overheat. Copper will help to absorb the heat and keep you cool at night.
Healing Capabilities – Copper has many healing properties. It improves blood circulation and the iron content in your blood. This, in turn, speeds up healing and helps to regenerate damaged tissues.
---
Features of a Good Copper Infused Pillow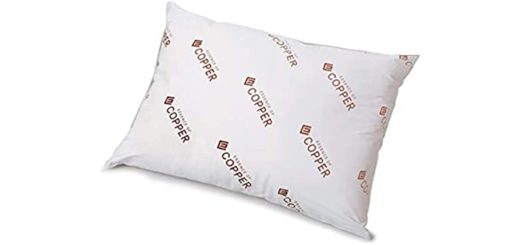 Copper Infused Pillow – A Good Copper-infused Pillow can consist of a latex, feather, memory foam, or gel fill, which is infused with Copper Oxide Particles.
Copper Infused Pillow Cover – The Cover of a Copper Pillow may contain Cotton, Polyester, or synthetic fibers, as well as bamboo and other fibers that may also be infused with copper particles. Most Covers are either fixed or have a zipper closure, which allows you to change the pillow's loft.
Copper Infused Pillowcase – Copper-infused Pillowcases can be cotton, satin, silk, or a bamboo cotton blend, and some may even have viscose materials. The Pillowcase is infused with Copper particles blended into the material's fibers.
---
Reviews: Best Copper Pillows
Below we have some of our top favorite brands and models fo Copper Infused Pillows and Pillowcases available today;
---
1
The Perfect Sleeper Pillow is infused with Copper and Gel for its excellent cooling capabilities.
The Cover consists of a durable and safe Polyester.
For the fill, Cooling, Infused memory foam with copper fibers has excellent cooling capabilities.
Copper likewise prevents bacteria and microbial growth and is ideal for your health.
Furthermore, Memory foam is the highest quality CertiPUR-Certified memory foam.
---
2
The Copper Gel Memory Foam pillow has excellent cooling and comfort capabilities.
The Cover consists of soft and comfortable polyester.
For the fill, a Cooling Gel and Copper Infused memory foam is used with excellent cooling properties and many health benefits.
The Memory foam used in the pillow is likewise CertiPUR -Certified safe and natural.
The Pillow comes in s standard-sized option with firm support and a medium loft design.
---
3
The Honey-Dew adjustable Fill Pillow is a soft and durable Pillow with a Copper Infused fill.
The Pillow has a luxury memory foam fill infused with copper.
The copper filling will help prevent overheating and provide bacterial and anti-microbial protection.
There is smooth cotton, bamboo, and polyester blend pillow cover that is hypoallergenic and breathable.
The memory foam is Certo-Pur Certified for quality and has an Oeko-Tex level of 100 that is likewise certified.
The Memory foam offers excellent conforming support for all sleeping positions.
---
4
The Jumbo-sized Essence Of Copper Pillow is a high loft Copper Infused Pillow for better support for side and back sleepers.
The High loft Jumbo design makes the pillow ideal for back and side sleepers.
A polyester cover is infused with copper with a smooth and natural finish.
The Outer Shell with copper infusion is anti-bacterial and hypoallergenic.
The cover is removable, allowing for machine and hand washing.
The Pillow is soft and offers a higher loft with medium support.
---
5
The Copperfresh Pillow is a Down alternative Pillow with a Copper-infused Cover.
The Down alternative pillow has a softer loft and is more comfortable for all sleeping positions.
The cover is infused with anti-bacterial copper fibers and has a zip closure.
You can easily adjust the pillow's firmness with a removable cover design.
The cover is also fully machine washable.
---
6
The Angle Ultimate Copper Pillow consists of a Memory Foam Base with a copper-infused cover.

The Pilow is filled with premium memory foam that is solid and supportive.
The design is optimal for side and back sleepers with a Concave and wedge type shape.
Memory foam will contour to your shape and will hold its shape.
There is a copper-infused cover with a zip closure.
---
7
This is a CopperRest Gel Memory Foam Pillow designed by Serta.
It features a memory foam core infused with cooling gel for comfort and support.
The pillow comes with a soft Copper cover that keeps you safe and protected.
It is hypoallergenic and resistant to dust-mite and allergens.
---
8
This is a Satin Copper Pillow designed by Copper Compression.
It offers the highest copper content as it is infused directly into the Nylon fabrics.
The innovative pillow helps keep you cool and comfortable, protects from acne, and improves blood circulation to keep you fresh.
It comes in various sizes and is made from high-quality, premium materials.
---
9
This is a Wellness Collection Copper Infused Bed Pillow designed by SensorPEDIC.
It is constructed with memory foam that conforms to your body for a more comfortable sleeping surface.
The pillow comes wrapped with a soft fabric cover of 100% Nylon, luxuriously comfortable for all sleeping styles.
It features built-in ventilated iCOOL Technology Systems that enhance airflow and ensure optimal breathability.
---
10
This is an Ultra-Plush Copper Pillow designed by CopperX.
It features a plush memory foam base designed to provide comfort and support.
The pillow comes with a Copper-infused Microfiber blend cover that keeps you safe and comfortable throughout.
It includes moisture-wicking technology and is also suitable for machine washing.
---
Index Table: Top-Rated Copper Pillows
---
---