If you suffer from hip pain, your best solution is to place a pillow between your legs when side sleeping or underneath your legs when sleeping on your back.
So, the best pillows for hip pain that we will be looking at in this article are pillows designed for these purposes.
---
Best Types of Pillows for Hip Pain
Three types of pillows can be used to prevent and alleviate hip pain;
Knee Pillows – The Knee Pillow comes in many shapes, sizes, and forms but generally does the same thing. It is placed in between your legs by your knees when you sleep on your side, and This pillow gives you a better posture and alignment, which in turn alleviates knee, back, leg, hip, and ankle pain altogether.
A Full Body Pillow – A full body pillow is very versatile as you can place it under your knees when sleeping on your back or between your knees when sleeping on your sides. I feel that the C-Shaped Pregnancy body pillows are the best for all-over support and pain relief, including hip pain.
The Half Moon Bolster Pillow – The Half Moon Bolster Pillow is ideally for back sleepers and is placed underneath the knees for support. It is versatile enough to be used for lumbar support when sitting, as well.
---
How to Manage Hip Pain When Sleeping
You can easily manage hip pain at night in a few ways.
If you change your sleeping positions, you may find a position that causes the least pain. One of the most effective sleeping aids is placing a knee pillow either between or under your knees for support and proper alignment.
Other than that ice packs, or a warm water bottle can help provide some relief while you are sleeping.
---
Features of a Good Pillow for Hip Pain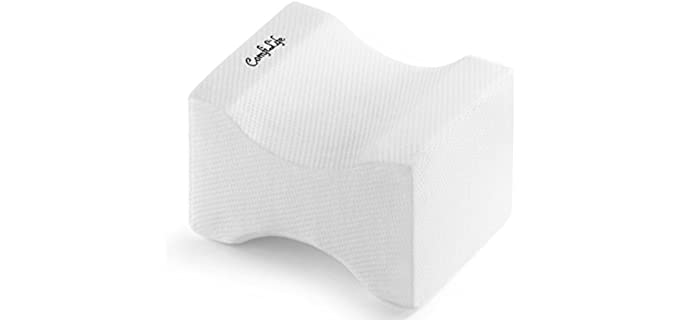 Materials – Most hip pain pillows will consist of a firmer foam such as latex or memory foam. Some designs may be infused with gel for cooling.
Firmness – Many knee pillow models offer different levels of firmness. Some may be a bit softer and more pliable than others. Firmer pillows handle more weight and provide better support than softer ones generally.
Shape – As we have confirmed, you will need a knee pillow for hip pain which comes in a half-moon shape, wedge, or hourglass shape, then there is also the full body or pregnancy pillow.
Size and Weight Options – You do get hip pain pillows in different sizes and weights, and this all relies on what the brand and model have to offer.
Cover – Hip Pain or knee pillows come with a durable and usually breathable cover which in some models is removable for washing.
---
Reviews: The Best Hip Pain Pillows
Here are some top brands and ranges of pillows that will hep reduce and prevent hip pain;
---
1
The Cushy Form Knee Pillow is ideal for relieving hip pain and also helps during pregnancy.
This is a knee pillow designed ideally for side sleeping.
It is a contoured design with firm foam for optimal support,
The memory foam fill will mold to the shape of your body and provide soft and comfortable support,
There is also a durable, removable cover that can be washed for your convenience.
---
2
The 5 Stars United Pillow is designed specifically for side sleepers with issues such as hip pain and joint pain.
Another knee pillow for side sleepers with a wedge design.
The pillow is filled with premium memory foam for optimal support,
It offers excellent pain relief and is also ideal for restless legs.
The pillow comes with a premium, removable, and washable cover.
---
3
The Comfy Choice Hip Pain Pillow is memory foam with cooling gel for all-night comfort.
A memory foam knee pillow for side sleepers.
The pillow has an adjustable strap to keep it securely in place.
The memory foam fill has gel blended in for cooling as memory foam may heat up with your body heat.
It is ideal for promoting circulation and spinal alignment.
It is also ideal for pregnant women.
---
4
From ComfiLife, we have an Orthopedic Knee Pillow ideal for reducing hip pain.
An orthopedic knee pillow for hip pain and sciatica relief.
The pillow is filled with premium memory foam that is high density.
It offers firm yet comfortable support and pain relief.
The cover is breathable and has a zip closure for removal and cleaning.
---
5
The Contour Legacy is a memory foam pillow for joint and hip pain relief.
A comfortable leg and knee support pillow.
The pillow is designed for optimal back, leg, and hip support and pain relief.
It is a memory foam-filled pillow with ventilated air holes for breathability and a durable cover.
The design is orthopedic and contoured.
---
6
The PharMeDoc Pregnancy Pillow offers full-body support and is also effective for hip pain.
This is actually a full C-shaped Pregnancy Pillow, that will provide versatile comfort and uses.
The pillow provides full-body support for back or side sleeping and is very versatile.
It has a cotton jersey cover that can be removed for washing, the material is also very soft and comfortable.
as you will see there are extra covers available for purchase, for this specific body pillow.
The Pillow can be used during pregnancy or just generally.
It can be used as an aid for sitting, laying down, and even for breastfeeding.
The fill is softer and more comfortable.
There are also a few color options available from which you can choose.
---
7
A comfortable and Adjustable Knee Pillow for hip pain with plush memory foam fills from Everlasting Comfort.
The Knee pillow has an adjustable and removable strap.
It is the perfect design for reducing hip pain and back pain because it provides a proper sleeping posture and fits snugly between your legs.
The pillow has a contoured and dual-curved design, which supports your legs and knees and allows for proper spinal alignment.
The cover is easily removed and fully machine washable, which is a great convenience.
---
Index Table: Top Rated Pillows for Hip Pain
---
---