The best Leg Elevation Pillows will help improve blood flow and reduce pressure on your back and lower limbs.
Sleeping with your legs elevated likewise helps with many other health conditions and provides proper spinal alignment. For proper elevation of your legs, you will definitely need the right pillow, and that is what this article is all about, finding the best pillows to elevate your legs.
---
Benefits of Sleeping with Your Legs Elevated
There are many health benefits as well as pain relief benefits to sleeping with your legs elevated;
Prevention of DVT – Deep Vein Thrombosis is a condition resulting from a blood clot emerging in the larger veins of your lower limbs. You can prevent this condition by using a leg elevation pillow.
Varicose Veins and Lymphedema – Legs with leaking varicose veins causes blood to pool and toxins to accumulate in the legs' veins. Using an elevation Pillow is ideal for preventing and alleviating this condition.
Swollen feet and Tired Legs – When you elevate your legs, it aids in draining tension from the legs and feet and takes the pressure off for better blood flow to the heart, which in turn prevents and alleviates fatigue.
Edema and Fluid Build Up – Edema or swelling in the legs can be caused by Fluid Build-Up during pregnancy or because of kidney and liver disease, among other factors. Sleeping with your legs elevated above your heart will reduce the symptoms and swelling.
Chronic Pain – You can reduce Chronic pain in your back, shoulders, and lower limbs by elevating your legs, as it helps to reduce inflammation and pressure on nerves.
Improved Blood Circulation – Improved Blood circulation is one of the greatest benefits of sleeping with your legs elevated. This helps alleviate many symptoms and conditions and improves your overall health as heart health because of healthy blood flow.
---
Leg Elevation Pillow Design
The Leg elevation pillow is usually a wedge design with a solid and uniform area on which you rest your legs. Leg Elevation pillows are mostly designed for sleeping on your back with your legs raised from the knee and your feet resting on the solid area.
A leg elevation pillow is designed to comfortably raise your legs at a gradually increasing ankle, with the highest point being your feet. The Leg elevation pillow raises your legs above your heart for improved blood circulation.
---
Features a Good Leg Elevation Pillow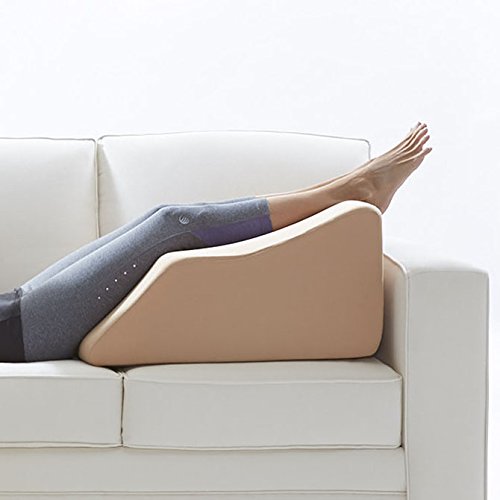 Design Features – Look for a comfortable design that fits properly in between your legs. Bolster designs, wedge designs, and contoured designs are available and ideal.
Fill Materails – In leg elevation pillows, a foam fill such as memory foam and latex is ideal for offering firm to medium support and a medium loft. The cooling gel can be infused for cooling comfort.
Cover – A removable and washable cover is always the best option. Cotton, bamboo, Polyester, and other material types may cover durability and comfort.
Size – Leg elevation pillows come in different size options and will usually be small or similar in size to a standard pillow design. Some Full Wedge option pillows may be larger in size and full support design.
---
Reviews: Best Leg Elevation Pillows
Listed here, we have some of the top-rated leg elevation pillows in different types, shapes, and sizes available today;
---
1
From Hermell products, we have the Zero Gravity back pain relief leg elevation pillow that helps to improve blood circulation.
The pillow allows for better spinal alignment and pelvic tilt for optimal support and elevation.
Since it aids in zero gravity, it could benefit those who suffer from back pain.
The Pillow plays a significant role in improving circulation, and for those suffering from varicose veins, it certainly is a must-have.
It is made from the USA, and the wicking poly/cotton cover is safe on the skin and does not cause any allergic manifestations.
There are eight inches of recline, which makes a big difference to problems associated with fluid accumulation and varicose veins.
---
2
The AliMed Elevation Pillow is contoured for your comfort and has a high-density support foam.
The High-density foam fill offers optimal firm support and comfortable resting space for your feet and legs.
This is a quality elevating leg supporting system with a host of interesting features.
It is designed very scientifically for providing the right contour and offers the best of stability and comfort.
The high-density foam helps the pillow stay in place for an extended period of time. Customers can, therefore, be sure of durability and longevity.
There are likewise some color options available in this pillow model.
---
3
The Hudson leg elevation pillow is the right size and design for effective leg elevation for improved blood circulation.
The full-size pillow offers full-body support and comfort,
It is designed to provide the leg's optimal elevation, thereby ensuring better rest.
The Pillow consists of a quality SpaceAge memory foam, which helps perfect cradling and contouring.
It comes with adjustable layers for increased comfort.
---
4
We have the standard-sized leg resting elevation pillow with firm foam support from the Lounge Dr.
The foam fill offers firm, durable support for your legs and feet.
It is a patented leg rest and has been designed by a Vascular Surgeon who has been board certified.
The design and feel are light in weight and easy to remove cover made from quality cotton.
You can also select from different height options for your specific needs and requirements.
---
5
This is a Leg elevation pillow designed by DMI Healthcare.
The orthopedic pillow is designed to comfortably and effectively elevate the legs above the heart for better blood circulation and blood flow to the brain and decrease the back's pressure.
It is a supportive foam wedge pillow that keeps its shape and does not flatten over time and provides relief from back and knee pain, varicose veins, restless leg syndrome, and other such conditions.
The pillow comes wrapped in a soft Poly-Cotton cover that is easily removable with a zipper and suitable for machine washing.
---
6
This is an Elevating Leg rest pillow designed by Cushy Form Store.
The pillow is designed for people with chronic leg or back pain, hip or knee pain, and people recovering from surgeries or ankle injuries.
It elevates both legs to improve blood circulation and reduce the discomfort caused by swollen feet, thereby improving sleep quality.
The pillow is constructed with high-quality Polyurethane and Memory foam through a state-of-the-art production process.
---
7
This is an Abco Tech Store Leg Elevation Pillow designed for comfort and support.
The pillow is designed to help you attain optimal spinal and coccyx alignment and improve body posture while you rest or sleep, helping you achieve maximum relaxation and relief.
It is made with high-quality, high-density memory foam in a triangular wedge shape to provide a gentle incline.
The pillow is hypoallergenic, firm, and breathable and measures 24 x 21 x 8 inches in size.
---
8
This is a leg elevation pillow designed by Ebung Store in a wedge shape.
The pillow is designed to help relieve swelling, reduce edema, attain spine and coccyx alignment, improve blood circulation, and support the ligaments and muscles while you were sleeping.
Its wedge shape outlines along the lower legs' curves and takes off excess pressure from the legs, hips, knees, and lower back.
The pillow is made with high-density memory foam that is sturdy enough to maintain its shape and soft enough to conform to your legs' natural contours.
---
9
This is a leg support elevation pillow designed by LightEase.
It is made with high-quality memory foam and a softcover constructed with a short plush for a luxurious feel.
The pillow is designed to elevate the legs above heart level to help recover from leg injuries or surgeries and speed the recovery time up to 30%.
It improves blood circulation to reduce swelling and leg pain and keeps the knee in place for a good night's rest.
---
10
This is an Xtra-Comfort supportive leg elevation pillow.
The pillow is ideal for elevating the knee, leg, and ankle to recover from surgeries or injuries.
It can support either of the legs and holds it in place with a wide, contoured channel that easily accommodates bandages and casts.
The pillow comes wrapped in a non-slip, textured base cover, easily removable, and machine washable.
---
Index Table of Best Leg Elevation Pillows
---
---