A traveling Pillow is a handy item to have in your possession, especially when you tend to travel quite a bit.
But as we all know, most of the time, travel pillows are not very comfortable, inflatables tend to deflate and bee to the firm, plush options tend to be too flat and soft.
It would help if you had comfort and support traveling as much as you do at night, so why not invest in a Memory Foam travel Pillow to provide you with optimal comfort and support in a small compact pillow for travel.
If you are interested in a memory foam travel pillow, look no further as we discuss in depth some of the best options available.

The Wonders of Memory Foam
So what exactly makes a memory foam pillow so much better than other file types when it comes to travel pillows?
As I have said, most travel pillow designs are very uncomfortable. They offer little support and will either be too hard or soft. Most Travel Pillows manufacturers cater more for a compact design that is easily portable and light, which will sleep comfortably.
When we look at memory foam, it comes in either a solid or shredded option. The solid is more firm, while the shredded offers better adjustability and a more plush feel.
Memory foam has the unique ability to mold to your shape when heated by body heat. It offers an almost dough plush comfort feel and has a high rebound. Memory foam travel pillow, although slightly heavier, will also easily fit in a smaller bag or storage as memory foam can be compressed.
Besides being slightly heavier, the memory foam travel pillow is just as compact as other pillows for travel.
---
Uses for a Memory Faom travel Pillow
So why exactly do you need a Memory Foam travel pillow?
Let me give you a few scenarios where the Memory Foam Travel Pillow comes in quite handy;
Air Travel – If your fly frequently or plan a long trip on a plan,e then, believe me, you do not want to be stuck with an uncomfortable travel pillow. You can easily fit a memory foam travel pillow in your hand luggage and enjoy its comforts when taken out as it has excellent rebound capabilities.
Travel By Car – for your children or family in the car when traveling far, a comfortable memory foam pillow can be easily stored in the car for someone who would like to take a nap. It is ideal for children to nap or have something comfortable to hold on to.
Backpacking and Camping – Because the memory foam travel pillow can easily compress, it fits well into a backpack and is perfect for comfort when backpacking and camping.
Other Uses – If you are sleeping over at a hotel, holiday resort, or visiting family and friends. you can take your comfortable memory foam travel pillow along with you.
---
Features of a Good Memory Foam Travel Pillow
When looking at memory foam travel pillows, you should consider these factors;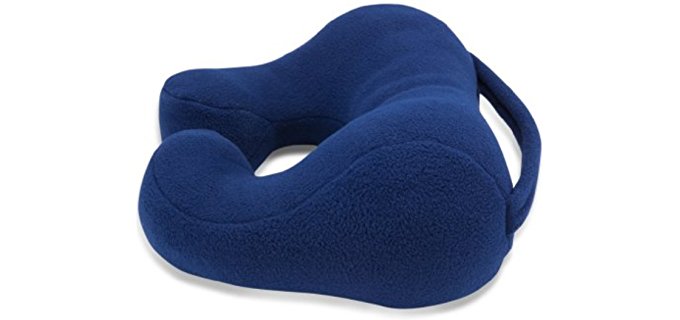 Fill – Look for a high quality solid or shredded memory foam fill. CertiPur-Certified memory foam is your best quality. Cooling gel and other fibers can be added for cooling effect and durability or a more plush feel. The Cover needs t to be soft and comfortable and removable for washing. Look for cotton, velour, polyester, or bamboo cover options.
Size – Travel pillows are usually much smaller than standard pillows to fit in a compact space. Make sure the pillow is the right size for your requirements.
Shape – Depending on the sues, you can get neck pillows for flying or driving somewhere, and more standard shapes for camping and other trips as a sleeping pillow.
---
Reviews: Best Memory Foam Travel Pillows
Below we have some details on the best available travel Pillows that have a memory foam fill;
---
1
The Sunshine Pillow is a neck pillow for travel will soft memory foam fill.
This memory foam pillow enhances neck care by supporting it with a column filled with flax seeds to keep it comfortable while chiropractors or doctors for chronic neck problems.
It is soft and narrow to fit comfortably at your cervical region in the small space between your seat's headrest and your neck while traveling in an airplane or car.
It provides support to your chin to prevent nodding of the head while napping
the Zipper closure allows you to remove the cover for washing or to adjust the loft.
It fits the people with a circumference of the neck between 12 and 14 inches.
Product Specification: Width: 15 inches, Height: 15 inches, Thick: 5 inches, Weight: 1.6 Pounds.
---
2
The Travelmate Memory Foam Neck Pillow is ideal for traveling by car or airplane for neck support and a comfortable headrest.
You can adjust the pillow's loft and easily wash the removable cover.
The Pillow has a full loft with high-quality memory foam fill.
It helps in supporting your head and neck in a perfectly aligned position.
It allows you to sleep soundly even while sitting up on an airline seat.
This dark blue colored pillow with a plush velour cover is machine washable and zippered.
It can be attached easily to your carry-on luggage with the help of its built-in elastic strap
The Pillow great to support your neck while traveling or at any other place.
---
3
The Luxury Travel Neck Pillow by MemorySoft comes with a handy storage bag and compact design for traveling.
This U-shaped memory foam travel pillow's soft-touch is due to the best quality imported fabric of plush velour used in it.
The U-Shaped design offers excellent head and neck support for a quick nap.
The Pillow is suitable for use in a car or airplane, however not recommended as a sleeping pillow when lying down.
Its contoured memory foam gives you ultimate comfort as it molds to the shape of your neck.
It provides great support to your neck while traveling in a truck, car, train, bus, or airplane, and while relaxing by the poolside or at home.
The Pillow comes with a washable storage bag for easy and convenient storage and traveling.
---
4
The Classic Brands U-Shape Memory Foam Travel Pillow is ideal for traveling in an upright seated position when you need added support and comfort.
This U-shaped travel pillow is specially made to support your neck while traveling at an affordable cost.
It cradles your neck and head in a comfortable arrangement.
It makes it easy for you to sleep while traveling in a car, train, or airplane.
The Pillow has a plush quality memory foam fill and a comfortable and soft cover that is removable and washable.
---
5
The Aeris Memory Foam Travel Neck Pillow supports your neck and head while traveling and offers a comfortable seated sleeping position.
This memory foam pillow comes with earplugs and a sleep mask to allow you to sleep comfortably while traveling on airlines.
The Pillow has a quality memory foam fill and a soft velour cover for comfort.
The ventilation holes provide a perfect sleeping experience by maintaining your head and neck temperature.
It can be used while traveling in cars, trains, buses, airplanes, reading, watching TV, napping, and studying.
you also receive a handy carry bag for your pillow and other traveling items.
---
6
This is a travel pillow made with high quality memory foam by MVLOC.
It is designed to provide perfect support with its curved design and prevents the head from falling, while supporting the neck and relieving any neck pain.
The pillow comes with a sweat-resistant, breathable, and machine washable cover made with a magnetic therapy cloth.
It features a 5-second rebound technology in its memory foam for comfort and durability.
---
7
This is a memory foam travel pillow designed by Phixnozar.
It is ideal for excessive traveling as it provides your neck with the support it needs to prevent any discomfort.
The ingenious pillow designed features ideal curves to prevent the head from shifting around and comfortably holds it in place.
It is built with an adjustable rope lock to allow you to easily adjust the angle and size for optimum support and comfort.
---
8
This is a custom design by Dot&Dot, ideal to provide neck and head support for traveling.
It is twistable and can be molded into almost any shape and position for personalized support and pain relief.
The versatile pillow is designed to support the head, neck, back, shoulder, and cervical area during a nap, while reading, or relaxing.
Its luxury memory foam is soft and supportive at the same time and relieves pressure points for ultimate relaxation.
---
9
This is a neck support travel pillow designed by HOMIEE.
It is made of high quality, soft Velour cover for a luxurious feel, whereas the filling is memory foam.
The pillow is breathable, and machine washable for easy cleaning and elimination of germs.
It provides 360-degree support while sleeping upright and prevents the neck from falling forward and shifting around.
---
10
This is a memory foam travel pillow designed by ComfoArray.
It is made from high-quality, 100% pure memory foam to provide the perfect balance between support and comfort.
The ergonomic pillow is ideal for airplane travel and offers both front and side support to help you sleep while sitting.
It can be adjusted according to neck size with the velcro's help on the side to set a comfortable angle.
---
Index Table: Top Rated Memory Foam Travel Pillows
---
---