If you have spent a night or two camping without a pillow, thinking that you would have been tired enough to sleep through the lumps and bumps, you may have quickly realized that it is not so.
A pillow is a sleeping necessity even for the most robust and minimalistic camping trips.
Therefore, we want to help you get the best camping pillow that suits your camping needs and persona preference.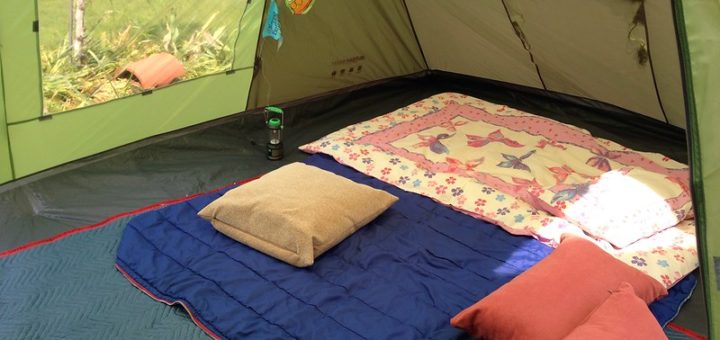 ---
Is a Camping Pillow Worth Getting
Have you woken up with a stiff neck or tossed and turned all night because of an uncomfortable pillow?
Well, then try to have no pillow at all. To put it simply, yes, you really do need a proper camping pillow if you want a good night's rest.
Keep In mind that most camping pillows are super lightweight and hardly take up any space at all.
You do not want to struggle with neck pain and lack of sleep when you have a day of adventure ahead of you.
What Characterizes a Camping Pillow
Then again, what exactly is a camping pillow?
The biggest difference between a sleeping pillow for home and camping is the size, weight, and compressibility, or packability of the pillow.
A good camping pillow needs to be lightweight, easily compressed for packing, and also smaller than a standard pillow to fit in your camping gear or backpack.
There are a few camping pillows options to consider;
Inflatable Camping Pillows – The inflatable pillow is ideal because it can be inflated easily to a comfortable firmness and size of your choice and deflated at a fraction of its size to be packed easily. The only downfall with an inflatable pillow is the fact that they may be punctured, and then you are left with no pillow at all; however, they are the smallest and easiest to pack.
Stuff Sack Camping Pillow – This is also an excellent invention that saves you plenty of space. A stuff sack pillow is basically a pillowcase that you fill with clothing and soft items to create some sort of pillow. It folds much smaller than even an inflatable pillow. However, you will need enough clothes, towels, etc., to stuff it with for a worthy pillow.
Compressible Pillows – Most people refer to the traditional filled camping pillow as a compressible pillow. This pillow is very similar to your bed pillow, smaller in size though but easy to squish and pack. They are usually filled with a filling that can be compressed, and that will expand to its original shape when taken out.
---
Features of a Good Camping Pillow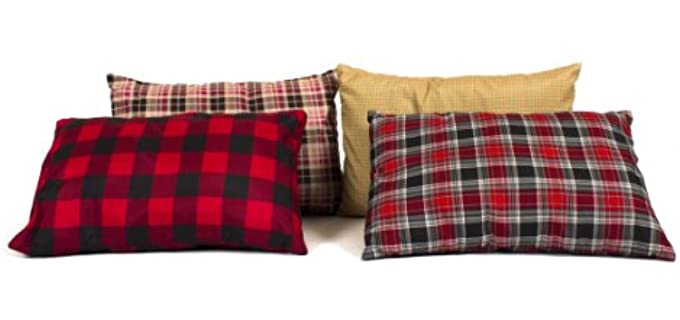 Price – We look at price first because you need to set a clear budget for your camping gear, and that includes your pillow. Generally, camping pillows are not that expensive, depending on the brand and model, but you also need to consider that a quality pillow will help cost a bit more. Lighter compressible pillows are the most expensive as they have more features, while the stuff sack is the cheapest, and an inflatable pillow is somewhere in between. When looking for a camping pillow, consider the must-have features and those that are not necessary.
Durability – Most camping pillows are used inside your tent, sleeping bag, and then packed in a bag or backpack, so they are not at risk of too much wear and tear. However, it is still the rough outdoors, and there are still small risks such as pine needles, debris, and twigs that can get to your pillow. For this reason, you want something durable, especially with an inflatable pillow. You need a cover that protects against punctures.
Weight – With camping, or more specifically hiking, backpacking, and camping trips where you will be walking with all your gear, it is important to keep it as lightweight as possible. Most Camping pillows are very lightweight; however, you need to consider the three options in order of which is more lightweight and also look at the weight dimensions of the pillow before purchasing it.
Pack Size – With general camping, the pack size is not so much an issue as with backpacking and hiking or where you need to pack a pillow in a small bag or space. Most camping pillows do compress very small, and there are also the stuff-able sack and inflatable options that are very easy to pack.
Comfort – A camping pillow is of no use if it is uncomfortable. If you are camping only and do not need to save space, I would suggest a compressible or regular comfortable pillow that is just a bit more durable. For backpacking and hiking, where you need to save space, the other pillows are better options. However, the compressible pillow still remains the most comfortable.
---
Reviews: The Best Camping Pillows
Here are some of the best available camping pillows that you will find;
---
1
The Redcamp Outdoor Camping Pillow comes with a removable and washable pillow cover.
The pillow is a soft and plush compressible camping pillow.
It is smaller in size to be easily packed.
The camping pillow has a removable cover, and there are many colors from which you can choose.
---
2
The Wise Owl offers you a compressible and durable camping pillow.
The camping pillow is small and compact and available in a small, medium, or large size option.
It comes with a removable and washable cover as well as a convenient storage bag.
The fill is fully compressible for packing.
---
3
The Trekology pillow is an inflatable camping pillow design.
The design, when inflated, supports your head and neck properly and provides much comfort.
It is ideal for storing in a small backpack or bag and inflates very quickly.
The ergonomic design is perfect for support and comfort.
---
4
The Teton Sports camping pillow is small and easily packable.
It is completely washable and very durable in design,
If you have a Teton sleeping bag, you will notice that the camping pillow range from Teton matches the sleeping bag ranges.
The pillow is small. Comfortable and compressible.
---
5
From Therm-A-Rest, we gave a compressible travel and camping pillow.
The design is available in more colors and size options.
The pillow is polyester with expandable foam fill and a compact design.
It fits easily into a small bag or backpack and has a removable and washable cover.
---
6
The Klymit Drift Camping pillow consists of polyester and cotton.
It is a pillow with a reversible cover that can be removed and washed.
The cover is a jersey cotton and it has a shredded memory foam fill.
The pillow is compact and compresses easily.
---
Index Table: Top Rated Camping Pillows
---
---