Microfibre is a material that has been around for so many years yet is so unappreciated and underrated.
Microfibre can be used as a fill-in pillow or duvets as well as for a cover or pillowcase for pillows.
In this article, we will look at what are some of the best microfiber pillows.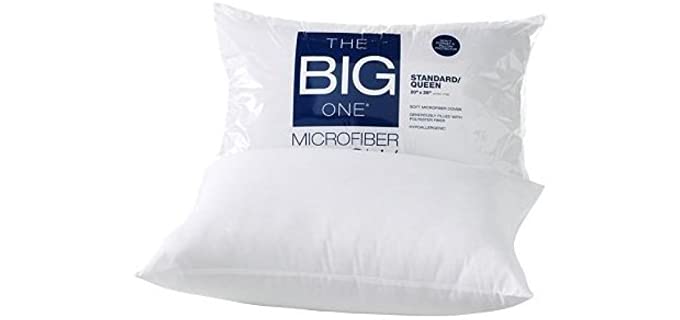 ---
What Exactly is Microfibre
Microfiber has been around for many years, and microfiber pillows are slowly but surely gaining popularity because they are so durable, easy to clean, and affordable.
Microfiber is synthetic fiber finer than a single denier or decitex thread, with a diameter of fewer than ten micrometers. To explain more, a thread of silk is around one denier and a fifth of the diameter of a human hair.
Microfiber consists of polyester, polyamide, and polypropylene fibers which are all synthetic, so it is basically a plastic and nylon blend.
Microfiber fill pillows are extremely soft and almost weightless. They are fully hypoallergenic and machine washable. Microfiber also provides good insulation and is very breathable as a fill or pillowcase for a pillow.
---
Benefits of Microfibre Fill in Your Pillow
Microfiber being an ultra Fine fiber used as a fill for your pillow or a cover, has quite a few benefits;
Breathable – Because of the very thin fibers of microfiber, it breathes well and does not trap heat or moisture. It is also generally temperature regulating as it breathes well when it is hot and insulates when it gets cold.
Lightweight and Soft – Microfiber Fills in a Pillow has a plush soft feel that retains its shape. Microfiber pillows are also feather-light and very easy to carry around, making them a great portable solution.
Compatible with Other Fibres – Microfiber is compatible with other fibers and can be treated to be antimicrobial.
Hypo-allergenic – Microfiber is completely hypo-allergenic and will not cause allergies at all. It makes a great down alternative if you are allergic to feathers.
Affordable – Microfiber pillows are one of the most affordable pillow types that are available, so you can have as many of them as you need.
Easy Maintenance – Microfiber pillows and pillowcases can be washed in the washing machine and dried on the line or in a dryer. They are extremely durable.
---
Features of a Good Microfiber Pillow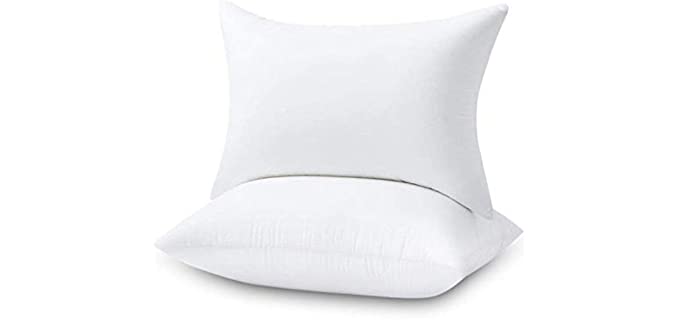 Materials – The Microfiber pillow will be very lightweights and breathable, consisting of a blend of polyester, polyamides, and polypropylene.
Stitching – Look for durable and quality stitching of the pillow and the cover as well as for seamed or piped edges.
Closure – The closure for the cover can be stitched closed, or a zipper closure. Some Microfiber pillows will have a removable cover. However, it is not necessary because the entire pillow can be washed.
Firmness and Loft – You may be able to choose to form a high, low, or medium loft and different levels of firmness, such as soft, medium, or firm. Nevertheless, keep in mind that mostly most microfiber pillows are pretty soft. The Loft will also depend on your sleeping positions, where a higher loft is ideal for side sleeping, a medium loft for back sleeping, and a lower loft for stomach sleeping.
Cover – Some pillows will have a removable cover that you can wash separately. The cover may be microfiber, polyester, bamboo, or a pure cotton.
---
Reviews: The Best Microfibre Pillows
These are the best available Microfibre Fill pillows on the Market today;
---
1
This is a Down Alternative Microfiber fill pillow that regulates temperatures.
It is filled with 100% polyester-based microfiber, which gives the plush and softness—the moldable feeling of a down feather pillow.
There is a set of two pillows in your package.
The pillowcase is a microfiber shell with a gusseted side construction for added support.
It is hypo-allergenic and soft, ideal for individuals who prefer a softer pillow and are allergic to feathers.
---
2
From Celeep, you also get two microfiber pillows with your purchase, which is very convenient.
The Pillow has high quality and hypoallergenic microfiber fill, which is ideal for persons who suffer from allergies.
The design is no-shift which means it will not shift or bunch up during the night.
The pillow has a design ideal for all sleeping positions, including stomach sleeping.
because it is soft and plus it is more comfortable for persons who prefer a softer type of pillow
---
3
The Emolli Sleeping pillows are hotel quality and come in a set of two pillows.
They have a soft Microfiber and cooling gel fill which keeps you cool at night.
The cover is 1005 natural soft and breathable cotton.
The microfiber fill is designed to be a hypo-allergenic down fill alternative that is super soft in consistency.
---
4
The Big One Microfiber pillow is available in a standard or queen-sized option.
It has a 100% polyester-based microfiber fill that is durable and breathable.
There is a washable and durable polyester shell, which is very convenient so that you can easily wash your cover without having to wash the pillow every time.
The pillow is very soft and comfortable, with a plush soft loft that is a medium height.
The Pillow is called the big one because of its very high loft and plush softness.
---
5
From Sleepgram, we have a plush soft bed pillow with an adjustable loft.
The pillow has an adjustable long fiber microfiber fill.
The fill and cover are hypo-allergenic and dust mite resistant, so ideal for people with allergies.
It comes with a two-inch gusseted design and loft for flexibility.
It also has a premium cotton cover that is lightweights and breathable.
The fill consists of a polyester-based microfiber.
---
6
From the Beckham Hotel collection, we have a specialized cooling and hypoallergenic microfiber fill pillow.
The Pillow is designed to be a down-alternative that regulates temperatures and has cooling gel fibers.
There are two pillows included in the set.
It is premium hotel quality pillows that come with a fade and stain-resistant cover.
The pillow is completely allergy-friendly and dust mite resistant.
The cover consists of 100% premium cotton.
---
Index Table: Top Rated Microfibre Pillows
---
---