A pillow is where you spend an average of 8 hours every day. It has a big impact on sleep quality and the rest you get from sleeping. Here, we have compiled a list of Heavy pillows for review and their usage and types.
---
What is a Heavy Pillow
Heavy Pillows are regular pillows with a heavier than a normal filling. Usually, a heavy pillow refers to a pillow that is:

Dense Fill – A heavy pillow is most often designed with a dense filling. The fillings' high-density lends its weight to the pillow and provides a sturdy base for the head.
Durable – The pillow should be designed with materials that make it durable. For example, the filling should be long-lasting and not deform easily.
Heavy Duty – A heavy pillow is designed to provide a supportive base for the head and neck for all types of people. Therefore, the filling should be designed to easily bear the weight without losing its shape or becoming flat.
Firm – A heavy pillow should be firm enough to provide sturdy support to the head and neck. If the filling is too soft and lightweight, it will not maintain its shape.
Added Features – Along with all these qualities, a heavy pillow can be infused with other elements to enhance its benefits. Some examples can be a cooling gel or Copper for its health benefits.
---
Types of Heavy Pillows
Heavy Pillows are distinguished based on their filling. There are various pillow fillings available in the market, and the most common fills are listed below.

Solid Memory Foam Fill – Memory Foam is the most common pillow filling. A solid block of memory foam can be used as core filling in a heavy pillow to give it the firmness and support it needs. It can be soft, medium-firm, or firm.
Shredded Memory Foam Fill – A variation in a memory foam filling is shredded memory foam. It is ideal for heavy pillows as it is adjustable and can be added or removed as needed. It also allows the pillow to conform to the head and neck's shape.
Latex Fill – Latex is a naturally dense and Hypoallergenic material that is made from Rubber tree. Latex fills are heavy-duty, resistant to deformation, and offer firm support. It is breathable and usually comes with a high loft due to its high-density. Latex fill also comes in shredded form for added benefits.
Buckwheat Fill – Buckwheat is all-natural, degradable, and naturally heavy. Due to its loose-fill form, it can be customized according to your needs. Buckwheat is firm and dense and ideal for all kinds of sleepers.
---
Features of a Good Heavy Pillow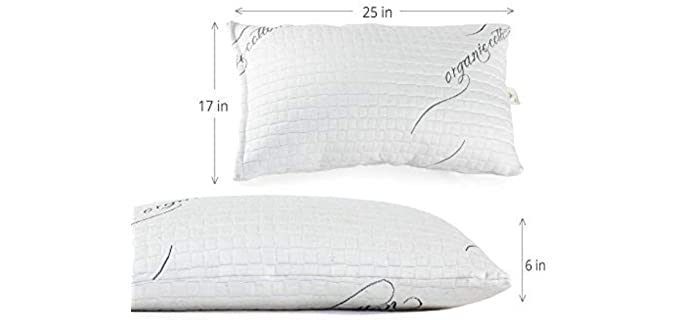 Fill – A heavy pillow will have either a memory foam, shredded or solid fil, a Latex fill or a Buckwheat fill. Latex and Buckwheat are natural and hypoallergenic materials.
Firmness and Loft – Most heavy pillows will be medium to a firm in support, the loft may be low, medium, or high. For side sleeping, a higher loft is recommended, whereas, for back sleeping, a medium loft and stomach sleeping, not generally recommended, a lower loft.
Cover – Most Memory Foam, latex, and Buckwheat pillows will come with a cover that is either cotton, bamboo, or polyester. For Buckwheat and shredded memory foam pillows, the cover will allow you to adjust the fill. A removable cover can be washed and cleaned easily.
Size – Heavy pillows do come in size options depending on the brand and the model. There are standard, queen, and king size, size options available.
---
Reviews: Best Heavy Pillows
---
1
This pack contains a pair of White pillows adorned with blue piping and double stitching for durability and style.
It measures 18 x 26 inches in size to suit all your needs.
The pillow is filled with a blend of premium quality filling that is medium-firm to ensure everyone is comfortable.
It is ideal for the side, stomach, and back sleepers and is designed to provide maximum comfort.
The heavy filling makes it more comfortable and long-lasting.
---
2
This pillow comes wrapped in a soft cotton cover that is breathable for a comfortable night's sleep.
It is filled with a high-quality, Poly Gel-filled fiber to ensure maximum comfort in all sleeping positions.
The pillow is made with a heavy gel to provide you with a firm and supportive base to rest your head.
It is machine washable and guaranteed to have a fresh appearance every time.
The pillow is hypoallergenic and chemical-free.
---
3
The pillow is designed to allow you to sink into it and drift into a comfortable sleep.
It is filled with a heavy Virgin Polyester filling that provides optimum support and comfort in all sleeping positions.
This pillow is encased in a soft cover made entirely of 100% Cotton.
It is hypoallergenic, dust-mite resistant, down alternative, and machine washable.
The cover boasts of a T200 thread count for coolness and breathability.
---
4
This pillow is designed with a no-shift construction to ensure you wake up without neck pain and headaches.
It is filled with a Germany-imported fiber filling to provide excellent support to the head and neck and prevent the head from sinking into the mattress.
The pillow is made from allergy-proof fabric and fills to offer complete barrier protection against dust, pollen, pet dander, and other household allergens.
It is machine washable, fade-resistant, and stain-resistant.
The pillow cover is made from 100% Egyptian cotton fabric, soft to the touch and breathable.
---
5
This is a queen size pillow measuring 18 x 28 inches in size.
It is filled with 100% premium-quality, shredded memory foam for a head base that provides optimum comfort and firm support at the same time.
The adjustable filling helps mold the pillow according to your unique sleeping position.
It is equipped with a zipper to adjust the filling according to your needs.
The filling is high-quality, heavy-duty, resilient, and resistant to deformation.
The pillow cover is made with 60% Polyester and 40% Bamboo-derived Rayon.
It is machine washable, soft, dry, and breathable.
---
6
It is an adjustable pillow customized to your specific needs and requirements.
The pillow is designed to provide the right balance between support and comfort, making it ideal for side, back, and stomach sleepers.
It is filled with shredded memory foam that can be accessed through a zipper as per your preference.
The loft pillow is CertiPUR-US and GREENGUARD Gold Certified.
It is Vegan, Cruelty-free, and free of any harmful chemicals.
The cover is made from a premium blend of Polyester and Bamboo-derived Rayon that provides softness and breathability.
It is also hypoallergenic, dust-mite resistant, and skin-friendly.
---
7
This is a Hotel Collection Heavy Gel Pillow designed by Beckham Luxury Linens.
It is crafted with super plush Gel fiber that is expertly filled inside to provide maximum comfort in all sleeping positions.
The pillow comes with a no-shift construction and is heavy enough to offer some weight and substance to your sleeping experience.
It is resistant to dust mites, mold, mildew, fading, stains, and Hypoallergenic.
---
8
This is a Adjustable Heavy bed Pillow designed by SEPOVEDA.
It is a high-quality pillow designed for pure comfort and relaxation for maximum comfort.
The pillow's filling is made from Poly Gel-filled Fiber to ensure comfort in all sleeping positions, without the filling shifting around.
It comes wrapped in a soft cover made from tightly woven, 100% pure, Polyester fiber skin-friendly, and cooling.
---
9
This is an Adjustable Heavy Pillow designed by SORMAG.
It is constructed with high-quality Memory foam that is heavy enough to be firm, and soft enough to provide comfort.
The pillow comes encased in a soft pillow cover made with a blend of 52% Polyester and 48% Bamboo Fiber.
It features a 50D, high-density memory foam that conforms to the neck's curves and head for optimum comfort.
---
10
This is The Plush Heavy Pillow designed by Purple Store.
It is designed to provide cooling on both sides, and is also breathable, and moisture-wicking.
The pillow features 'smart fluff', with interlocking Poly fiber ball technology that maintains its shape and supports all positions.
It allows you to adjust the pillow's firmness by accessing the filling through the zipper.
---
11
The Kiss dream Talalay Pillow is a supportive contoured heavy latex pillow.
The pillow has a solid Talalay design latex fill.
It has a medium to the firm support level and contains only natural latex.
The pillow is breathable with a proper ventilation system.
The ergonomically contoured design provides proper support and tension relief.
---
12
From Simmons BeautyRest, we gave another latex foam pillow.
The pillow comes from an extremely high-quality and well know the brand.
The Simmons Beautyrest is a solid latex pillow that is firm and heavy,
It has a washable and removable cover and comes in a standard size option.
---
13
Here we have a memory foam fill heavy pillow from Sagino that is heavier in weight as well as up for some heavy-duty performance in general.
The design is perfect for persons that are on the heavy side, and that need something that is firm yet still comfortable to sleep on.
The fill is a shredded memory foam that provides softer and more adjustable support and comfort, and you can also remove some of the memory foam to get the perfect loft in your pillow.
The double-sided design has a cool and warmer side for all seasons.
The zippered pillowcase can be removed and washed and allows you to adjust the height of the pillow.
---
14
From Sealy, another top brand, we have a Molded memory foam heavy pillow.
The pillow is a standard size with premium memory foam as a fill-in solid foam.
The plush knit covering can be removed and washed and has a zip closure.
The Pillow comes in a grey and white color design.
---
15
From Sobakawa, we have a heavy- and heavy-duty Buckwheat pillow.
The Pillow is filled with natural and organic Buckwheat and has an organic cotton cover.
You can enjoy cool sleeping naturally with proper neck and shoulder support with this pillow design.
Furthermore, you can adjust the loft with the removable zip cover, which allows you to add and remove some buckwheat for a high or lower loft and different firmness levels.
---
16
This is a heavy-duty large king-sized memory foam fill pillow that is durable and exceptional in design.
The pillow will work well for persons that are heavy in weight and that need so extra support and cofmort.
The larger size and adjustable loft make this pillow ideal for side and back sleepers that are on the heavier side.
It has a premium memory foam fill and a removable and washable bamboo cover.
The pillow is hypoallergenic and hygenic.
---
Index Table: Top-Rated Heavy Pillows
---
---